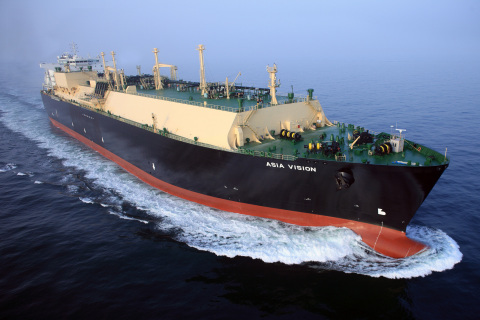 Chevron has signed its second agreement in as many months to sell liquefied natural gas to China.
The energy giant is preparing to begin shipments from the $54billion Gorgon project off northwest Australia.
Chevron has signed a head of agreement with China's ENN LNG, which will see ENN receive up to 0.5 million tonnes of LNG each year for the next decade. Deliveries are set to start in 2018 or the first half of 2019.
It follows Chevron's initial agreement in late December to sell as much as 1 million tons of LNG a year to China Huadian Green Energy.
"This is one more step in the development of our Australian gas business and our global LNG portfolio," said Mike Wirth, executive vice president, Chevron Midstream and Development. "It also represents further progress with new LNG buyers in China who are poised to transform the LNG landscape in that country."
Gorgon, the largest resources project in Australian history, is getting ready to start exports as the Asian LNG market grapples with sliding energy prices and a supply glut. Chevron said last week that it expects shipments from the Gorgon venture on Barrow Island to begin early this year.
The shipments would represent about 3 percent of Gorgon's annual production capacity of 15.6 million tons.
The China Huadian accord, which starts in 2020, will help Chevron commercialise its Australian gas holdings.
Chevron is also building the Wheatstone LNG venture in Australia, which will deliver 8.9 million tonnes of LNG per year..
ENN Energy Holdings operates in 146 cities across 17 provinces and autonomous regions, with over 11.3 million residential and 52 thousand industrial/commercial customers. ENN's Zhoushan LNG receiving terminal is being constructed and expected to be in operation by 2018.
The Gorgon Project combines the development of the Gorgon Field and the nearby Jansz-Io Field. Facilities being built on Barrow Island include an LNG facility with three processing units capable of producing 15.6 MTPA of LNG, a carbon dioxide injection project and a domestic gas plant.
For more on the Gorgon project click here.