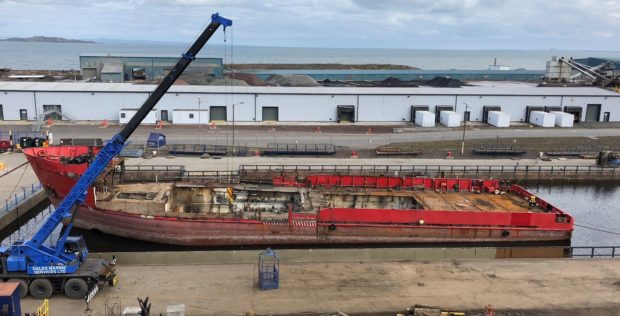 Dales Marine Services, already regarded as one of the leading UK ship repair and maintenance companies, is also being recognised for its expertise and prominence in the vessel decommissioning sector.
Operating from five dry dock facilities in Aberdeen, Leith, Grangemouth, Greenock and Troon, Dales Marine is providing dedicated support for a wide variety of vessels, including those serving the global marine, and oil and gas sectors.
The company's facilities at the first four of those locations have engineering and fabrication workshops equipped to deliver a high standard of service to these sectors.
Dales Marine can also boast the construction of new larger capacity workshops at Greenock and Leith, as well as a recent upgrade to overhead crane capacity at Aberdeen.
The company's ambitions in the decommissioning sector took a big step forward in 2018 when it was officially approved by the European Commission and placed on the
EU Ship Recycling Register.
The company's Leith facility then became the first site in the UK to offer such a depolluting service with the ability to recycle the vessels as well.
This has been key to Dales Marine's development in this sector, with the European Commission adopting the first version of the European List of ship recycling facilities on December 19 2016.
Demolition yards included in the list are located in Belgium, Denmark, France, Latvia, Lithuania, the Netherlands, Poland, Portugal, Spain and the UK. These shipyards have exclusive access to the recycling of ships flying the flags of the EU member states, according to the EC. Adopted in 2013, the EU Ship Recycling Regulation requires all vessels sailing under an EU member state flag to only use an approved ship recycling facility.
In November 2017, Dales Marine Services was awarded its waste management licence by Sepa and Edinburgh Council. This gives the company the official recognition required to carry out end-of-life decommissioning and depolluting work at the Imperial Dry Dock, Leith.
A wide variety of vessel types have already been processed at this secure site, including those typically engaged in offshore energy – DSV, OSV, ERRV, cargo, fuel barge, crane barge, and tugs.
Dales Marine's Leith decommissioning team consists of qualified tradesmen – all steelwork platers with additional multi-discipline accreditations, for example, scaffolding, slinging, and rigging. A highly-experienced decommissioning management team is in place ensuring HSEQ compliance, cost-effectiveness and efficient
completion of projects.
Robert McCaig, the company's commercial sales and business development manager, maintains the outlook for decommissioning activity in Leith is healthy. Robert, previously a director of Decom North Sea, forms this view based on his knowledge of the wider decommissioning sector, and on the capabilities and accreditations of Dales Marine Services.
Contact + 44 (0) 1224 212778 info@dalesmarine.co.uk
www.dalesmarine.co.uk
Recommended for you
X

Annual awards offer energy students chance to step up a gear