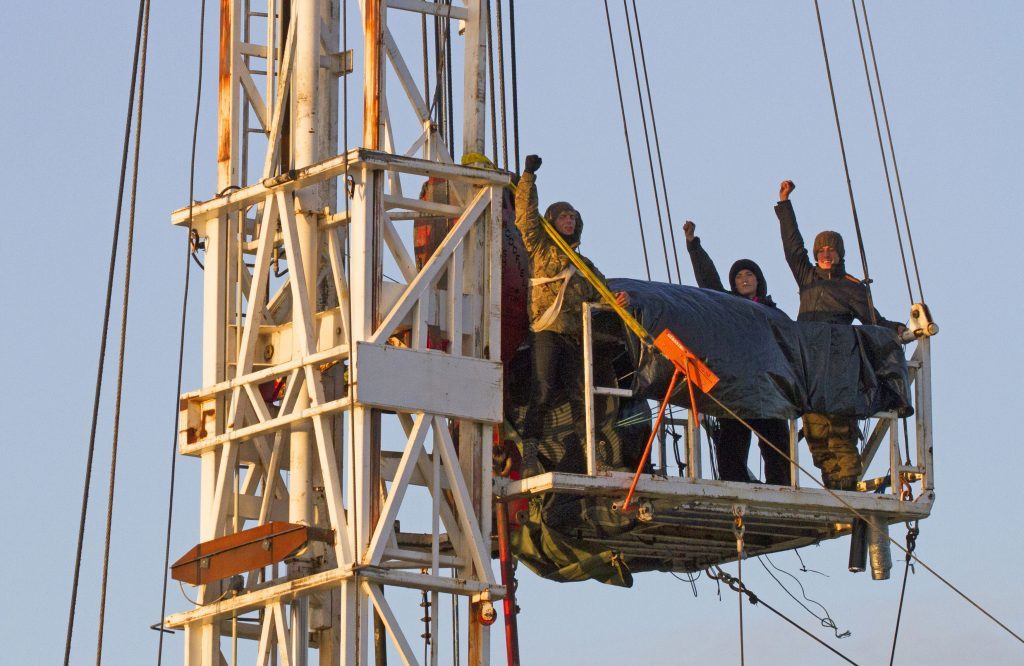 The operators of a controversial fracking site have rescued two protesters who broke in and climbed 60ft on to a platform.
Third Energy said it brought in specialists to help get them down because of the serious safety risk to the two occupying the rig at Kirby Misperton, North Yorkshire.
They got into the site, along with another protester, in the early hours of Saturday and endured many hours of high winds and rain.
The energy company said it provided them with harnesses, hot drinks and insulated clothes during their protest.
They were handed to the police after being brought to the ground.
Third Energy director Alan Linn said: "We are relieved that the two remaining protesters have now been brought down from the rig.
"Their actions put both themselves and people working on the site in jeopardy.
"Setting off an emergency flare on a live gas site – essentially an open flame – was exceptionally reckless.
"However, I am pleased that we were able to ensure their safety overnight by providing them with proper harnesses and also hot drinks."
The other protester who was arrested on Saturday was back at the site on Sunday morning.
He said it was only after he scaled the rig he remembered he was afraid of heights.
He said: "We just went for it, we just ran.
"I was in front, I just climbed up as fast as I could and pulled the bag up after me.
"I got to the top and remembered I was petrified of heights.
"It was spontaneous and went just how it should have, it was perfection.
"We knew we had to do something so we thought, yeah, let's take the rig.
"Third Energy say they're gonna frack this week. No, they're not."
Earlier, the Kirby Misperton Protection Camp said: "We took this action because we feel compelled to make a strong and visible stand against this industry which threatens so much for all of us and future generations; drinkable water, clean air and the very stability of the land beneath our feet are in danger.
"Fracking only benefits a few at the expense of the many. We want to inspire others and demonstrate the power we have when we take a stand."
Recommended for you

16 arrested outside after Just Stop Oil protest at Rishi Sunak's London home