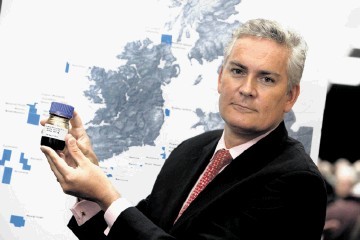 Shares in Providence Resources jumped by almost 10% in London this morning after the Irish oil firm beefed up its drilling programme for the Barryroe field.
Providence said binding farm-out agreement for the Barryroe field had been signed with Chinese firm Apec.
Apec will take on a 50% equity stake in the licence containing Barryroe, thought to be capable of producing 350 million barrels of oil.
Dublin-based Providence, as licence operator, has also firmed up its drilling plans, agreeing a programme of four vertical wells and a horizontal sidetrack.
Two additional horizontal wells could also be drilled.
The campaign will start in the second quarter of 2019.
Providence said it was the largest drilling programme of its kind since the Corrib field in the early 2000s.
The acquisition, first announced in March, reduces Providence's stake to 40% from 80%, while project partner Lansdowne's working interest will drop to 10% from 20%.
Apec has a strategic partnership with China Oilfield Services (COSL) and JIC Capital Management for oil development opportunities.
Providence chief executive Tony O'Reilly said: "We have substantially enhanced our drilling programme. Initially, it was going to be three wells and associated sidetracks. Now it's going to include five firm wells and two optional wells.
"But it's not just about the well count, it's about what they will deliver. There's a lot more work to be done, but we have a clear pathway to implementation."
He said Apec had been "great" to work with and that Providence hopes to collaborate with them on more projects in future.
Recommended for you

Updated: Serica shares fall on underwhelming North Eigg news