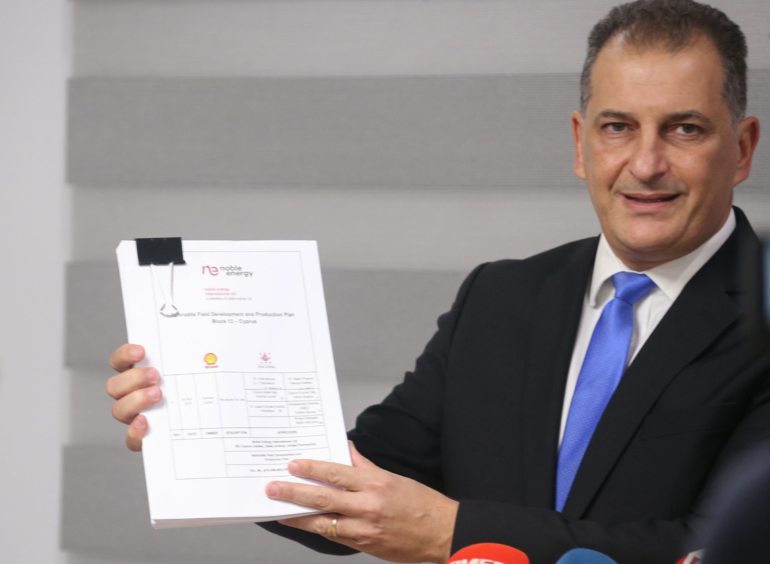 Cyprus has issued an exploitation licence to three companies to develop the Aphrodite field, with gas to be exported to Egypt for liquefaction.
Cyprus Minister of Energy, Commerce and Industry Georgios Lakkotrypis announced the licence award to Shell, Noble Energy and Delek Group at a ceremony. A statement from the minister on the Aphrodite exploitation licence said there was much to be done but that the deal was a sign of moving to the next phase of hydrocarbon development.
"Cyprus will thus become a producer and alternative source of EU gas supplies, while at the same time making yet another decisive step towards realising the common vision of the countries of our region for the creation of the Eastern Mediterranean Gas Corridor to Europe," he said. The Cypriot Council of Ministers has approved the licence and has high hopes for the economic benefits of gas development and production.
The licence will run for 25 years. Under the plan submitted by the companies, a subsea pipeline will be constructed to a liquefaction facility at Egypt's Idku terminal. From there, it will be exported to Europe and other markets.
Talks began on the licence in November 2018 and were concluded in October, Lakkotrypis said. The plan to develop Aphrodite was a "renewed vote of confidence" in Cyprus' exclusive economic zone (EEZ), the minister continued.
Cyprus and Turkey are in a state of dispute over the EEZ. Ankara has supported its own exploration in areas widely agreed to be Cypriot territory. Against this backdrop, Egypt, Greece and Cyprus launched military exercises in the Mediterranean on November 4, with the stated aim of meeting the "growing challenges" in the region.
Shell has a stake in the two-train Egyptian LNG (ELNG) facility, which has capacity of 7.2 million tonnes per year. The loans on this facility have been entirely paid off and running costs are low, making it an attractive option for exporting gas.
There has been some talk of a new pipeline to be built from the Eastern Mediterranean into Europe but costs are likely to be high. Israel Natural Gas Lines (INGL), in a regulatory filing this week, said it had signed a memorandum of understanding (MoU) to assess a pipeline plan with IGI Poseidon.
Egypt was forced to import LNG between 2015 and 2018 owing to a domestic shortfall but has subsequently moved back into a position of surplus. While there are substantial domestic gas fields, demand is growing strongly, potentially threatening future exports.
Recommended for you

Rejecting Egypt route, Cyprus aims to capture more Aphrodite value