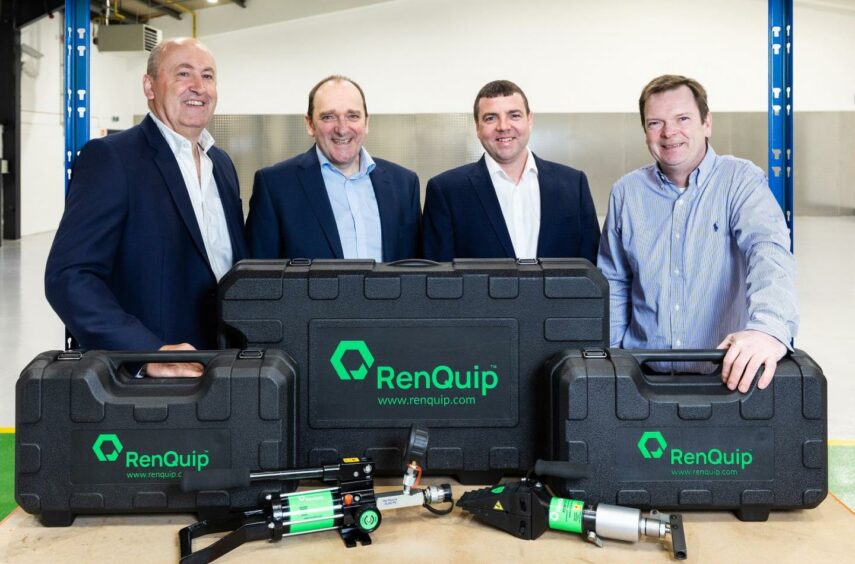 A new equipment firm, which will "bridge the gap" between oil and gas and renewables, has been launched with the backing of a pair of Aberdeen serial entrepreneurs.
Through their investment vehicle I7V Renewables, Doug Duguid and Michael Buchan have put their financial support behind Dyce-based oilfield equipment firm RenQuip.
The start-up currently has a headcount of five, but RenQuip expects to at least double that in the next 12 months, with five-year revenues forecast of around £6 million.
This is the latest investment from Mr Duguid and Mr Buchan, who previously led PSL Energy Services until its acquisition by Halliburton and developed EnerMech from a two-man start-up into a global brand before being acquired by The Carlyle Group in 2018.
Marc Gerrard and John Morgan, with combined experience of over 50 years with firms including HTL Group, EnerMech and Equalizer International, are teaming up to manage the venture.
Mr Duguid said: "Marc Gerrard was a highly valued member of the EnerMech management team and I am delighted that I7V Renewables are able to support him and John Morgan in launching this forward-looking business, which I am confident will set the template for tool and equipment rental and sales in the oil and gas sector, and appeal to businesses engaged in energy transition and working to achieve net-zero."
RenQuip will specialise in the design and manufacture of installation and maintenance tools for the energy industry, offering bespoke products, product sales and equipment rental.
The company has long-term objectives of opening more strategic bases around Aberdeen and overseas.
In addition to distributing and selling its own branded original equipment manufacturer gear globally, RenQuip has established agreements to act as a distributor for well-established equipment and tool brands.
RenQuip managing director, Marc Gerrard, said: "As a result of recent corporate acquisitions and restructuring in the sector, we have identified that there is a gap in the market for a reliable and experienced partner to service companies and operators in the energy space.
"A lot of expertise has left the industry which has resulted in a knowledge deficit, and we believe RenQuip can address this shortfall, and through new technologies deliver an unbeatable customer experience.
"While our extensive experience is in the traditional oil and gas sector, it will be a natural step for RenQuip to focus on delivering specialist tools and engineered solutions to the renewables industry."
Mr Duguid and Mr Buchan set up Indigo 7 Ventures in October 2020, a multi-million-pound investment fund to support fledgling technology companies in the renewable energy industry.
Other firms including Proteus and Recycl8 are part of the group's portfolio.
Last month, I7V Renewables acquired Granite Recruitment from Clan Partners. The firm specialises in placing skilled and engineering personnel for the drilling, maintenance, well services, and pipeline and process sectors.
Recommended for you

The clean energy funds financing the future