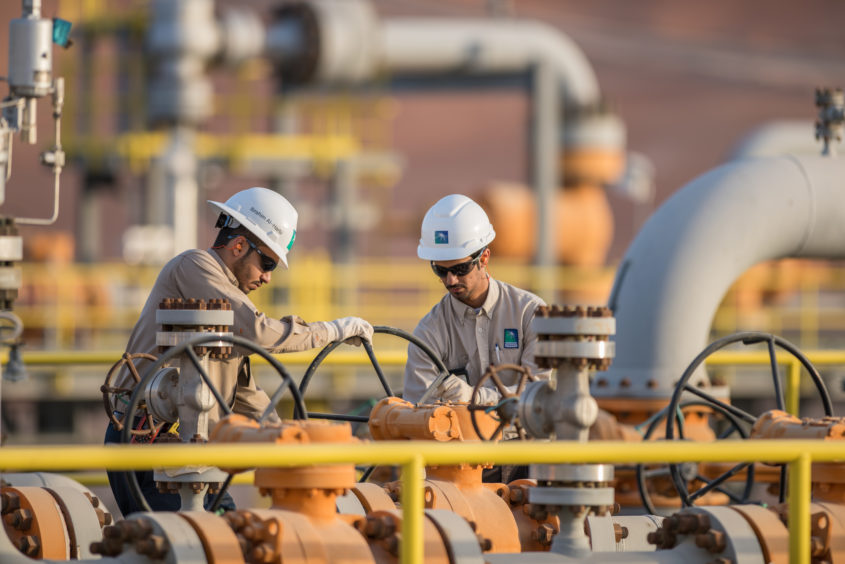 Fitch has cut the outlook of Saudi Arabia, Aramco and Sabic to negative on concerns of the sovereign's weakening balance sheet.
The cut to Saudi's long-term foreign-currency Issuer Default Rating (IDR), from positive to negative, cascaded down to the two major hydrocarbon companies. The IDR continued to be classed as A.
The ratings agency has warned that, unless Aramco reconsiders its plans for a dividend, it may be free cash flow negative in 2020 and 2021. It would return to breaking even in 2022-23.
Fitch said it had revised the outlook because of the weakening in the fiscal and external accounts, following COVID-19 and lower oil prices. This was despite Saudi's commitment to fiscal consolidation, it said. Fitch forecasts Saudi's breakeven oil price is an average of $67 per barrel in 2020-22.
Saudi is expected to issue more debt and draw down its reserves into the medium term. The government budget deficit is tipped to widen to 12.8% of GDP in 2020, around $90 billion. This is up from 4.5% of GDP in 2019.
Oil revenues are down 33%, non-oil revenue is down 5% and spending is up 1% on the previous year.
The fiscal deficit should narrow, to 8% of GDP in 2021 and 5% in 2022. Fitch bases its forecast on Brent prices recovering to $50 per barrel by 2022, with production of 9.7 million barrels per day. The OPEC+ agreement cuts will taper down across 2021 and expire in 2022.
These forecasts are susceptible to COVID-19, though. Should infections rise, Saudi's outlook becomes bleaker. A $10 per barrel lower oil price would increase the fiscal deficit by 4% of GDP. A reduction of 1mn bpd in production would spark a 2% increase in the fiscal deficit.
Cash flow
Fitch assess Aramco's standalone credit at aa+, with a conservative financial profile compared with international peers. The oil producer expects capital expenditure to be $25-30bn this year, down from $33bn in 2019.
While Aramco's costs are low, with lifting of $2.8 per boe and upstream capex of $4.7, it is "more exposed to energy transition risk than oil majors, particularly in Europe, as it is less integrated into natural gas and is not planning to diversify into renewables on a large scale".
Fitch rates Sabic at a+, although projecting its 2020 revenue will fall by almost 25%.
Recommended for you
X

Renewables investment firm acquires stake in East Anglia One wind farm