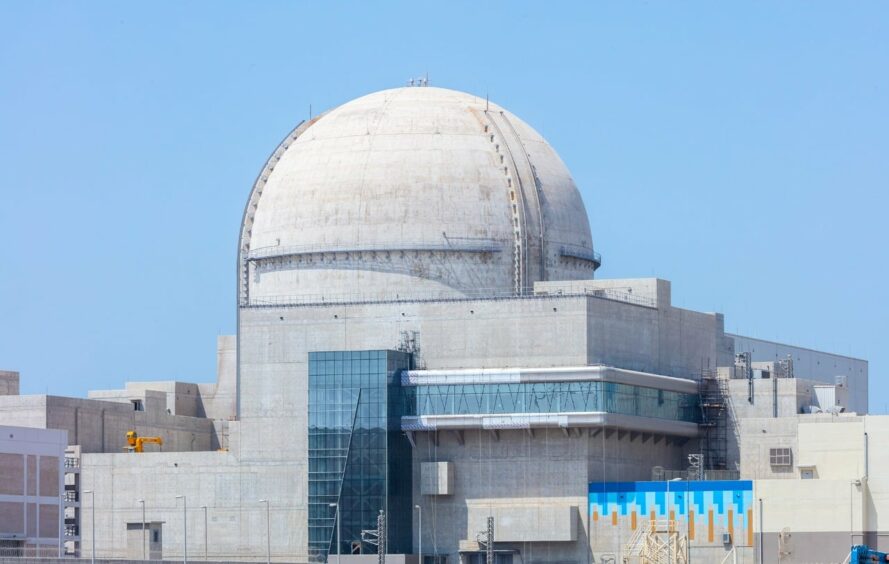 Adnoc has signed a deal to secure clean power, from nuclear and solar, with Emirates Water and Electricity Company (EWEC).
The agreement begins in January 2022.
Adnoc reported that the deal would strengthen its position as one of the world's lowest carbon producers. EWEC will benefit from a long-term offtake agreement on its renewable and clean power.
"This pioneering partnership highlights ADNOC's vital role in investing in transformative innovations, advancing decarbonisation efforts, and supporting the diversification of the UAE's energy portfolio," Sheikh Khaled bin Mohamed bin Zayed Al Nahyan said.
"It also marks a major moment in the activation of a strategic, long term plan to further decarbonise ADNOC's operations sustainably. We commend ADNOC for its innovative actions and its global industry leadership."
The United Arab Emirates recently committed to reaching net zero by 2050, while still producing hydrocarbons.
Adnoc's Murban crude already has a carbon intensity that is less than half the industry average, the company said.
EWEC chairman Mohamed Hassan Alsuwaidi said Abu Dhabi's energy sector was working towards sustainability. The agreement with Adnoc is "a testament to the targeted investment EWEC has placed in developing world leading renewable projects, and the UAE's vision in developing the first nuclear energy plant in the Arab World".
To the future
UAE Minister of Industry and Advanced Technology, and head of Adnoc, Sultan Ahmed Al Jaber, said the company was embracing the energy transition. "Adnoc extends an open invitation to new and existing partners to join us in delivering practical solutions to secure a cleaner energy future."
Adnoc has aimed to cut emissions intensity by 25% by 2030.
Emirates Nuclear Energy Corp. (ENEC) connected the second unit at the Barakah nuclear power plant (NPP) to the grid in August. This added another 1,400 MW of zero carbon power to the UAE's capacity.
ENEC has set out the plan to provide up to one quarter of the country's power needs. Barakah will have four reactors in total.
EWEC also has 1.2 GW of power produced at Noor Abu Dhabi, the world's largest single-site solar power plant. It is developing the Al Dhafra project, which will replace Noor as the largest.
Adnoc intends to validate the clean energy supplies with I-REC Clean Energy Certificates, registered by EWEC.
Recommended for you

TAQA, Adnoc complete Masdar deal, pledge rapid expansion