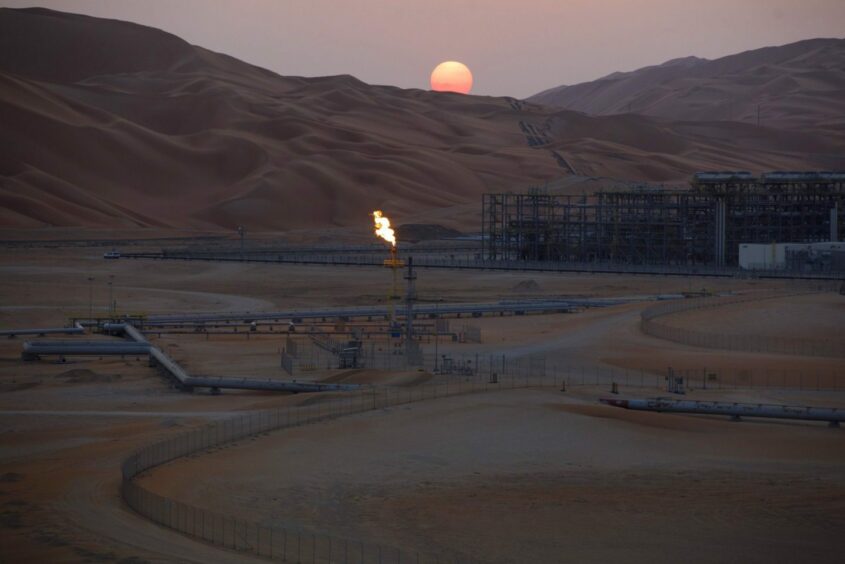 Saudi Aramco has published its third quarter results and set out its ambitious expansion plans, even while net income was down 23% at $32.58 billion.
During the quarter, the company's capital expenditure reached $11bn. The company said it plans to "meet rising demand by capturing unique investment opportunities".
EBIT was $62.27bn in the quarter, from $80.48bn in the same period of 2022. Lower prices drove the fall, with an average crude price of $89.3, from $101.7.
The upstream dominated capex, accounting for $8.99bn, up 23.8% year on year. Aramco said its investments in capacity expansion and gas projects was behind the increase. The company is also maintaining its dividend, paying out $19.5bn by the end of the year.
Production in the third quarter was 12.8 million barrels of oil equivalent per day. It is targeting sustainable capacity of 13mn bpd of oil by 2027.
To achieve this, it is pursuing key upstream domestic projects.
First online is Dammam. This will start producing 25,000 bpd in 2024 and 50,000 bpd in 2027.
Then the offshore Marjan and Berri projects will start up in 2025. They will produce 300,000 and 250,000 bpd respectively.
In 2026, Aramco will bring online the Zuluf project, adding 600,000 bpd via a central facility. The project will develop an Arab heavy crude field, in the offshore. The plan is to transport oil to the Ju'aymah terminal, while gas and condensate will go to the Tanajib gas plant.
The Saudi company also noted the importance of gas. During the period, Aramco started up the Hawiyah gas plant expansion, increasing the facility's capacity by 800 million cubic feet per day.
It is also in the commissioning phases for compression works at the Haradh and Hawiyah fields. Eight of the nine plants are commissioned, it said, with the last plant due onstream this year.
Expansive plans
This quarter also Aramco take a firm step into the LNG sector. The company launched the process of buying a minority stake in MidOcean Energy for $500 million.
Aramco president and CEO Amin Nasser said investments in LNG "demonstrate the scale of our ambition, the broad scope of our activities, and the disciplined execution of our strategy. I am excited by the progress we are making, which I believe will complement both our upstream capacity expansion and our growing downstream presence."
Aramco said it was also working on sustainability initiatives, such as direct-air capture for CO2 and assessing geothermal potential in Saudi's west coast.
Recommended for you

The great drilling rig migration: jacking up and shipping out