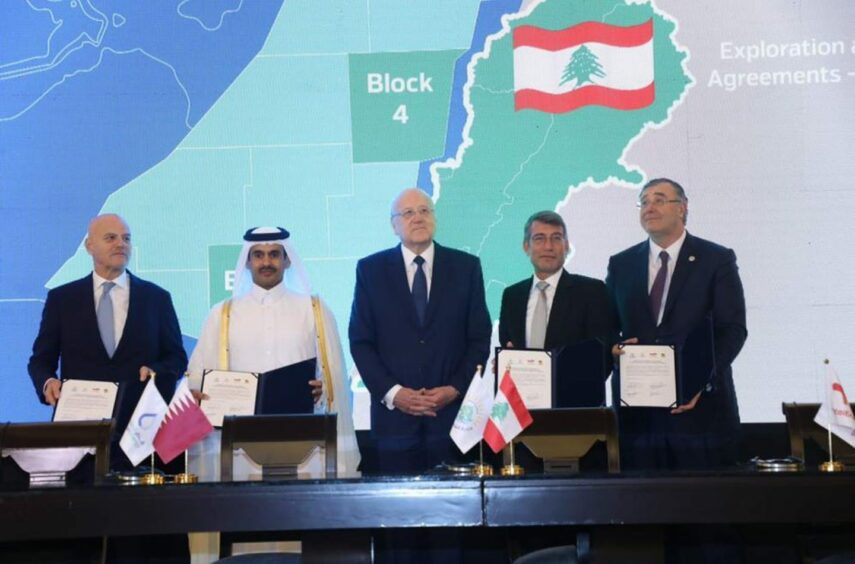 QatarEnergy (QE) has acquired 30% stakes in Blocks 4 and 9 offshore Lebanon, from TotalEnergies and Eni, with drilling planned to begin this year.
The companies held a ceremony on January 29.
Lebanese Prime Minister Najib Mikati attended the event, as did Minister of Energy and Water Walid Fayad. QE CEO Saad Sherida Al-Kaabi, who is also Qatar's energy minister, was also there, as were Total CEO Patrick Pouyanné and Eni CEO Claudio Descalzi.
Total will continue as operator with a 35% stake, while Eni will also have 35%. Previously, they had 60% and 40% respectively.
"We are very pleased to welcome QatarEnergy in our exploration acreage in Lebanon. The recent delineation of Lebanon's maritime border with Israel has created a new momentum for the exploration of its hydrocarbon potential," said Pouyanné.
"Along with our partners, we are committed to drilling as soon as possible in 2023 an exploration well in Block 9, and our teams are mobilised to conduct these operations."
Mikati paid tribute to the efforts of US diplomat Amos Hochstein. The US was fundamental in bringing Lebanon and Israel together to agree on maritime borders. The leading target on Block 9 is Qana, which may extend over the border with Israel.
Total announced it was taking steps to mobilise to Block 9 in November 2022. The company aims to pick a rig in the first quarter and finalise environmental studies by June.
Pouyanné noted that the company was working with QE in nine countries and this deal expanded the companies' exploration works.
Eni noted that it was working with QE in Qatar, Oman, Mexico, Morocco and Mozambique. The deal "confirms the interest of the exploratory basins in the Eastern Mediterranean", it said.
Recommended for you

Shell scores third find off Namibia