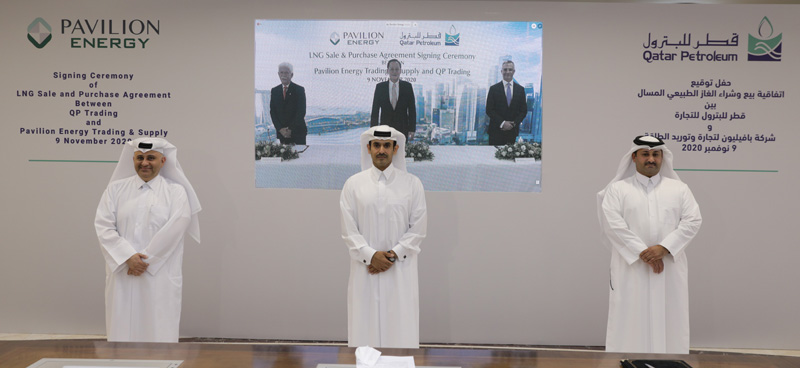 Qatar Petroleum (QP) has launched a dedicated LNG trading arm, announcing a deal to supply gas to Singapore.
QP Trading has signed a long-term sales and purchase agreement (SPA) with Singapore's Pavilion Energy Trading & Supply. The QP unit will provide up to 1.8 million tonnes per year of LNG for 10 years.
The agreement followed a competitive process, QP's president and CEO Saad Sherida Al-Kaabi said. The executive, who is also Qatari Minister of State for Energy Affairs, said the agreement reflected the "commitment to respond to the needs of our customers, including supply security, price competitiveness, and flexibility".
QP owns QP Trading wholly, with the unit based in Doha. The trader has a mandate to build a global portfolio of third party and equity LNG. The company will also manage price risk, the company said, through physical and derivatives trading.
As a result, QP Trading will be able to respond with agility to its customers' needs while also maximising its portfolio value.
Al-Kaabi said the launch of QP Trading reaffirmed "our belief in LNG's economic and environmental value proposition and its cornerstone role in energy transition". The minister said the agreement represented the first long-term deal with "specific environmental criteria and requirements designed to ultimately reduce the carbon footprint of the LNG supplies".
QP is already working on ways to cut emissions. It plans to capture more than 5mn tpy of CO2 per year by 2025.
Pavilion's chairman Tan Sri Muhammad Hassan Marican noted that Qatar had delivered a first cargo in 2018. "We are delighted to enhance our strategic relationship with Qatar Petroleum, the world's largest LNG producer. This partnership will strengthen our core Singapore market and our role as a global energy trader."
Portfolio plans
GaffneyCline's global director of gas and LNG Ryan Pereira said the move was not a surprise and may be replicated by other LNG producers.
"QP have always been strong in LNG liquefaction and sales, and have extensive expertise in shipping. Addition and expansion of an LNG trading arm will provide increased optionality to operate and extract value in a more flexible manner – an increasingly important trait for LNG players operating in an increasingly liquid and commoditised LNG marketplace.
"In my view, the increasing commoditisation has been driven by three increasing trends, marinisation of LNG (much greater deployment of FSRUs, floating storage and FLNG vessels), modularisation (in both liquefaction as well as bunkering) and transportation (both marine and road applications)."
Other participants, not just LNG sellers, are likely to increase their portfolios, Pereira said. Another area of interest will be further environmental opportunities, such as carbon-neutral cargoes.
"More broadly for the industry, this underpins the fundamental role that LNG and gas have to play in the energy transition to support and enable the full value of renewables to be unlocked."
Data led
Norton Rose Fulbright advised Pavilion on the SPA process. The lawyers provided support for the procurement exercise and then the negotiation of the SPA.
The procurement process involved an innovative online IT platform. This saw potential bidders asked to provide a term sheet and set out divergences, while keeping a full record of documents. This also allowed Norton Rose Fulbright to analyse the proposals in a more efficient and data-led fashion, it said.
Singapore partner Ben Smith said that Pavilion had been seeking a "new way that accurately accounted for GHG emissions. We were happy to support this innovation with a new way of managing the bid process online."
A partner in the law firm's London office, Andrew Hedges, said they had been required to "develop new methodologies to measure, report and offset carbon emissions. As the low carbon LNG market evolves, it is hoped that the emissions accounting structures that have been developed for this deal may become a widely accepted industry standard, enabling a liquid trading market to develop in the future."
Updated at 5:58 pm with comments from GaffneyCline's Pereira. 
Updated at 2:37 pm on November 10 with comments from Norton Rose Fulbright.