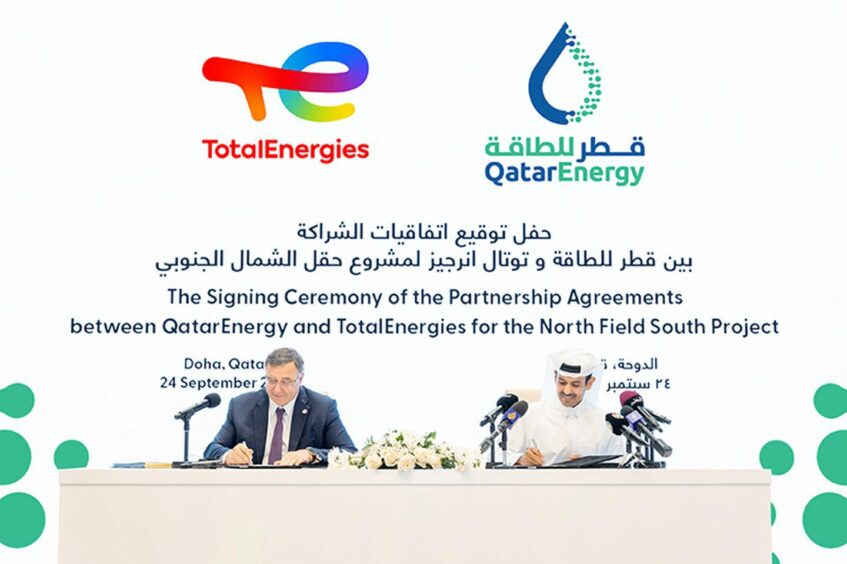 TotalEnergies has signed up to take a 9.375% stake in Qatar's next phase of LNG expansion, North Field South (NFS).
The French company's chairman and CEO Patrick Pouyanné visited Doha on September 24 to sign the agreement with QatarEnergy (QE).
A 25% stake in the NFS project is available to foreign investors, with QE holding the remaining 75%.
The NFS project will provide an additional 16 million tonnes per year of LNG. Total was also the first foreign partner to sign up for the 32mn tpy North Field East (NFE) plan, in June this year.
All told, the two deals will provide Total with another 3.5mn tpy of LNG production net by 2028.
Reports have put Total's investment in NFS at $1.5 billion, following on from the $2bn investment in NFE.
Qatar is in the process of building up domestic capacity to 126mn tpy by 2028.
The NFS expansion project will involve five platforms, 50 wells and gas pipelines to an onshore processing plant. Production will go to two onshore 8mn tpy liquefaction trains. Total said this NFS phase will benefit from "significant synergies" at NFE.
"We consider Qatar as a long-term strategic country for TotalEnergies and this latest addition to our portfolio marks an important step toward our low-carbon LNG growth objectives, a key pillar of TotalEnergies' transformation into a sustainable multi-energy company," said Pouyanne.
"It will also further strengthen our ability, together with Qatar, to support Europe's energy security."
Fitting the transition
QE will capture and store CO2 from gas production. Furthermore, it will connect the plant to Qatar's grid, which Total is also working on providing additional solar power.
QE president and CEO Saad Sherida Al-Kaabi said the company was moving forward with its partners to meet global demand for clean energy. "LNG is the backbone for a serious and realistic energy transition," he said.
"We are committing significant investments to lower the carbon intensity of our energy products, which constitutes a key pillar of QatarEnergy's sustainability and energy transition strategy."
QE sees carbon capture as a critical part of its investment strategy. The company recently signed a deal with GE on devising a new carbon capture roadmap for Qatar.
QE intends to capture 11mn tpy of CO2 in Qatar by 2035. Such a move reduces carbon intensity at its LNG facilities by 35% and upstream facilities by 25%.
In comments after the ceremony, Pouyanné was quoted as saying Total would have taken more of the NFS project if it had been available. A number of companies are likely to be considering such an investment, with some speculation about potential Chinese interest.
Qatar selects Total as 1st partner in major NFS #LNG expansion. But possibility of China joining the fray soon is much more intriguing: it would be a blow to #Gazprom's own #PowerOfSiberia2 #natgas plans. China would have leverage in playing the 2suppliers off against each other.

— Tom Marzec-Manser (@tmarzecmanser) September 25, 2022
Recommended for you

Qatar dishes out $10bn EPC work on next LNG phase