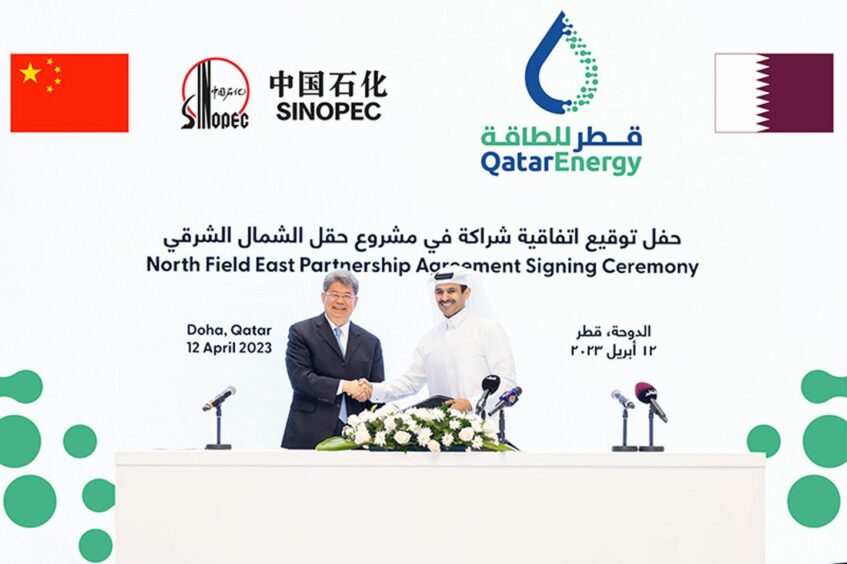 QatarEnergy (QE) has struck a deal to transfer a 5% stake in its $28.75 billion North Field East (NFE) expansion to China's state-owned Sinopec.
The Qatari company said it would hand over a 5% stake in the equivalent of one of the NFE trains, with 8 million tonnes per year of capacity.
Saad Sherida Al-Kaabi, president and CEO of QE, said China was a "major driver of the global energy markets". The country is a "key market for Qatari energy products. Today's event underscores QatarEnergy's commitment to deepening its relationships with key LNG consumers, while prioritizing long-term strategic partnerships and alignment with world class partners from China, represented by Sinopec here today."
Al-Kaabi signed the deal with Sinopec chairman Ma Yong-Sheng in Doha.
Long term
Sinopec signed up to acquire 4mn tpy of LNG from the NFE project in November 2022. Al-Kaabi noted the 27-year deal was the longest LNG supply agreement in the industry.
"Today, Sinopec will join Qatar's LNG family becoming the first Asian shareholder in the NFE project."
Chinese President Xi Jinping and Qatar Sheikh Tamim bin Hamad Al Thani met in 2022.
"The signing of this agreement today is a concrete move to carry forward what has been agreed between the two heads of state and deepen the partnership between Sinopec and QatarEnergy," Ma said. "It is another milestone after the signing of the long-term LNG SPA from the NFE project in November 2022, marking the integrated cooperation achieved by both companies on the NFE project."
Ma went on to express the hope that Sinopec and QE would "continue to explore new LNG cooperation opportunities". They should "further expand cooperation areas to achieve mutual benefit and win-win results".
The NFE project is due to come online in 2026, while North Field South (NFS) should start in 2027. NFE will produce 32mn tpy of LNG, from four mega trains. QE has signed up TotalEnergies, Shell, ExxonMobil, ConocoPhillips and Eni for the work.
The company took the final investment decision (FID) on NFE in February 2021. Adding the NFE and NFS volumes should boost Qatari capacity from 77mn tpy to 126mn tpy.
Recommended for you

Shell and Qatar sign 27-year LNG supply deal for Netherlands