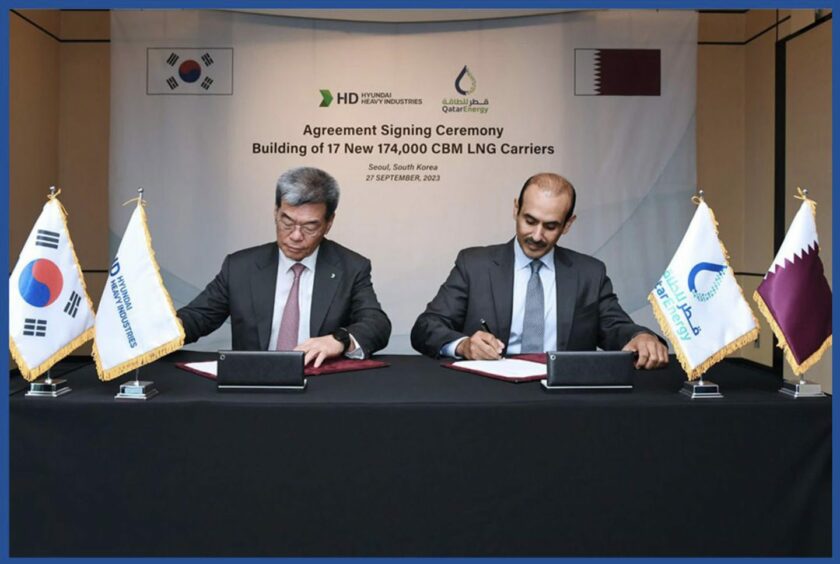 QatarEnergy (QE) has signed a 14.2 billion riyal ($3.9bn) deal with South Korea's HD Hyundai Heavy Industries (HHI).
QE said the deal covered the construction of 17 LNG carriers. The agreement marks the second of the company's transportation plans. This will support additional LNG volumes from the North Field expansion and the Golden Pass project.
As a result of the deal, QE will increase its fleet size from 60 to 77. The company has said more vessels are to come.
Minister of State for Energy and president and CEO of QE Saad Sherida Al-Kaabi welcomed the deal. The agreement is "another milestone in our long-term relationship with HD Hyundai Heavy Industries and the Korean shipbuilding industry in general, which is built on the strong and strategic partnership between the State of Qatar and the Republic of Korea."
Al-Kaabi went to Seoul to sign the agreement. HD Korea Shipbuiliding and Offshore Engineering CEO Ka Sam-hyun signed for the Korean company.
HHI has seen growing appetite for ship building, reporting an increase of 11.5% in the second quarter of the year. As of August, the company had a backlog of 56 LNG carriers, the largest part of its
In 2020, Qatar Petroleum – as it was then – signed a 70bn riyal ($19.2bn) deal with three Korean shipyards: Daewoo Shipbuilding & Marine Engineering (DSME), Samsung Heavy Industries (SHI) and HHI. The agreement reserved space for the construction of more than 100 ships, it said at the time.
QE also signed a deal with a Chinese company, Hudong-Zhonghua Shipbuilding Group in 2020. The agreement was the first in support of its North Field expansion, and the first with a Chinese shipbuilder.
Recommended for you

Qatar signs up Italy in fresh gas deal with Europe past 2050