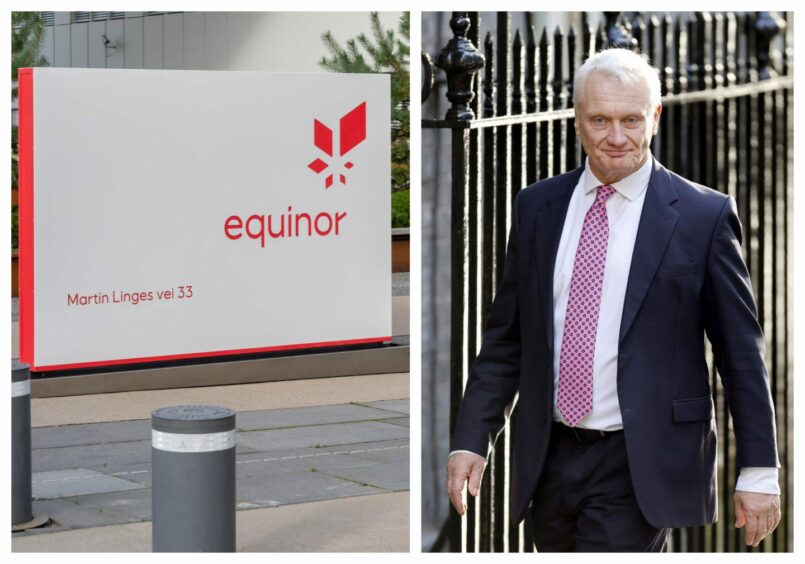 Newly published documents have revealed Rosebank had a three-month gap for approval from the North Sea regulator after its environmental counterpart gave the go-ahead.
The North Sea Transition Authority (NSTA), which has final sign-off, was told on June 16 that environmental regulator OPRED and the UK energy secretary had granted their own consent.
Approval for the Equinor-operated West of Shetland oilfield was granted by the NSTA yesterday, three months later.
That compares to a gap of around two-weeks between OPRED and the NSTA for other recent developments to get the go-ahead like Harbour Energy's Talbot and NEO Energy's Affleck.
The NSTA said it does not comment on individual cases but, in general terms, said: "The consent system is thorough and rigorous and designed to support the development of the North Sea and the work of operators.
"Every project is unique and assessed on its own merits and the time taken to reach a decision is dependent on a project's characteristics."
Documents, including the Secretary of State's decision to grant Rosebank approval which was made on June 8, were not published until today – a break from usual process on regulatory approvals for oil and gas projects.
The UK Government has been asked to explain why the Secretary of State's decision was not made public sooner.
For months, Rosebank had been expected to be "imminent" in its approval from regulators, at one point believed to be granted before summer.
Asked yesterday about the timeline to Rosebank being approved – before these documents were published – UK energy minister Graham Stuart said it was about ensuring "very high" standards are met.
He said: "It's been extremely thorough. We have net zero as a duty the regulators follow within their systems. They go through comprehensive environmental assessments. They do public consultation; they make sure that any projects that pass in UK waters meet very high environmental standards, protecting marine life and the like.
"So, it takes time to do it properly and we've already got those trying to suggest they might take legal action against this decision and that's why the regulators and others involved are extremely thorough in their efforts to make sure that this is a decision which should pass muster regardless of the investigation for which it is subject."
Arne Gurtner, UK senior vice president at Equinor, was also asked on Wednesday about timelines for Rosebank's approval.
He said: "It is the regulator's prerogative to issue that and, of course, we have been working hard to comply with the regulations and guidelines of a very mature regulatory system in the UK and regulatory bodies."
Legal challenge to Rosebank
Campaign groups including Uplift have promised to deliver a legal challenge to the decision to approve Rosebank.
Uplift said the approval decision was incompatible with the UK's climate targets and argued regulators had failed to assess the environmental impacts created by burning Rosebank's oil and marine environmental impacts of the field.
The OPRED documents published today state Rosebank will have "no significant effects on the environment".
Equinor's environmental statement shows a predicted carbon intensity of 12kg of CO2 per barrel of oil produced, which compares to the UK average of 20kg/ barrel.
That figure, which does not take electrification into account, represents 1.6% of total UK offshore oil and gas emissions.
OPRED said: "Given the relative carbon intensity of the project and the expected contribution of the project to UK offshore emissions then the effects to local air quality and climate change are deemed not significant."
Dr Daria Shapovalova, senior lecturer in energy law at Aberdeen University, told Energy Voice that there are grounds where a potential challenge to Rosebank could be successful, including the outcome of a Supreme Court case on downstream emissions.
She also said that the UK's climate checkpoint, though potentially an excellent initiative, has "emerged as a non-statutory and non-transparent wave-through test".
Graham Stuart said he disagreed with that assessment and would put the UK's environmental tests against "any others in the world".
He said: "The climate checkpoint serves a useful purpose, and of course projects like Rosebank go through extensive environmental assessment and public consultation and are expected to meet the highest possible standards on the broadest possible front, including net zero, but including impacts on marine life and the like.
"So, I would put up our systems and the rigour of them against any others in the world and suggest that we are, as in so many other areas, a world leader and we can be proud of that rigour with which such projects are assessed. People have complained about how long it takes to get permission for projects like this.
"Well, we believe this should be a rigorous and proper system and that's what's been done and why, if there were to be any legal challenges to it, we would be confident that we or the regulators would successfully be able to show that they have been through and done a proper job."
Recommended for you

Orcadian agrees seven day extension with potential Pilot operator