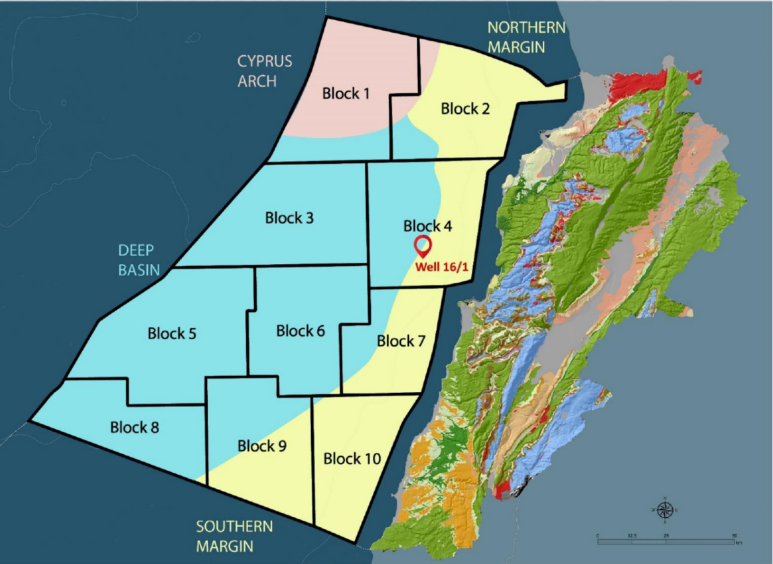 Lebanon has launched its second offshore bid round, lowering a number of hurdles in a bid to attract new investors.
The Lebanese Petroleum Authority (LPA) set out the plan in a last-minute arrival at the Petex conference, held this week in north London.
The round covers the eight blocks still available in the offshore. Lebanon licensed Blocks 4 and 9 in 2018 to TotalEnergies, Eni and Novatek. The companies drilled one well in Block 4 with a second on Block 9 being planned.
The blocks on offer are 1, 2, 3, 5, 6, 7, 8 and 10.
A presentation from the LPA at the conference showed the blocks had 2D seismic and 80% coverage under 3D seismic.
Lebanon's cabinet approved the second offshore round in April 2019. COVID-19 disrupted these plans. The closing date for the second round is June 15, 2022.
"The terms of participation in the LR have been eased to help attract more companies, and all eight remaining blocks are being offered," said Fawaz Murad, part of the Lebanese delegation.
Given the "politics and impact of the energy transition" it is eager to drive progress, he said.
Keenly priced
Companies will have 12 months to carry out research before coming to a drill or drop decision.
Murad pointed to this 12-month option to drill or drop as particularly important in attracting new investment.
The LPA presentation said it had waived cost preferences and the 80% local content obligation during exploration.
The cost to license 3D seismic is recoverable, regardless of the date of the licence agreement.
The LPA has cut the price of the bid bond from $5 million to $0.5mn and the application fee from $50,000 to $5,000. The agency also increased the cost recovery ceiling from 65% to 80%.
It will grade bids largely on the commercial offer, representing an 80% weighting. The remaining 20% will come from work commitments, for 15%, and technical report for 5%.
The LPA believes its offshore is predominantly gas prone. The local market consumes around 6 billion cubic metres per year. If there is excess gas, operators could export this north to Europe, or south to Jordan and Egypt.
One area of interest is Lebanon's southern border, which is disputed with Israel. Energean has plans to drill in the area, under contract from Israel, in the first quarter of 2022.
US senior advisor for energy security Amos Hochstein is engaged in shuttle diplomacy between the two states in a bid to reach an agreement.
Updated at 6:29 pm with comments from Fawaz Murad. 
Recommended for you

Ex-Seplat exec launches rival bid for Exxon assets