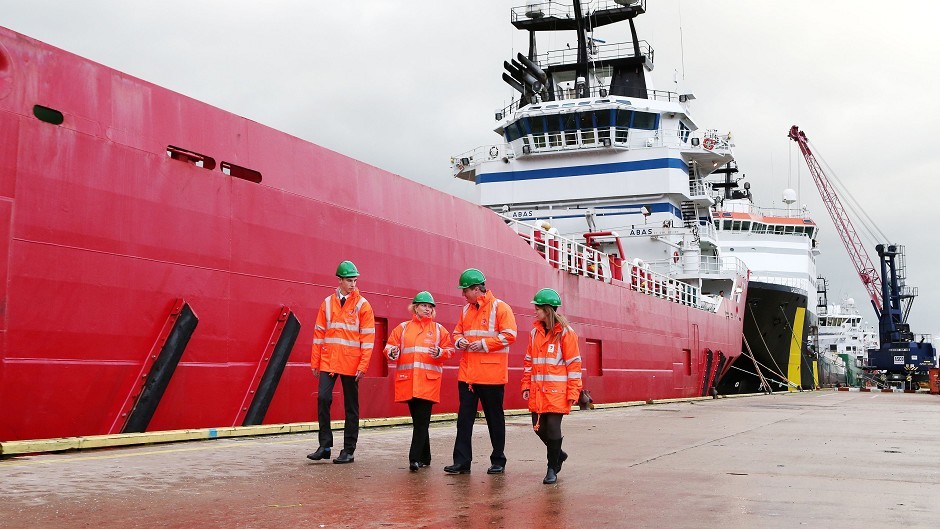 Prime Minster David Cameron last night revealed more money could be on its way to Aberdeen after it was revealed the City Deal could be worth £1.2billlion to the area.
The political leader said he "refused" to oversee the oil and gas sector's demise and pledged 100% support for the sector.
When pressed on whether more funds would be made available to help the city weather an oil price storm, he said: "There's always more that can be done, because of course to me the North Sea industry is a strategic industry and a strategic success story for the United Kingdom and we're going to stay behind that industry all the way.
"I refuse to accept that's it's the end of the road for the North Sea oil. I don't think it is."
His visit coincided with the confirmation of a raft of measures aimed at steadying the supply chain and encouraging future exploration in the wake of $28 oil, including an additional £20million to fund a second seismic survey.
"First of all, we're going to support this industry and back it with the seismic survey," he said.
"If we do this properly we'll find we're two thirds of the way through the history of the North Sea rather than three-quarters. If we do this properly there's a third of this great and powerful industry to go in terms of the domestic extraction, quite aside from the international work that can be done."
Industry steward Sir Ian Wood labelled the additional seismic survey a true "game-changer" for the industry, helping it better understand and unlock the North Sea's resources.
Cameron said government had heeded the sector's repeated calls for help.
He added: "What you've seen in the last year is a collapse in oil revenues to the ex-chequer of 94%, but because we're a diverse and strong country we're able to get behind the industry and help the industry in its time of need."
"Help" includes Energy and Climate Change Secretary Amber Rudd chairing a new ministerial group on oil and gas which will "support those who may lose their jobs in the oil and gas sector".
When quizzed on when Rudd planned to take her first trip to Aberdeen as Energy Secretary, Cameron failed to give an exact date and instead said: "I'm sure she'll be coming up."
Other measures include helping "retrain" unemployed workers and transition into other industries including bio-pharmaceuticals, according to Cameron.
"If you go back to the budget when we put a £1.3billion package behind the oil and gas industry, we did that because we had been listening to the industry, listening to its concerns even before the really steep decline in the oil price when it was becoming clear that problems were emerging," he said.
"We also set up the Wood Review in response to industry concerns, implemented the Wood Review in full and now this latest package is to help specifically Aberdeen and make sure we get behind energy innovation, we get behind the export industry, we get behind the expertise in decommissioning and deep sea exploration here, which can be used in other parts of the world, and also get behind the diversification with industries here in Aberdeen, because there are other strong industries here as well as oil and gas."
Despite slashing the industry's taxes nearly a year ago, the country leader refused say the government got it wrong in its 2011 tax grab.
"No, I don't think so," he said.
"Of course North Sea taxes do change from time to time, reflecting very different market circumstances.
"Since I've been Prime Minister we've seen oil go way over $100 a barrel and now we see it down at $30, and you have to make adjustments when these things happen in order to make sure you help the industry and also make sure consumers are getting a good deal."
He added: "It is difficult with the $30 oil price mostly because the North Sea oil is costly to extract in difficult deepsea fields but the expertise is here, the big companies are here, the supply chain is here and we're determined to make the most of it."
Other measures include £1.5 million for SMEs to develop "disruptive technologies in response to challenges set by the energy industry" and £1million for the Oil and Gas Centre for Doctoral Training. The funds will extend the programme, supported by Aberdeen University, by a year and support 120 Phd students.
However, MSP Lewis Macdonald said the rescue package fell short of securing the sector's future.
He said: "Another £20million for seismic exploration in the North Sea is good but it does not go far enough, and the UK Government needs to do much more to encourage investment in the UK oil and gas industry. Without more support for exploration a sustainable recovery in the industry remains a way off."
Elsewhere, First Minister Nicola Sturgeon will be holding crunch talks with BP in Aberdeen on Monday. She's expected to unveil her own set of measures then.
Her visit comes after Total revealed it would be drilling a new North Sea exploration well. A Total spokesman said the site could contain up to 100 million barrels of oil equivalent.
Dana Petroleum also confirmed it will kickstart its drilling campaign on its flagship Western Isles development in March.
Check back Monday for Energy Voice sit-down with Nicola Sturgeon.
Recommended for you

Agent General of Western Australia to learn from Aberdeen's energy transition