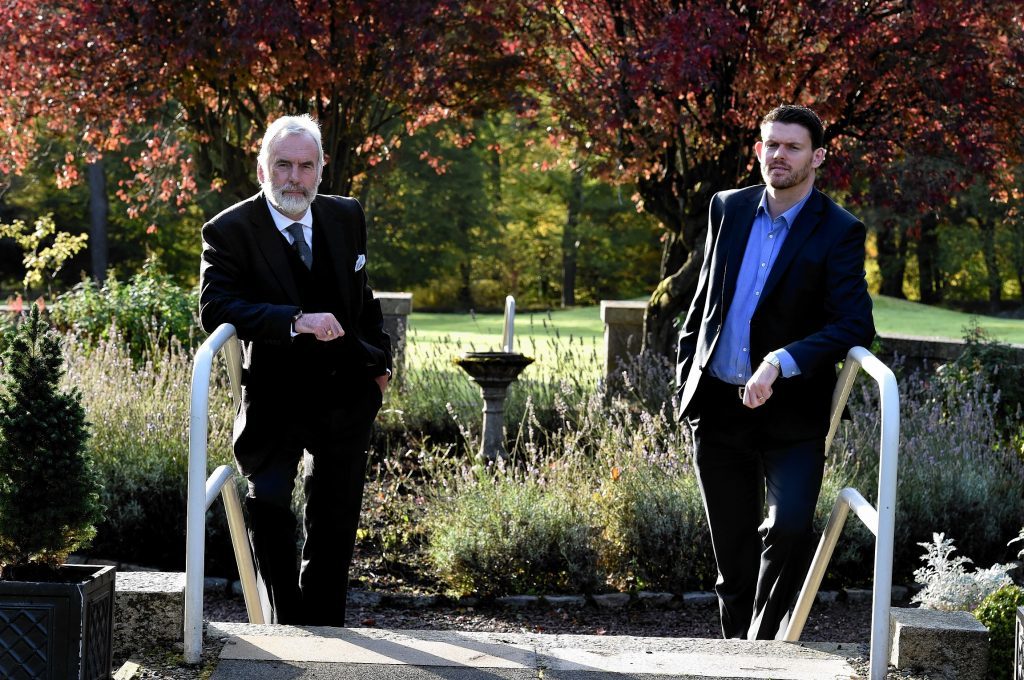 Energy Voice has teamed up with Shell to celebrate 40 years of Brent. This promoted series will examine the people, milestones and technology that helped make this historic North Sea find possible. It will also analyse what lies ahead for the breakthrough discovery. Happy 40th Brent!
For the Petrie family, Shell's Brent field decommissioning project will complete a circle which started being drawn in 1978.
Lawson Petrie from Dundee started working as a mechanical pipe engineer on the Brent Charlie hook-up that year.
Petrie Snr said the project was extremely challenging and lengthy, not helped by "raiding parties" of engineers from the field's other three platforms who used to plunder Charlie for parts.
He said: "Brent Charlie was a mess. It was taken out too early. There were a lot of incomplete systems on it. We had to find out what the status was; what was missing.
"The hook up was a very complicated process. We broke things down into sub systems then looked at the scope of the schedules, the costs and the modular and fabrication requirements.
"By doing that we were able to say it wasn't going to be ready by 1980."
The Brent Charlie hook-up handover took place in February 1982, Mr Petrie said.
The systems put in place on Charlie and the other Brent platforms – Alpha, Bravo and Delta – would save lives.
Just a day before the Piper Alpha disaster of July 1988, there was a gas explosion on Brent Alpha.
Petrie Snr said no one was hurt in that incident: "We had to replace a lot of structural work, such as piping and tubing.
"But the point is that the systems worked how they were designed to work and that's what saved lives."
Now retired, his youngest son, Nairn, is a lead cost engineer on Shell's design team, having joined the company in 2006.
Asked about his father's influence on his career path, Petrie Jnr said: "Folk always thought that out of me and my two brothers, I'd be the one who'd go into the industry.
"To hear all the stories from Lawson about Brent, all of the projects and issues – working in the same environment makes me proud.
"Working for Shell is a big thing and the biggest item for Shell is the Brent field. Being a 'Brent man' carries a lot of weight in Shell.
"Brent Charlie is like a lost daughter to Lawson. He won't have a bad word said about it."
Petrie Jnr said he and his father drove to work together, so his "brownfield education" started first thing in the morning and ended last thing at night.
The focus at Shell has now turned to decommissioning the field.
Petrie Jnr said: "I find it quite surreal in the sense that Lawson spent most of his career building the Brent field and here I am 30 years later looking to decommission it."
Petrie Snr said the iconic field had, in fact, been decommissioned once before.
In the mid-1990s, Shell spent £1.2billion on turning Brent into a field that predominantly produced gas.
Petrie Snr said the transformation project was an incredible feat of engineering and that many of the same techniques should be reused in the current decommissioning programme.
He said: "This is the second time they've decommissioned Brent. We invented things 20 years ago. You just need to go back and tweak things slightly."
According to Petrie Jnr, that's exactly what's happening.
He said: "We are seeing some of the same processes on Brent decommissioning. Shell has almost remembered what they'd done on Brent in the beginning and has brought it into the decommissioning aspect."
To celebrate and capture the rich history of Brent, Shell is commissioning an e-memory book and an oral history project. If you have an unforgettable Brent story, or have an old photo or memory you would like to share, you can submit them at www.shell.co.uk/brentmemories. The oral history project will be interviewing a selection of candidates from a variety of roles and years to record the highlights and uncover the less widely known stories from the last 40 years. Digital recordings will be donated to The University of Aberdeen who will share these stories with anyone who is interested, from family members and researchers, to students and the public. Please contact Brentinfo@shell.com if you would like more information about these projects.