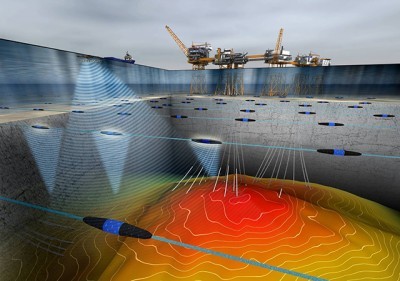 AkerBP was today celebrating the one billion barrel milestone for its North Sea producer Valhall.
The figure is three times what was originally thought possible when the field opened in 1982.
Valhall's oil and gas is produced from chalk reservoirs sitting 2500 meters below seabed in the southern part of the North Sea.
"In 1995, work was performed with the goal to extend the field lifetime and recover more than one billion barrels of oil equivalents. We have now achieved this goal 15 years ahead of what was thought at the time. Our new ambition is to further produce at least another 500 million barrels of oil equivalents", said Eldar Larsen, senior vice president of operations in Aker BP.
Valhall field was discovered in 1975 and put into production in 1982 with a process and production platform, a drilling platform and an accommodation platform. Production from the new process and accommodation platform started in January 2013. Today the Valhall complex consists of six separate steel platforms. The platforms are connected by footbridges. In addition, the field has two unmanned flank platforms, one in south and one in the north, both ca. 6km from the field center.
The field's production capacity for oil is 120,000 barrels per day. The average daily production for 2016 was about 45,000 barrels of oil equivalents per day. The field has 55 active wells. Nearly 150 production wells have been drilled onsite since its discovery.
The field is powered from shore via a 294 km long DC cable with 78MW capacity from Lista.
Meanwhile, Hod, which produces via Valhall, has delivered more than 75 million barrels of oil equivalents – double original estimates at field start-up in 1990.
Hod is a normally unmanned wellhead platform. It is remotely controlled from Valhall 13 km away, and was the North Sea's first unmanned platform when production started in August 1990.
Production ceased from the Hod Platform in 2012. Today the Hod licence produces from wells drilled from Valhall Flank South Platform.
Recommended for you

Start-up confirmed Shell Pierce North Sea gas project