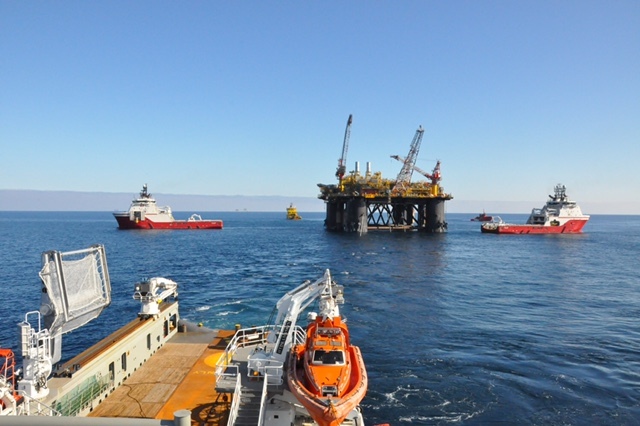 Make no mistake, the North Sea isn't out of the woods yet. However, Oil & Gas UK's CEO Deirdre Michie is quietly optimistic that the tide of adversity is turning for our offshore industry.
"I think 2017 will be a challenging year; particularly for the supply chain," says Michie simply. "We have seen good progress made by the industry during 2016 and I believe it is progress we should be proud of in terms of improving our competitiveness and reducing costs.
"But it has absolutely come at a price in terms of impacts on people . . . jobs . . . and companies. Particularly living somewhere like Aberdeen you see it, you feel it.
"But I do also think we should take some pride in what we have delivered as companies and as an industry in terms of becoming much more competitive."
In short, Michie agrees that the North Sea industry had no option but to take drastic action to survive as it lurched from uber-boom and $100-plus oil to a much more sober world where Brent seems to have settled in the mid $50s range, having plunged much lower from time to time during what has become the longest of the three great downturns.
"We didn't have any choice and we're two years into this (downturn). As people realised that the oil price wasn't going to get them out, I think they really started to tackle it in terms of not just looking at it as rate reductions, margin squeezing and retendering exercises but a real opportunity to change," says Michie.
"I do think that the industry has put in place sustainable changes in terms of the way people it does its business.
"The future is about being more competitive. If that is achieved then the basin (North Sea) becomes more competitive."
But what does that actually mean?
Michie: "Specifically it means having lower lifting costs on the UKCS on the basis that the oil price is going to stay lower for longer.
"As we look to 2017, I think the focus has to be relentlessly on safety, competitiveness and efficiency. That's the way I would encapsulate the way we need to go forward."
The Organisation of Petroleum Exporting Countries may have cut a deal that leads to a genuine fall in output but there remain clear warning signs that the crisis is far from over.
Consider, for example, that One Subsea has not just cut-back at its wellhead manufacturing plant in Leeds, the company has shut it and moved operations elsewhere. Anecdotally, GE has nothing on its UK oilfield equipment order-book for 2017. These are heavy hits on the supply chain and one has to wonder what state other UK-based oilfield equipment engineering and manufacturing really is in.
"If one looks at the supply-chain sector by sector you can see the pressure and that the order books are empty," accepts Michie.
"Some sub-sectors have been able to keep going on existing order books and have two relatively good years; but the outlook for them is now looking bleak.
"When talking with the operators, you can feel that they have got their business models sorted, they have got their competitiveness back and they are looking to do more. But there's this gap between them releasing money for investment and translating that into work for the supply chain.
"There's a time lag. In the same way as there was a time lag with people going into the recession, there's a time-lag as they come out of it. I think that's what we're witnessing.
"There is a fragile confidence emerging in the operator community and again, depending on which sector within the supply chain, that determines what the sense is among the supply chain companies."
But fragile means different things to different people . . . different companies.
Go have a conversation with Apache and, as is well known, the lifting costs performance of the Forties field is around $16 and that has become the UK industry's benchmark target. Its other great UK asset, Beryl, is doing even better at around $10.
If Apache can do that with first generation assets and make worthwhile money then surely most other operators should also do pretty well on $50 oil?
Michie: "We know that the range (of lifting costs) is very wide . . . from $7 to $70. There are companies that have been able to balance their books and make money. There are others that have also done a lot of good work to get from horrendous lifting costs to something more manageable. Some have done relatively better than others."
While there remains a legacy of Indian Summer projects still in-build, the new developments hopper is all but empty. In capex terms that suggests supply chain starvation and not just on the UKCS. But there is still a hefty operating spend is there not?
"Our last economic report indicated that the facilities (O&M) side was relatively robust and did quite well during 2016," says Michie.
"When you speak to them (the companies) they have a concern that as they go forward the order-books will be slightly less. I think you will see a tightening of that market; but it should be an ongoing one because production is up and operations are going in the right direction."
In any case, all infrastructure has to be compliant in terms of HSE and with classification organisations such as Lloyd's Register and DNV . . . not just producing assets on threadbare budgets but also platforms awaiting decommissioning.
But is Michie confident that the operators can sustain this?
"Yes," comes the reply.
"In any case they have to. Not only do they not have any choice from a legal point of view, there is also the moral perspective.
"I genuinely believe the companies put safe production at the heart of what they do. But I do also think that their people must remain chronically uneasy about what they do and how they do it and to keep that tension going in the industry. Any element of complacency that creeps in will undermine what we're doing (as an industry)."
As many Energy readers know, complacency has too often been an enemy of the North Sea in both good times and bad. It's quite remarkable too how people fail to understand that recoveries from down-cycles take a lot longer than a couple of years. If it was around seven years with the prior two big downturns, how long is it going to be this time?
That said, there is some really positive stuff still going on that could become North Sea game-changers, like on the exploration front where drilling is at a very low ebb.
"What if Hurricane working solus really does turn the UK equivalent of a Johan Sverdrup with its spectacular basement drilling West of Shetland?
Or what if BP with Perenco and Premier successfully open up Deep Carboniferous geology beneath the Ravenspurn gasfield in the Southern North Sea?
Notwithstanding, Michie is clear that, despite the apparent emergence of a few green shoots, the UK offshore industry has to stay focused on the cost efficiency piece.
"If we lose the plot on that as we move into 2017 with an oil price that's edging up, then we (as an industry) will undo a lot of the good work that's been achieved and at the same time inflicted so much pain," warns Michie.
"It's key that we keep that focus while recognising that there remain these potentially big opportunities that could help sustain the North Sea.
"I think the exploration thing is a very difficult question to answer. The current level of drilling, though better than had been forecast for 2016, is nowhere near where it needs to be.
"In conversations with operators, we're starting to hear them saying: 'we might do this and we might do that.' The conversation is becoming more positive; but this has to translate into plans that get sanctioned and then contracts.
"That's a gap that has to be filled. In reality I can't answer that question; it would be premature. I'm on the hope bit in that regard. But its hope premised on the basis that, because we are a more competitive basin, then I think there are more opportunities now than at this time last year."
Now that it has cut its teeth and reasonably bedded in, Michie appears confident that the still very young regulator the industry requested be formed by government, the Oil & Gas Authority, is helping things in the right direction.
"That they have an overview and that they can make interventions in terms of some of the commercial decision, is good. I think the OGA is helping to improve corporate behaviours." says Michie.
"When you look at the exploration end, the licensing regime that they're looking to improve will I think serve us in good order in due course. But the issue we all have at the moment is the lack
of fresh investment now.
"We're down from £4.3billion (in 2016) to £100million with only one project sanctioned (for 2017).
"That's where the issue lies in the immediate short-term. That's down to how confident we feel as an industry to manage our way through.
"What I'd like to think is that companies will start unlocking contract work in the short to medium term that will in turn help support the supply chain."
One of the shockers to emerge last year (2016) was the remarkable length of time it has been taking to bring new fields onstream. Over the past decade the average has been some 17 years since discovery and this is obviously exercising Michie.
"Length of time taken is a concern and companies recognise that. As an industry we're seeing how we can improve; and it's all about making things more efficient. This would
appear to be an area where one can.
"The wells group are looking at seeing how they can reduce the time that it takes to drill a well, as this has cost implications. The industry is very conscious of the issues. I'm not sure that we can quite understand why we have let ourselves get to such a position."
This seems extraordinary given that this industry is stuffed with highly intelligent, highly trained and very experienced people including on the shop floor.
But there is an irony in this.
"Is this not a part of our problem?" asks Michie.
"We've got clever people trying to do clever things and do cleverer things instead of perhaps accepting that, actually, our standard is pretty OK. But we want things bespoke, because that's what we do. This industry has always been like that.
"I think there's almost an element of people getting bored and wanting to move on to something else. We should take pride in actually having got there and then sustaining that. But we don't do that."
It is clear when listening to OGUK's CEO that she is a strong believer in self-help, especially after the major fiscal concessions made during the Cameron administration's reign. But there are loose ends and she wants them tidied up.
"In the Government's Autumn Statement, we asked for a number of things.
"We asked for recommitment to the driving investment plan, which we got. That then reinforces predictability of the fiscal regime going forward.
"We asked that the Government promotes our oil & gas industry in the same way that it promotes other industries; and (PM) Theresa May did mention us on her recent visit to Bahrain.
"We asked for decommissioning liabilities on the basis that it's about right assets in the right hands and they (Government) will continue to work with us on that. We have that commitment and it needs to be sorted.
"We got supply chain support too for that because they saw that as an opportunity for new companies coming in and bringing with, new investment to help fuel new activity. That's where we thought we could do something in the short-term."
And decommissioning?
It too remains an ask in terms of finally sorting out fiscal details. Michie is clearly worried that decommissioning could become an albatross as North Sea activity picks up over the medium-term. If the finalising of fiscal detail is not fully resolved then it could force more currently viable assets to earlier cessation of production than might otherwise be the case.
Moreover, a rush of decommissioning could lead to the North Sea market overheating around 2023-25 as this may overlap new project investment and so-forth. And wouldn't that be the ultimate irony if the UK decom market did overheat.
Michie: "If we can get something resolved with Treasury during 2017; that would be appropriate.
"In terms of (the Government's) industrial strategy, we absolutely want to be a part of how that evolves. We need to ensure that the industrial strategy absolutely has oil & gas at the centre."
But is that not a bit pushy because there are lots of other industries in the UK vying for attention, like the motor industry and renewables-based power generation, both of which are currently investing more than the UK offshore industry?
Michie: "We need to work to ensure that it is. That's what we will be doing. It's also about supporting the supply chain and making that a part of the industrial strategy going forward."
If he did nothing else, the last UK Chancellor, George Osborne, seemed to grasp the value of the supply chain to the economy and Michie agrees: "I think the Treasury does and that's been a real, fundamental shift.
"They do now see the economic value that we bring as an industry, whether jobs, supply chain, exports, security of energy supply, plus the technologies and skilled workforce piece too. They understand the totality of this industry and what it can continue to offer."
Aside from resources in the ground, the ultimate asset of the UK oil & gas industry is its people and they are having to bear the brunt of the pain, with many thousands of jobs lost.
Training has as a result been hit badly too and that could have a dangerous legacy impact on any serious rebound of the North Sea.
"The gap which is building in terms of a loss of apprentices and graduates is a concern.
"In terms of the training piece, companies are paring right back to what they have to do rather than what they would like to do. At the least they should train their people to be competent in what they do.
"The other thing that I hear is that there is much more multi-tasking happening. In that regard there's a shift going on from people having just to one skill to, in effect, multi-tasking. I think that's a good thing to do. But it's taken this crisis to force this issue."
In conclusion?
"2017 is going to be a difficult year."
Recommended for you

Oil worker travels the world with a suitcase full of butteries