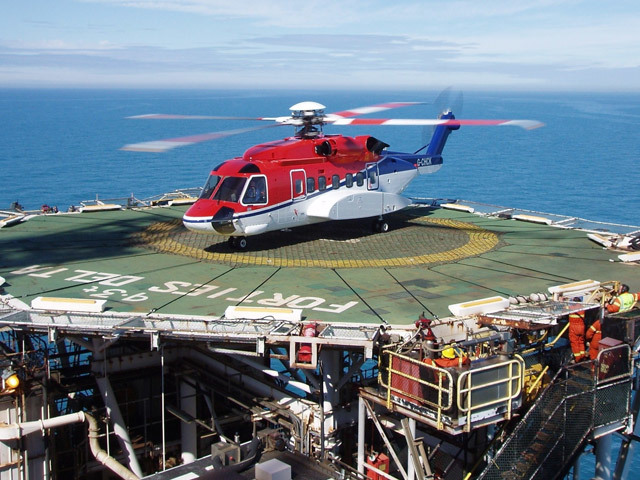 All North Sea helicopter flights have been recalled today over safety fears.
Sikorsky S92 helicopters have returned to base following a probe into a recent incident on a North Sea platform.
The decision to recall S-92s comes after Super Pumas were banned in the wake of a North Sea helicopter crash off the coast of Norway which killed 13 people on April 29th last year.
A spokesman for CHC said the move was in response to an Alert Service Bulletin (ASB) and that all aircraft would now be subject to the ASB maintenance instruction and would be returned to service upon completion.
He was unable to give an indication as the timescale involved.
A spokesman for Aberdeen International Airport said: "We are aware of a safety alert that has been issued for all S92 helicopters and are anticipating a potential impact on helicopter
operations over the next few days until essential maintenance has been carried out. We will support the operators as much as possible through this disruption."
The move comes after an incident involving an S-92 on a North Sea platform last month.
A spokeswoman for Sikorsky said: "Safety is our top priority, and Sikorsky is working closely with our customer and investigative authorities to determine the root cause of the loss of tail rotor authority in the Dec. 28 installation landing.
"Although the investigation into the Dec. 28 incident has not been completed, Sikorsky released an Alert Service Bulletin on Jan. 10 to define additional interim inspection requirements for the S-92 Tail Rotor Pitch Change Shaft. Those procedures include an off-aircraft check of the PCS bearing and that check must be done before next flight with some leeway for getting back to base.
"We are committed to keeping our customers informed. We will further communicate findings if the investigation reveals any safety or airworthiness issues that affect the S-92 helicopter fleet."
The helicopter flight had been making a shuttle flight between Total's Elgin platform facilities and West Franklin, around 130 miles off the coast of Aberdeen.
Images later emerged of the damage to the platform as the flight attempted to land with nine passengers and two crew on board.
A source at the time said the S-92 took "gouges out" of the helideck, damaged its wheels and spun on the deck of the West Franklin when it was forced to land.
A Shell spokesperson said: "Shell UK can confirm that following the release of today's ASB (Alert Service Bulletin) advising of additional checks that have to be carried out on the S-92 pitch change shaft, our UKCS flying programme is likely to be significantly impacted today as the additional checks are carried out.
"Our Logistics team is working on alternative flight provision but it is possible schedule disruption could continue this week."
The Civil Aviation Authority (CAA) stressed the current move was purely a manufacturer's recall, not a regulatory decision.
A spokesman said they are aware of the situation and are discussing matters with the three firms which operate S92s in the North Sea region, CHC, Bristow and Babcock.
A spokeswoman for oil and gas firm Shell said their flying was likely to be "significantly impacted" as a result of the decision and work was being carried out on alternative flight provision.
Jake Molloy, regional organiser for the RMT union, welcomed the precautionary move.
He said: "It means the aircraft has to be on the ground for some hours but I'm quite sure every worker in the North Sea would rather that rod and that bearing were inspected to ensure that we don't have a repeat event of December 28."
Recommended for you

North Sea Tiger: One-eyed cat stows away on oil platform