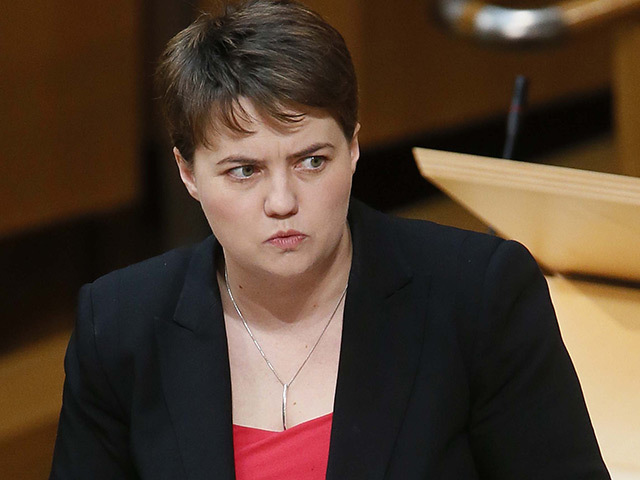 Scottish Conservative Leader Ruth Davidson has accused the SNP Government of doing "nothing for the north-east" in a fiery exchange over oil and gas revenues.
She also challenged Deputy First Minister John Swinney to provide independent analysis showing Scotland's economy would fare better outside of the UK.
The education secretary was similarly pressed on the issue by Scottish Labour Leader Kezia Dudgale, who branded the economic case for independence "well and truly bust".
But he insisted that while the UK Government had been "talking about possibly setting up a talking shop", the Scottish Government was taking action to support the North Sea industry.
And he said it was "revealing" that Labour and the Tories had "come together again" at the "first available opportunity", like they had "never had a moment apart".
The row came at First Minister's Questions in Holyrood, the day after the UK's fiscal watchdog downgraded its forecasts for oil and gas receipts.
Prior to the independence referendum, the Scottish Government predicted North Sea revenues of up to £7.9billion in 2016/17 and of up to £11.8billion in 2017/18.
On Wednesday, the Office for Budget Responsibility put the 2017/18 figure at an estimated £900million.
Ms Davidson said the economic prospectus on which the SNP based its case was "bogus".
She asked: "Without those oil receipts, can you point to any independent analysis that shows that Scotland's economy would fare better right now if we were outside the UK?"
Mr Swinney, who was standing in for Nicola Sturgeon, said what people wanted was more action to support the oil and gas sector.
He added: "That is what this government and the finance secretary have been arguing for. What the UK Government has been doing is talking about possibly setting up a talking shop, which it talked about setting up a year ago."
This was a reference to plans in the Budget to convene an expert panel on the decommissioning tax relief system.
Ms Davidson said the industry had welcomed the move, adding: "It is no surprise that the Scottish Government does not, because it does nothing for the north-east."
But Mr Swinney hit back, pointing to the "concrete action" taken by the SNP in the form of the decommissioning challenge fund, £12million transition training fund and energy jobs task force.
Ms Sturgeon was in London for the unveiling of a national memorial honouring the armed forces and civilians who served in Iraq and Afghanistan.