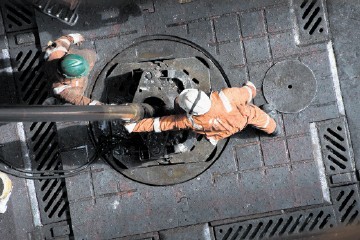 Offshore trade unions intend to serve North Sea employers with strike ballot notices in the coming weeks with no sign of talks on the horizon, it is understood.
John Boland, regional officer at Unite, said no negotiations had been held with the Offshore Contractors Association (OCA) since workers rejected a pay deal last month.
The OCA, which represents nine companies including Amec Foster Wheeler, Petrofac and Wood Group PSN, declined to comment.
Last month, Unite said 81% of members had turned down the latest offer from the OCA, while nearly two-thirds of GMB members rejected the deal.
It was the second pay offer rejected by members of both Unite and the GMB union.
The unions are seeking a wage increase for members, along with improved sick pay and paid travel time to an employer's onshore base.
Mr Boland said yesterday that the paperwork for an independent strike ballot was currently with Unite's legal department for checking.
Mr Boland could not specify when employers would be notified, as the timing "depended on the legal department".
However, it is understood notices could be served at the end of this month, followed by a two-month long strike ballot.
Mr Boland said no negotiations with the OCA were planned "at this point".
He said: "We told the OCA our members had rejected their latest offer and that's where we are at the moment. There is nothing coming back from the OCA.
"The next stage is to start preparing for industrial action. We are in the early stages of doing that."
Recommended for you
X

Scottish scientists to play big role in £7.6m carbon capture research project