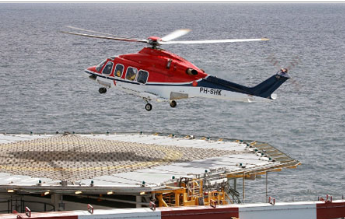 CHC is in talks with UK pilots union Balpa over proposed changes to pay and terms and conditions.
The move is said to be an attempt to safeguard jobs.
The helicopter firm, which has a North Sea base in Aberdeen, has entered into a period of consultation in an attempt to "standardise" contracts across the workforce.
Pilots' union Balpa is in talks with the aircraft operator.
A CHC spokesman, said: "We are not seeking to reduce the number of our pilot workforce.
"We have entered a period of collective consultation with the pilots' union BALPA regarding the standardisation of terms of conditions.
"The proposed changes are being put forward out of a desire to protect the jobs of all pilots and ensure a strong future for CHC."
BALPA General Secretary, Brian Strutton, said: "BALPA has been notified of CHC's intention to change the terms and conditions of its pilots.
"We are in negotiations with the company and we will be meeting our members this week to discuss the situation. We have nothing further to add at this stage."
CHC group emerged from Chapter 11 bankruptcy earlier this year.
The company, like many others, has been significantly affected by the downturn in the oil and gas industry of recent years.
The court supervised restructuring, completed in March, allowed the company to wipe off around $1billion in debt.
Recommended for you

NOCs talk up ESG, attractiveness amid industry pressure