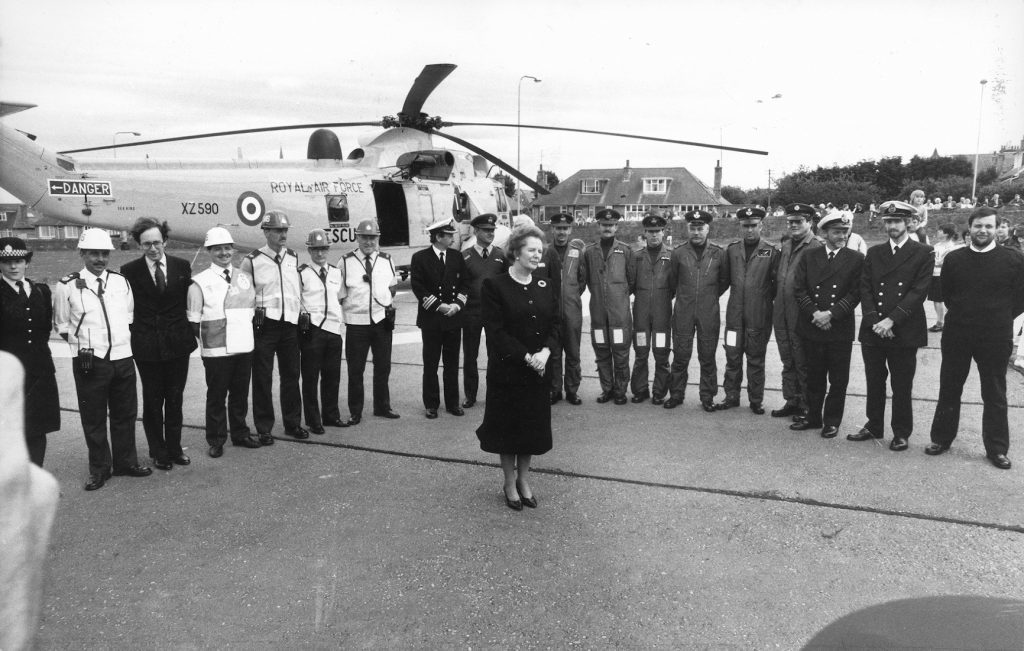 Former Prime Minister Margaret Thatcher skipped a memorial for the Piper Alpha disaster in favour of meeting industrialists and a Conservative party donor.
Her decision to opt out of the service, held in the aftermath of the disaster which killed 167 rig workers in July 1988, has been revealed in newly declassified government documents.
Instead of going to the memorial on July 20, according to her diary, Thatcher met with industrialists for lunch at Number 10 Downing Street before meeting Lord McAlpine, a wealthy Tory fundraiser.
The memorial service for Piper Alpha was held at St Nicholas Church on Union Street in Aberdeen.
In a letter dated July 11, 1988, Tessa Gaisman – one of the PMs former advisers – informs Thatcher of the vigil but notes that her schedule would be "very tight".
The letter states: "This would mean moving your afternoon engagements and cancelling/postponing the lunch for Industrialists.
"You could, alternatively ask the Lord Chancellor to represent you."
Handwritten on the letter is Thatcher's response, which states: "I thank the Lord Chancellor if he would kindly represent me."
Thatcher's diary also shows that on July 18 – 12 days after the North Sea tragedy – she had a slot between 8:30am and 10am allocated for a 'hair' appointment.
She also had a hair appointment the day following the snubbed Piper Alpha memorial – although only for half an hour in the morning.
Thatcher had already met survivors of the blast in Aberdeen Royal Infirmary and chatted with some of their rescuers on July 8.
The declassified secret documents also show letters of sympathy from then global leaders, who expressed their condolences at the massive loss of life.
To read the documents, click <a href="http://PREM-19-3264 (1)">here.
A total of 167 men died in what is considered the world's worst deadliest oil rig fire.
On the night of July 6, 1988, a complication with maintenance paperwork led to a gas leak on board the platform, 120 miles north-east of Aberdeen.
This led to a series of explosions which ripped through the platform.
The Occidental operated rig, soon became engulfed in a raging inferno with the flames lighting up the night sky like a false dawn.
Workers were forced to navigate the "rabbits warren" of corridors in a bid to make their escape.
Some brave souls opted to throw themselves down into the water with only a bleak hope of survival.
167 men died. 61 survived. 30 bodies were never recovered
By morning the story was being heard around the world, as rescue vessels surrounded the charred remains of the twisted metal of the platform.
The accident led to an inquiry by Lord Cullen and a subsequent radical overhaul of offshore safety culture.
The Cullen Inquiry into the disaster led to no fewer than 106 recommendations for changes to North Sea safety procedures.