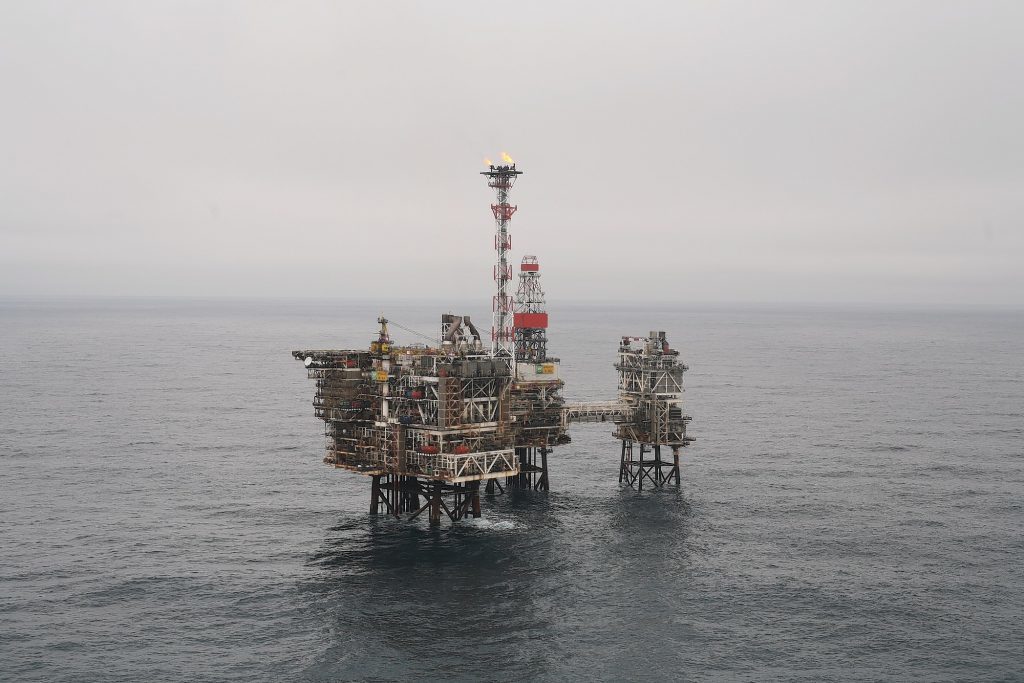 The North Sea is headed for a sweeping shutdown unless a small crack in a pipeline near Aberdeen can be fixed quickly, industry experts have said.
Owner Ineos said it would take "weeks rather than days" to fix the leak, which was detected during a routine inspection at Netherley last week.
A number of residents were evacuated from their homes, a road was closed and a cordon was set up after the discovery was made on the Forties Pipeline System.
John Scrimgeour of Aberdeen University's energy institute said a lengthy stoppage meant North Sea fields would have to stop producing due to a lack of storage capacity.
Oil giant BP said last night that it had already stopped production at three of its hubs while the problem is dealt with.
Prominent petro-economist Alex Kemp said the shutdown would be painful for oil producers and for Ineos, but that a spike in petrol prices was unlikely to follow.
The price of Brent crude rose by nearly 2% to $64.61 per barrel yesterday.
The 235-mile pipeline system links more than 80 North Sea field to the UK mainland and the Ineos site in Grangemouth. It delivers almost 40% of the UK's North Sea oil and gas production.
Ineos completed a deal to buy the system from BP for up to £190million ($250million) at the end of October.
The petrochemicals giant said late last week that it had lowered the pressure in the pipeline after identifying the hairline fracture, but did not have to shut it down.
But yesterday Ineos said the crack had got bigger, forcing it into a controlled shutdown.
Ineos said in a statement: "Despite reducing the pressure the crack has extended, and as a consequence the incident management team has now decided that a controlled shutdown of the pipeline is the safest way to proceed.
"This will allow for a suitable repair method to be worked up based on the latest inspection data, while reducing the risk of injury to staff and the environment.
"As always, safety remains our top priority and local residents, Forties Pipeline System users and other stakeholders are all being kept fully informed of the situation as it develops."
Alex Kemp, professor of petroleum economics at Aberdeen University, said: "If it takes a couple of weeks to fix then I do not think it will be a big deal for motorists or the national economy.
"North Sea tax revenues are so low that it's not a big deal. For motorists I think there should be oil available from imports.
"But producers will feel very unhappy. They will suffer and some will have to stop production − and they do not like doing that."
Mr Scrimgeour, executive director at the Aberdeen Institute of Energy, Aberdeen University, said: "If it takes weeks to repair oil companies will start to down-man, and that will have an impact on service companies."
Mr Scrimgeour also said he was concerned that the same problem which caused the leak in Netherley could arise on other parts of the pipeline.
Fiona Legate, a North Sea analyst at consultancy Wood Mackenzie, said even a temporary shutdown of Forties would have "wide reaching implications for the UK oil and gas industry".
Ms Legate said: "Companies with fields utilising the Forties export route will suffer from reduced cash-flows during the shutdown period."
John Corr, consultancy manager, north-west Europe, at consultancy Westwood Global, said: "Any outage is significant not only for the UK, but also for the industry, as these unscheduled outages are painful given the relatively high cost base of the upstream assets which remains unchanged, whilst revenue is deferred.
"In 2017, it is estimated by WGE that 64% of the c. 444,000 barrels produced daily via FPS comes from five producers, all of which will feel the impact of production deferral, and include Buzzard, Elgin/Franklin, Forties, Kinnoull and Scott (operated by Nexen, Total, Apache, BP and Nexen respectively).
"For operator Ineos this is a double blow and an unwelcome turn of events, which it will undoubtedly seek to remedy with all haste, given that FPS also supplies it's Grangemouth refinery."
A spokesman for BP, former owner of the pipeline, said: "Ineos has been in regular contact with us since this issue came to light last week, as per protocol.
"Ineos requested, and we have initiated, a temporary shutdown of production through our Andrew, ETAP and Bruce hubs until this is resolved.
"We will continue to liaise with Ineos and offer any support we can to help bring this situation to a successful conclusion as quickly as possible."
Shell said it was too early to say whether it would have to take similar action.
Oil and Gas UK chief executive Deirdre Michie said: "We have been in touch with Ineos and are closely monitoring the situation and hope this can be resolved safely and as quickly as possible."
Recommended for you

Rising costs and inefficiencies see North Sea operators fork out £7.2bn