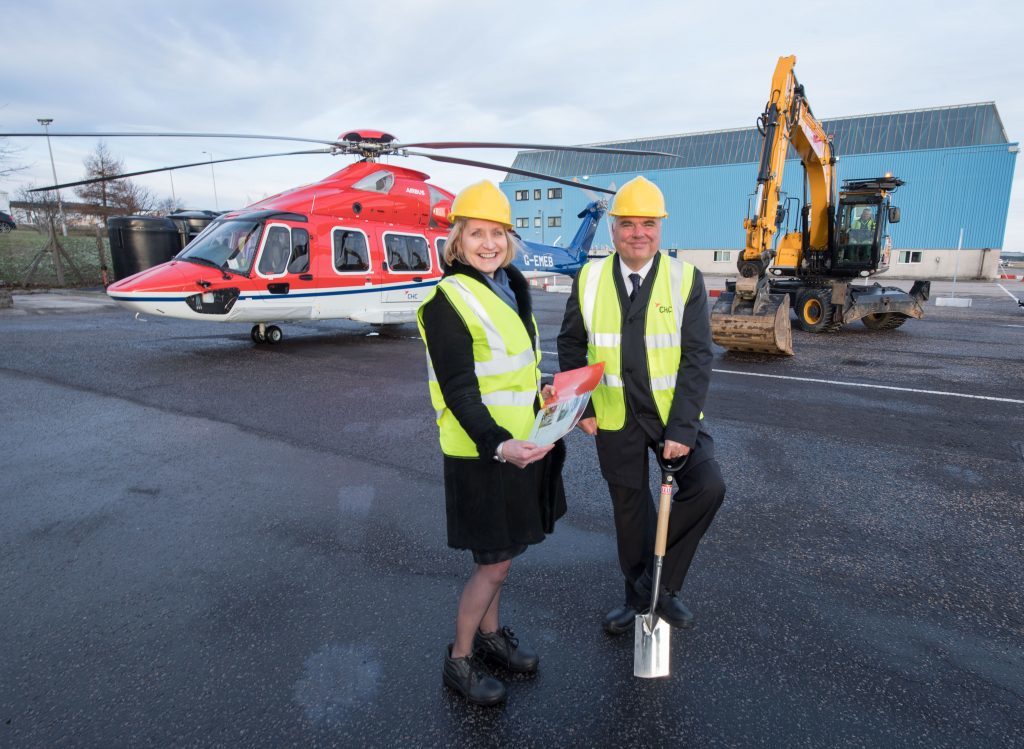 A major revamp of helicopter operator CHC's terminal and hanger facilities at Aberdeen International Airport is under way.
CHC regional director Mark Abbey said work on the £4million-plus project is starting at a time when the oil industry is showing "real signs of recovery".
Mr Abbey said CHC was well-positioned and that its balance sheet was strong after emerging from chapter 11 bankruptcy last year.
He also predicted demand from the offshore renewables sector for helicopter services would only rise.
Mr Abbey was speaking after the ground breaking ceremony in Dyce, where he was joined by Deirdre Michie, chief executive of industry body Oil and Gas UK.
Ms Michie praised CHC for making the investment and said offshore workers would be delighted to have a more comfortable facility at their disposal.
The first phase of the redevelopment, focusing on the delivery of a modern flight operations centre, is expected to be finished by June.
Work to create "world class" terminal facilities for passengers will then begin.
Mr Abbey said the roof of the heliport would be raised and partially covered with glass to give the facility a brighter, "airport-type feel". A second floor lounge will also be built.
The project should be completed by November 2018.
CHC also recently added two new Airbus-made H175 helicopters to its North Sea fleet.
Mr Abbey said the acquisitions reflected changes in demand from the market, but described other models which make up its fleet, including S92s, as highly capable.
He said CHC's position on Super Puma 225 helicopters was "unchanged".
Those aircraft have not been used by North Sea industry since a fatal crash in Norway in April 2016 claimed 13 lives.
Mr Abbey said CHC was "still waiting for further information and data" on 225s.
He also said the operator was working closely with safety body HeliOffshore to understand if and where Super Pumas fit into future operations.
Recommended for you

CNOOC confirms first oil from delayed Buzzard Phase 2 project