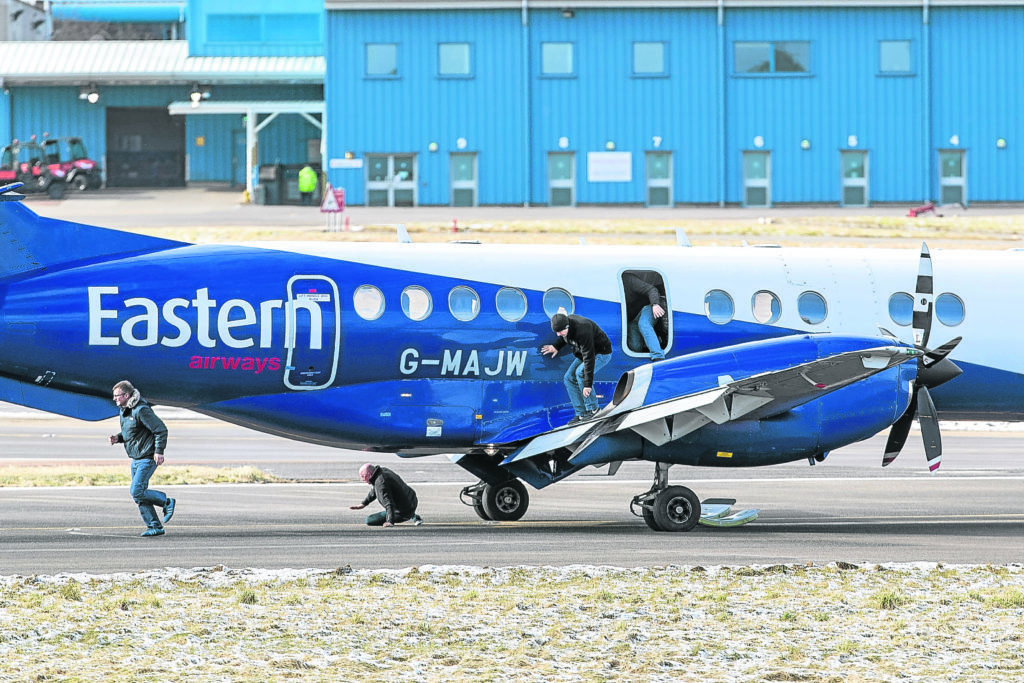 A plane carrying 18 offshore workers made an emergency landing yesterday – after circling Aberdeen several times to burn off fuel.
An Eastern Airways plane bound for Sumburgh declared an emergency after a cockpit warning light came on.
Police, ambulance and fire crews descended on Aberdeen International Airport,with a spokeswoman confirming a "full emergency" was declared.
The plane – which set off just before 10am – circled over Cove and Portlethen several times before landing safely at around 12.35pm.
Passengers on the flight then evacuated the the plane through over-wing exits.
The crew were then taken to Bristow Heliport terminal in Dyce.
An Eastern Airways spokeswoman said: "Charter flight EZE1035 from Aberdeen to Sumburgh made a precautionary return to Aberdeen following a cockpit warning indication relating to the nose landing gear.
"The Jetstream 41 aircraft with 18 passengers and three crew on board landed safely at Aberdeen at 1235.
"As a precautionary measure the passengers disembarked the aircraft via an over-wing exit.
"Engineers will be inspecting the aircraft.
"We apologise to passengers for the inconvenience, but the safety of our passengers and crew is paramount."
An airport spokeswoman said: "We can confirm that the Eastern Airways Aberdeen to Sumburgh flight landed safely in Aberdeen at 12.35pm after declaring a full emergency."
Jake Molloy of the RMT union said: "For some time now there has been anxiety from offshore workers about using helicopters so this kind of event can only heighten fears."
Dyce councillor Barney Crockett said that he had made the flight to Shetland "many times" when he previously worked in the oil industry.
He added: "I think it would have been a really bad experience for the people involved and I am really relieved to hear they are all safe."
North-east Labour MSP Lewis Macdonald said: "I'm sure this would have been a very anxious time for all involved."
Recommended for you

Tory leader makes safe landing as Bristow unveils green vision