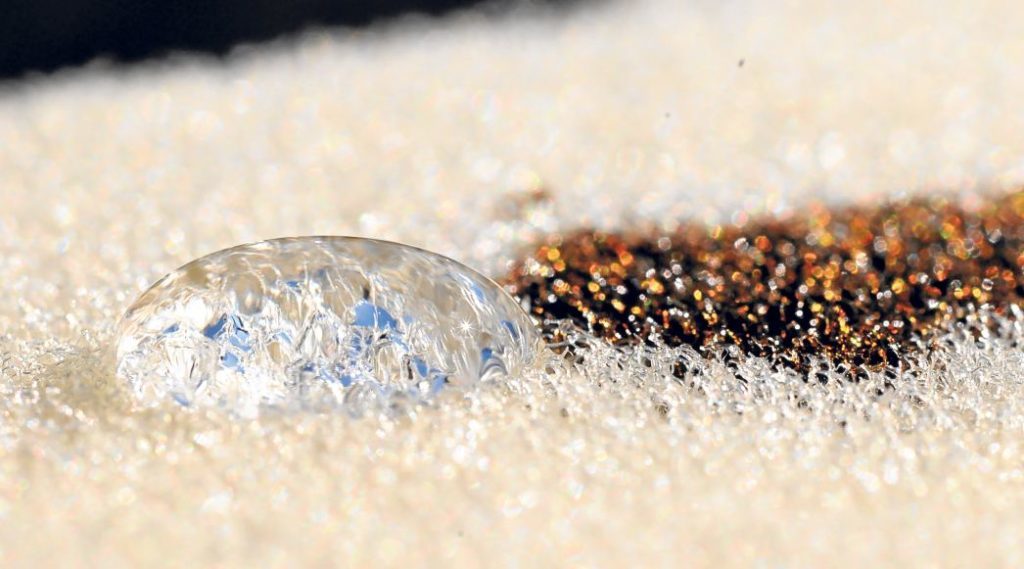 The Oil and Gas Technology Centre (OGTC) has announced the 10 start-ups for its TechX pioneer programme, which it believes will "transform" the future of the industry on a global scale.
Up to £100,000 is on offer to the 10 firms for the scheme, which starts in June.
The programme is supported by energy giant BP, which is offering a further £100,000 to the top two companies following a 12-month "incubator".
It represents a potential game-changer for investment from the oil major, which historically has not worked with firms in their early development, and sees this as an "experiment" for future work with start-ups.
Among the ideas being developed by the pioneers is a special "sponge-like" material for recovering oil following major spills.
The idea, from Italian firm Test 1 Srl, came following BP's Deepwater Horizon disaster in the Gulf of Mexico in 2010.
The PUFF (polyurethane foam flex) technology can be reused more than 100 times, and absorbs 30 times its own weight.
Test 1 says it can work in all weather environments and will address a gap in the market in providing adequate environmental protection.
Alessandro Taini, marketing manager for the firm, said that it would "avoid high reclamation costs and high economic penalties for oil operators".
He thinks BP's commitment to environmental protection following the Deepwater Horizon incident could give them the edge for future funding.
Aberdeenshire-based Specialist Safety Systems is also taking part. It is developing sensor technology for crane operations offshore which it says will prevent incidents and fatalities.
Ultimately, the firm believes this could save the industry £60million per year through preventing damage and investigation costs.
Another firm which caught the panel's eye is RAB Microfluidics, a research and development start-up from Aberdeen University.
The firm is creating a cutting-edge "lab-on-a-chip" condition monitoring device which can detect early signs of equipment failure.
"Industrial businesses spend billions of pounds on state-of-the-art equipment and failure detection techniques," explains managing director Rotimi Alabi.
"Traditional approaches take a sample of oil from the machinery quarterly and transport it to an onshore laboratory for analysis, to identify the build-up of breakdown, wear and contamination material in the oil.
"This periodic analysis is inefficient, expensive and environmentally unfriendly. RAB-Microfluidics turns this approach on its head by bringing the laboratory to the machinery in the oil.
"Our ambition for the oil and gas industry, especially the UKCS, is to transition maintenance operations from reactive to predictive maintenance strategies where a reliability engineer can identify potential machinery failure well in advance of a problem occurring and then take action."
Another that is involved is Immaterial, which is developing porous nanomaterials that act as "molecular sponges" to recover the millions of tonnes of natural gas that is flared worldwide each year because it is too expensive to recover by pipeline.
Competition for places in the pioneer programme has been fierce, with more than 200 applications from 24 countries.
The level of interest stems from what the OGTC's TechX director David Millar describes as a "unique offering".
He said: "I think on the whole, everybody was really excited just to be a finalist. They know what is on offer. It's potentially a transformational offering for them."
Part of the requirement for the 12-month incubator is that firms establish themselves in the north-east, allowing the area to reap any economic benefits from their development.
OGTC hopes to tap into the "abundance of entrepreneurs" in Aberdeen, and help them break into the energy sector.
Mr Millar said: "We know oil and gas is an incredibly difficult market to break into, compounded by the fact that a lot of the end users have dwindling R&D budgets, they don't have the funds to support young start-up companies and they are a little bit risk-averse for early-stage tech.So I think a programme like this is hugely important, to give these entrepreneurs a step up – to give them the funding, the support, the education, the market access – but also for us to keep them here where the support offering we have is of benefit to the region, creating more jobs as they scale-up and grow.
"I think we also fill a big void in the ecosystem for oil and gas. I think before the OGTC, and TechX in particular, there was just nothing there. We fill that big space to help companies in that start-up stage, accelerate them through their journey to scale-up and grow."
The potential of the pioneer scheme, and the fact it is being done in Aberdeen with long-standing oil and gas ties, has been sufficient to attract the interests of one of the world's largest oil companies, BP.
Through its Ventures arm, the firm will fund the top two firms at the end of the 12-month incubator.
David Gilmour, vice president for business development with BP group technology, said: "In terms of the way we operate, we are looking for the right regions to go searching for the entrepreneurs who will be developing these technologies.
"We have quite a presence in Houston, San Francisco, Israel and China, where there are the major tech centres across the whole range of businesses BP operates in.
"Because of our strong presence in Aberdeen and the developments at the OGTC TechX centre, we thought together that by making an investment through partnering in the pioneers programme that we can start accessing the talent that I believe is available in the region, to start seeing what technology and business models are coming through from the folk in the region and start accessing the entrepreneurial base."
For BP, the idea of investing in firms at a relatively early stage is new territory. It typically comes in at the "Series A or B" rounds, where the product has already been tested and companies are looking for their first major investors.
If the "big experiment" is deemed a success, it may encourage investment with start-ups in the future.
Mr Gilmour said: "For me it's quite a big experiment, it will take a long time to see exactly what the impact will be, but it will demonstrate if we can grab ideas earlier and run with them. What that means is that BP could spend less capital at an earlier stage, but spend more time with these entrepreneurs than it would at a later stage.
"As you can imagine, as these firms get more successful, the price is going up. So this is why if you invest at a later stage – C or D round – you pay a hefty premium to access the technology.
"If we can go earlier and nurture the technology earlier, then we get a better deal for our shareholders and actually we can offer support faster.
"If we get it to work it's a win-win for the entrepreneurs, the economy and for BP. It's going to require some experimentation and effort to get there, but it's a challenge we're willing to take on."
While entrepreneurial spirit is something that has been touted as an important factor for both the OGTC and BP for the competition, it is clear that the winners will be those that have the biggest potential for a global impact.
Marie O'Hanlon is acting technology manager with BP North Sea, and has been integral in the firm's involvement with TechX.
She feels Aberdeen is one of the few places globally that such a competition could be carried out.
She said: "We have a long history in the oil and gas sector. We've got a lot of experience in sitting here within the North Sea.
"You have two great universities in Aberdeen and RGU and you have all the majors still here so it is the obvious place to do it.
"I think maybe the oil price being low, when cost is so much more important and you have to be so much more innovative and creative, I think that has forced the conversation.
"I remember the first person having a colour TV, then getting video and then it was DVD. Looking back at all that, technology is the thing that can really transform.
"I think this is really the moment for us in the North Sea to look at where technology can be transformational and the OGTC is the perfect hub for that."
Recommended for you

BP tipped to reach next Senegal FID this year