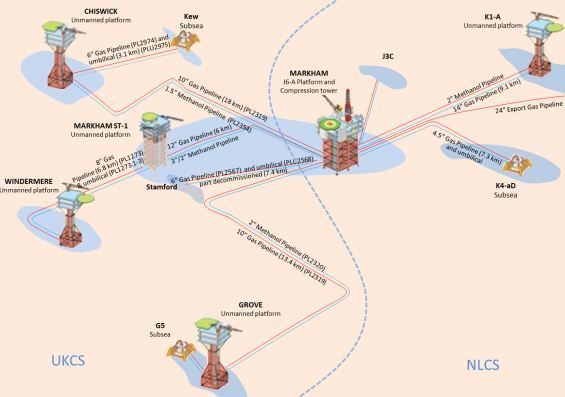 Ineos has submitted decommissioning plans for its Windermere platform in the southern North Sea.
The plans put forth to the UK Government include the onshore removal of the topsides and steel jacket, weighing a combined 834 tonnes.
It will also see the plugging and abandonment of wells in the field as well as partial removal of the export pipeline and umbilical.
A buried section of the pipeline and umbilical will remain in place as it would mean the least impact to the seabed.
Ineos says the long-term impacts from decommissioning operations are expected to be "negligible".
However seabird vulnerability in the area is considered "very high to high" for all months of the year except June, August and September where it is "low to moderate."
Work is scheduled to begin in 2019 through to 2022, with platform and topsides removal taking place in quarters two and three, avoiding peak seabird vulnerability in Q4.
Windermere was discovered in 1989, the platform was installed in 1996 with production beginning the following year.
Production ceased in 2016 with the pipeline between Windermere and Spirit Energy's ST-1 platform four miles to the east being cleaned and flooded.
ST-1 previously provided power to the platform but is also being decommissioned.
The helideck, crane and lifeboat on Windermere were also taken out of service last year, with walk-to-work docking stations put in place to allow once per year interventions.
The platform is currently in "hydrocarbon safe mode" prior to decommissioning.
Recommended for you
X

Tullow to halt UK production in third quarter