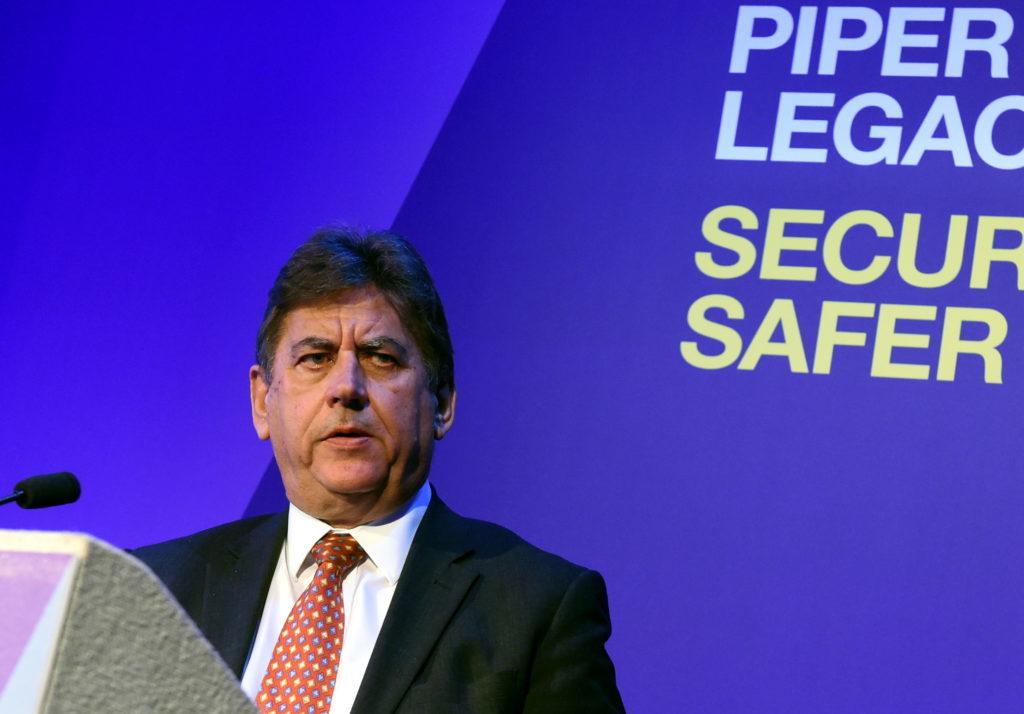 Questions need to be raised over why lessons from Piper Alpha have not been put into practice elsewhere to help prevent tragedies such as the Grenfell fire.
Health and Safety Executive (HSE) chairman Martin Temple said it was "pertinent" following another major loss of life in the London fire to reflect on why recommendations made after the North Sea blaze did not result in other industries adopting good practices.
One hundred and sixty seven men lost their lives on Piper Alpha on July 6 1988 after the platform, 120 miles off the coast of Aberdeen, exploded.
To mark 30 years since the incident, Oil and Gas UK's (OGUK) annual safety conference is being held to reflect on the steps taken in the industry since the incident and to ensure safety is at the forefront.
Speaking to about 700 delegates at the Aberdeen Exhibition and Conference Centre yesterday, Mr Temple said: "We owe it to those who have lost their lives to question ourselves, revisit what we know works and apply it to the changing operations environment we find ourselves in today."
He added: "The impact of the Piper Alpha disaster created a ripple effect that had far-reaching consequences, not just for the oil and gas industry but for the management of health and safety across all high hazard operations.
"Those ripples reached across oceans, from the UK, to Europe with the BBC World News broadcasting events as they unfolded that night, to an estimated quarter of a billion people around the world. That's 250 million people questioning how safe it was to work in the oil and gas industry.
"I believe that part of Piper Alpha's legacy is the focus on the management of risk in high-hazard industries, not just in the UK but across the world."
Part of that legacy, he said, was to be able to help prevent future disasters taking place.
Referring to the Grenfell Tower fire, in which 71 people died, Mr Temple added: "While reflecting on the improvements industry as a whole has made over the last 30 years in understanding and managing risk in the workplace, it saddens me to see another disaster hitting the headlines."
He said the report released recently by his predecessor, Dame Judith Hackitt, into Grenfell recommends a new regulatory framework focused on multi-occupancy, higher risk residential buildings of 10 storeys or more. It also recommends a joint competent authority to oversee better management of risk in these buildings.
Mr Temple added: "I think it is pertinent following Grenfell to question why so many solutions for managing risk that came into being after Piper Alpha aren't being applied across all industries, and ask why 30 years on, we could be looking at yet another possible turning point in health and safety management."
Opening yesterday's conference OGUK's chief executive Deirdre Michie said the industry must continue to "think the unthinkable" to create a "chronic sense of unease" in order to ensure the sector does not become complacent 30 years on.
Ms Michie described it as a "watershed moment" for the industry and its health and safety regime.
She said: "Thirty years on from the Piper Alpha disaster, our conference provides an opportunity to consider and reflect on a number of themes; the past, the journey we have taken on safety over three decades driven by the legacy of that dreadful night and its aftermath; the present – the way in which operations today continue to be shaped as a result of Piper Alpha; and the future – the challenges we must embrace to ensure we retain a relentless focus on safe operations in an ever changing and challenging business and operational environment.
"Crucially we must continually think the unthinkable in our industry – as even though there was an appreciation of major accident hazards at risks at the time of Piper
Alpha, the scale of the incident that unfolded was unimaginable. And quite rightly, it represented a watershed moment for health and safety in our industry."
Recommended for you

Draeger: Safety in the renewables sector