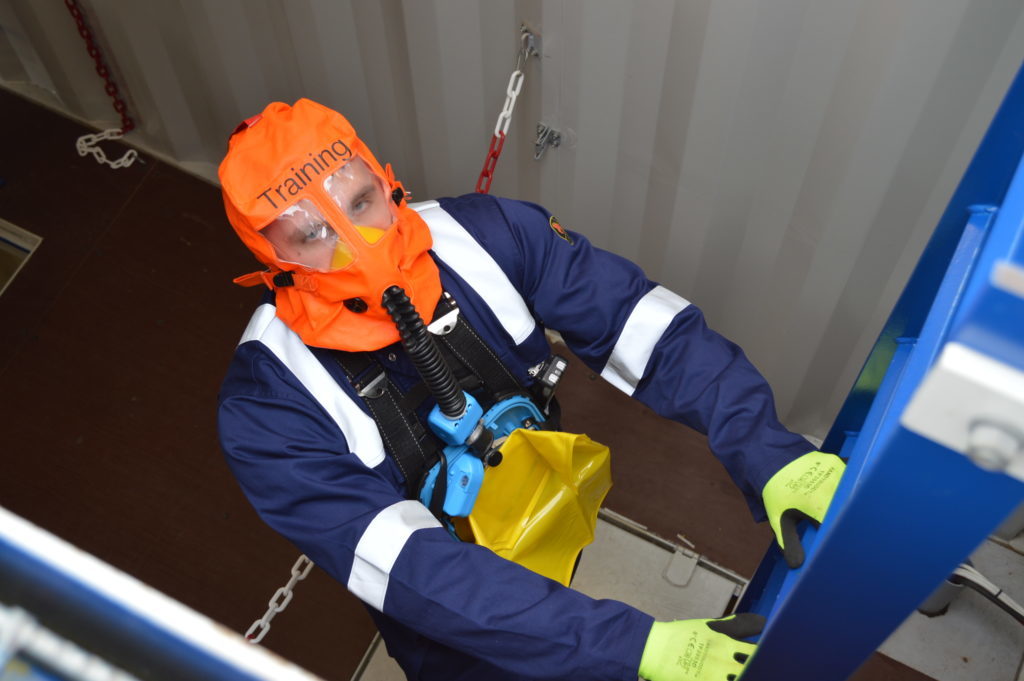 It's no surprise to hear that being within the legs which hold up massive North Sea platforms can be an "intimidating environment to work in".
The "huge potential" for hazards include a toxic atmosphere, loss of ventilation, personal injury and fire, to name a few.
EV has come to Drager Safety's training facility in Bridge of Don for a course on how to work within these legs, and the required safety standards.
Each company has individual training for different installations – in this case, we're training for a platfom which has leg depths of up to 86metres.
Matthew Thomson is conducting the course.
With 18 years of experience in training, he's well-qualified to take us through the experience, the idea being that those who complete the course "leave with confidence in the equipment they are using".
There are several gases that could be a contaminant within platform legs which can prove fatal, such as hydrogen sulfide and carbon dioxide.
As a result, we are shown how to use special detectors for these substances, as well as breathing equipment.
Upon hearing the detector's alarm go off, Matthew says staff should be able to put the rebreather on within 15 seconds.
"Pedantically", he said we "shouldn't breathe" during this time, as we could take in poisonous gases.
Elevators are not in use in the event of an emergency, and we're told that getting back up from the bottom of the 86metre leg would take roughly 15minutes climbing via stairs and ladders.
Of course, the programme is not just a theoretic overview; there is an active practical section looming where we would test our abilities.
Following a quick shift into hardhats and overalls, we're taken into a series of stacked containers to see how we use the gear.
Shortly, Matthew shouts "Gas Gas Gas!" and we're scrambling to get the mask on.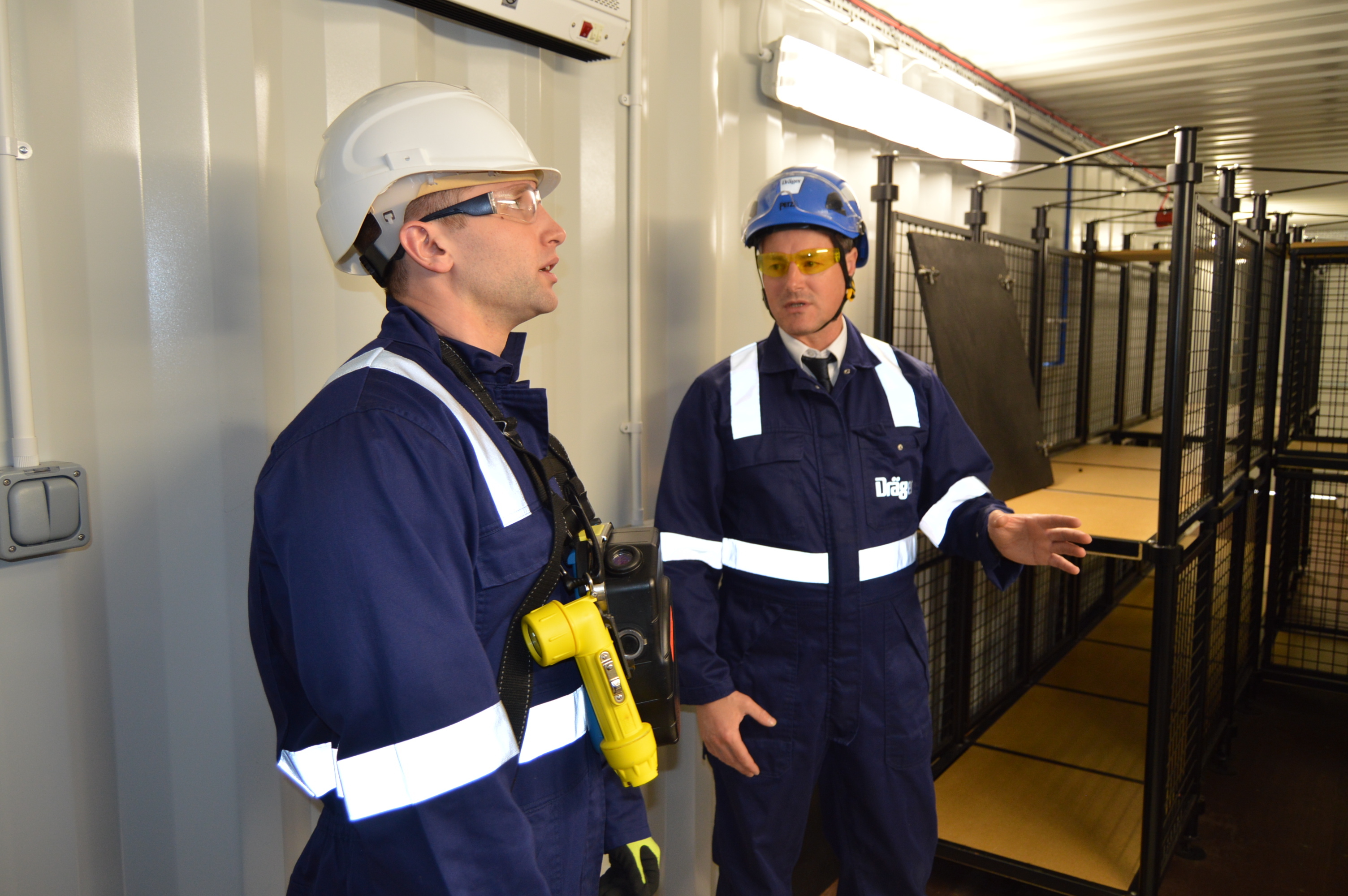 In a training environment it can be deployed swiftly, but the exercise does what it sets out to do -showing the urgency required and why it is important to know exactly what you're doing.
The next phase involves going through a series of tunnels and climbing ladders in order to simulate an escape situation.
Suddenly the gear around my neck feels a lot heavier than the 2.5kg that was quoted earlier.
It is also clear why some companies now require an additional fitness test for those going down into the legs – it is hard work and trying to escape in an emergency while carrying the gear and keeping calm would be a test for anyone.
That measure has only been in place for the last year or so, according to Matthew.
Our guide tells us that this type of training has been taken much more seriously since two men died while working in a platform leg in 2003.
The case in question was the massive gas escape on the Brent Bravo, when Sean McCue and Keith Moncrieff were killed after being sent down into the utility leg to inspect a temporary patch on a leaking pipe.
They breathed in hydrocarbon vapour while 170metres down carrying out the inspection.
Shell was fined £900,000 over the deaths, later found to have been preventable.
In the aftermath, the energy giant carried out a review of its North Sea safety procedures to "prevent anything like this happening again".
Matthew did not go into detail about the incident – with there being a range of factors contributing to the tragedy.
However he said that that since then the industry has insisted on the use of live testing equipment in training.
It means workers are fully trained and accustomed to the gear they would use in an emergency.
After completing the Drager course workers will then complete similar site specific training carried out by companies when they go offshore.
Back through the tunnel, down the ladder and then outside, the course is deemed a success.
As the hard hats come off, Matthew says that he's getting ready to go back offshore to do more training for Drager.
He speaks fondly of how attitudes towards safety, and to others in general, have improved in recent years.
"I've seen people go offshore, maybe stay a couple of days and say 'this is not for me'.
"I think now it is perhaps a better environment to work in than 20 or 30 years ago.
"Just in general, attitudes towards safety have improved, people are more tolerant. They always talk about an aging workforce offshore but there is a lot of young people coming in with new ideas and new ways of thinking. It is better."
Recommended for you

Medics on Shell North Sea platforms to be balloted on strike action