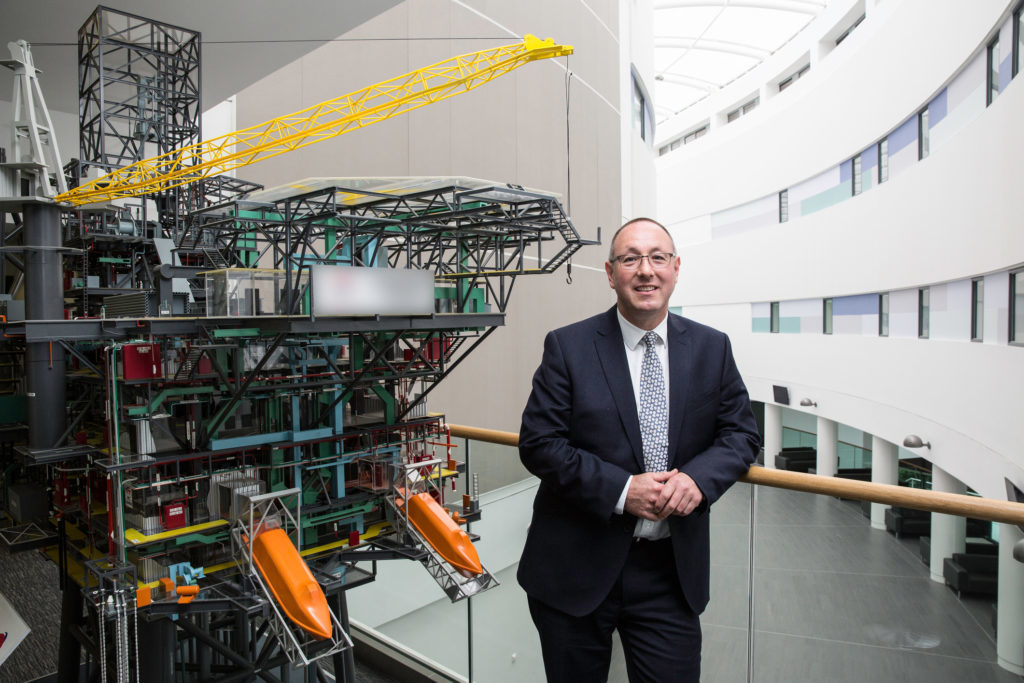 Onshore oil and gas production would be a "powerful addition" to Scotland's "portfolio", an industry veteran said.
Paul de Leeuw, director of Robert Gordon University's Oil and Gas Institute, said the offshore sector had the skills required to make a success of fracking,
But he said a decision on the technology rested "very much in the hands of politicians".
Earlier this month, the Court of Session threw out Ineos's legal challenge to the Scottish Government's "ban" on fracking.
Though the Scottish Government does not support fracking, there is no prohibition against the technique, as a matter of law, Lord Pentland found.
Scottish Energy Minister Paul Wheelhouse said a moratorium would remain in place until the policymaking process has been completed.
At the Scottish Affairs Committee's oil and gas industry inquiry in Aberdeen, Mr de Leeuw was asked whether the offshore oil industry's skills could be transferred onshore.
He said: "The skills are out there but it's for the politicians to say, 'yes we want to do that activity'.
"The skills can be applied in terms of project management, the subsurface and all of the elements of operations. Those are completely applicable to some of the elements onshore.
"A lot of supply chain activity has already been applied to onshore operations around the world, so we already have a track record of doing it."
Mr de Leeuw added: "Would I see onshore (operations) as a powerful addition to the portfolio? Absolutely, because we'd be producing here, we'd have jobs here, we'd have tax here, we'd have activity here, and we don't rely on imports.
"But, again, the decision to do onshore activity is very much in the hands of the politicians."
Oil and Gas Technology Centre chief executive Colette Cohen said the oil industry had been fracking offshore for more than 100 years and that onshore activity would create opportunities for the workforce.
"The ability and the skills are there and can be used," Ms Cohen said.
David Duguid, Scottish Conservative MP for Banff and Buchan, said it was no surprise that oil industry figures felt fracking could create opportunities and accused the SNP of choosing "political dogma over scientific evidence".
Mr Duguid said: "The current situation in Scotland is farcical, with businesses forced to go to the courts to expose a so-called 'ban' imposed by the SNP as nothing more than a PR sham.
"Nicola Sturgeon and the SNP have lost all credibility on this issue, but worse than that, they are denying opportunities to create new jobs and boost the Scottish economy."
A Scottish Government spokeswoman said: "The Court of Session's decision to reject the Ineos petition vindicates the extensive evidence-led process of research and consultation we have adopted since 2015 to establish our preferred position, which is not to support unconventional oil and gas extraction. 99% of more than 60,000 respondents to our public consultation were clearly opposed to fracking.
"The work to complete the Strategic Environmental Assessment and a Business and Regulatory Impact Assessment is currently underway, and the findings will be carefully considered ahead of finalising our policy.
"The oil and gas sector remains a key component of our energy system and our economy and we are doing everything within our devolved powers to support its businesses and their workers. However, the key fiscal and legislative levers remain reserved and we will continue to press the UK Government to exercise their reserved powers to do more to stimulate exploration and attract fresh investment."
Recommended for you

Aberdeen Uni, RGU, ETZ and others launch new Hydrogen Skills Partnership