Climate change protestors were bundled out of energy giant BP's annual general meeting in Aberdeen yesterday after getting into a scuffle with guards.
BP chief executive Bob Dudley was about to speak when six activists leapt to their feet and tried to approach the firm's directors at the front of the room.
The activists shouted a number of slogans, including "this is a crime scene" and "decisions made in this room are responsible for deaths around the world".
They also set off personal security alarms to signal the outbreak of a "climate crisis".
They were thrown out of the room after grappling with the security guards who blocked their path to BP's board.
You can see the video here #BPAGM >> pic.twitter.com/pf4yMpgZll

— ShareAction (@ShareAction) May 21, 2019
Video by Jeanne Martin of ShareAction
Campaigners staged a protest outside the Aberdeen Exhibition and Conference Centre, the venue for the AGM, which is normally held in London.
A separate "non-violent" action later took place outside Marischal College.
Edinburgh-based Climate Action campaigner Kate Whitaker was one of those ejected from the AECC: "A group of us stood up and told them the AGM was a crime scene.
"We stood up and shouted to the directors and crowd. Quite quickly there was a really heavy security presence and we were surrounded.
"Some of us tried to get down to the front but the security blocked it off really quickly. As we got cornered off we sat on the floor and then were carried off by about four security guards per activists and dumped outside the fire exit."
BP's board faced a barrage of questions about climate change during the AGM.
Jo Alexander, from responsible investment charity ShareAction, said she quit her geologist role at BP after losing her "sense of purpose".
Ms Alexander, who spent 10 years at BP, claimed the job was "in conflict" with her values and desire to make a positive contribution to the wider world.
She urged the company to do more to train employees so that they can support the shift to a low carbon future.
BP chairman Helge Lund said the company was serious about investing in competence and "upskilling" people for the energy transition.
Defending BP's record on climate change, Mr Dudley discussed the firm's plans to link emissions reduction targets to the bonuses of 36,000 employees.
BP intends to cut its greenhouse gas emissions by 3.5 million tonnes by 2025, and is taking steps to reduce its "methane intensity".
It has also created a £75m fund for projects aimed at lowering emissions from its upstream activities.
Some investors and activists feel the company is not doing enough.
Caroline Rance, a campaigner for Friends of the Earth Scotland, said ahead of the AGM: "We're here to highlight the damage BP is doing around the world.
"BP's activities have a devastating impact on communities where drilling is under way.
"Our message to BP is that it's time to end fossil fuel extraction.
"From an Aberdeen viewpoint, companies, trade unions, communities and government need to work together to make sure there is a just transition so workers are looked after and can be reskilled for the renewables industry."
Rhonda Anderson, from Kaktovik, Alaska, added: "I'm here to represent actual people, not corporations, as there are many people in my village that oppose drilling in the land and sea that we depend on for subsistence.
"I've travelled around the world to make this point and speak for the voiceless."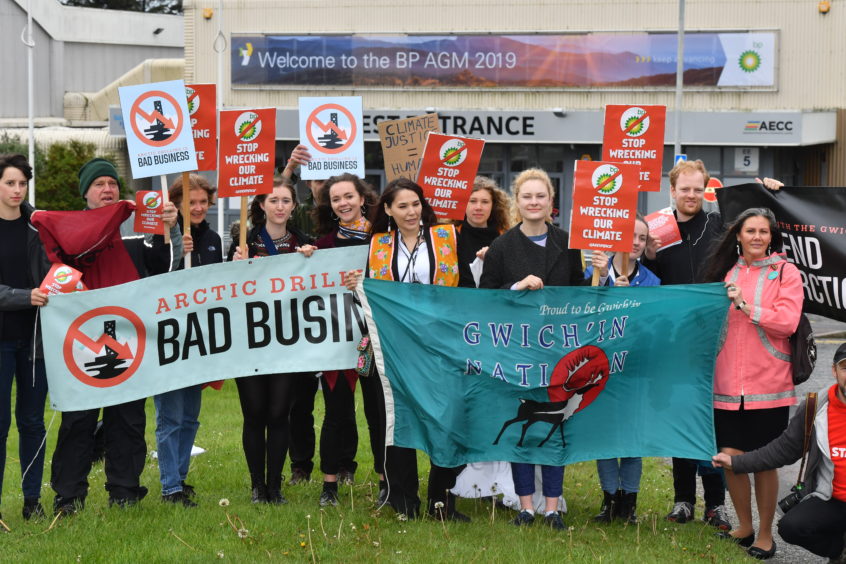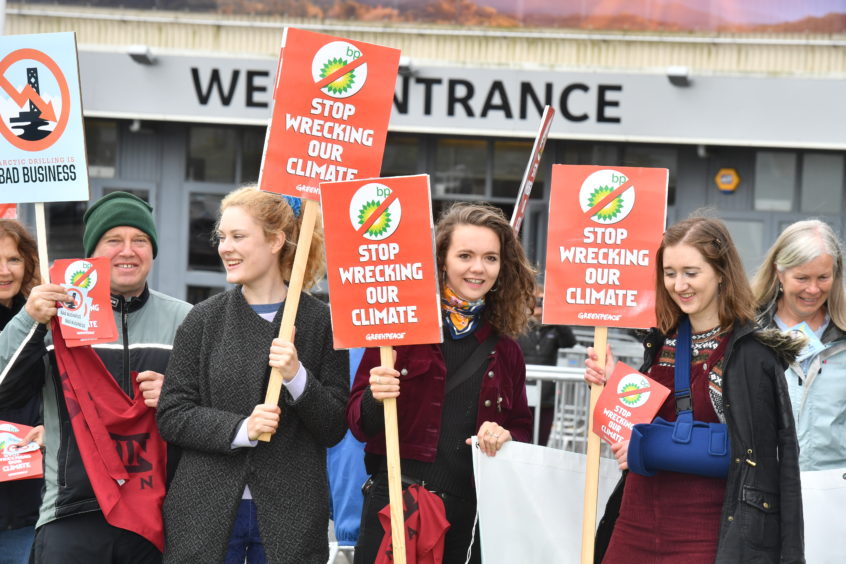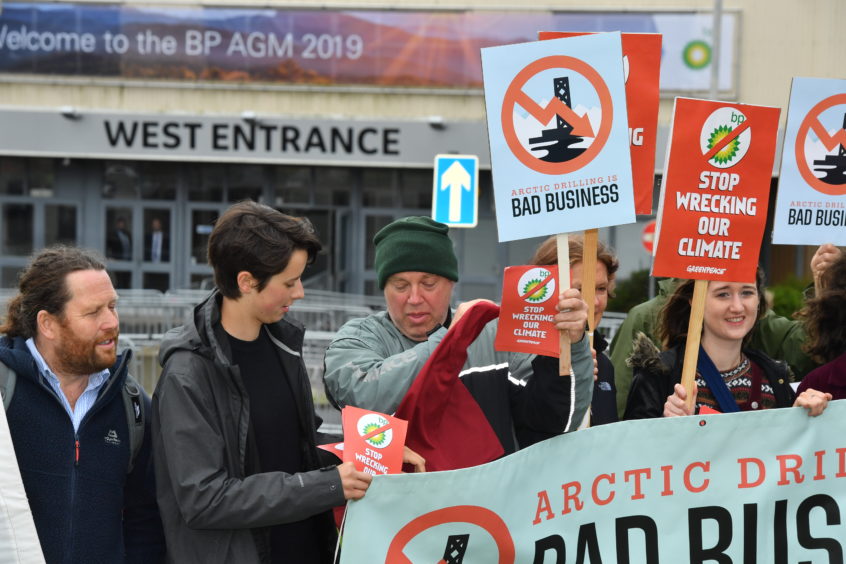 Recommended for you

Auchincloss 'most logical successor' as analysts review 'undervalued' BP stock