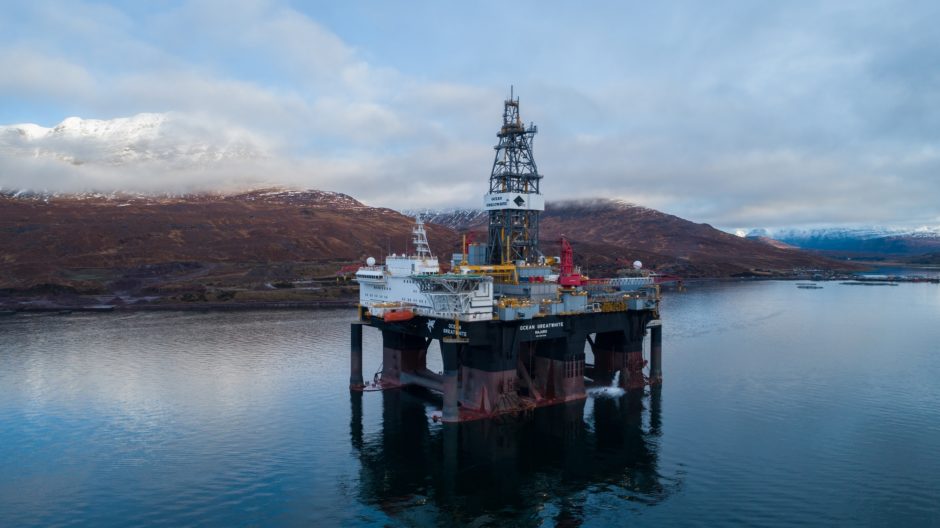 Westwood Global Energy reports that, as of October 29, there were four active exploration wells and four appraisal wells drilling in the UK.
West of Shetland
Total's 206/4a-5 Glendronach appraisal well was sidetracked for mechanical reasons on August 28 and remains operational. The well programme is appraising pre-drill resources of 1 tcf gas in the Lower Cretaceous and is being drilled from the adjacent Edradour field subsea template with the Ocean Valiant rig.
CNOOC completed operations at both its Cragganmore appraisal well 208/17a-4 on October 23 with the Ocean GreatWhite and its Howick exploration well 206/21-1 on October 19 with the Island Innovator. A result from Cragganmore has yet to be confirmed. However the JV is assessing results to determine future activity in the area. Howick was abandoned as a dry hole.
Hurricane and Spirit Energy continue operations at the 204/20b-4 Warwick West appraisal well which spudded on September 24 with the Transocean Leader.
Northern North Sea
Cairn's 3/17a-3 Chimera exploration well was spudded on September 27 with the Stena Don and then reported on October 17 as having failed to find hydrocarbons. Chimera was the largest oil prospect to be tested in the UK this year, with pre-drill resources of 150 mmboe.
Central North Sea
i3 Energy spudded its Serenity appraisal well 13/23c-10 on October 4 with the Borgland Dolphin as the second in its three-well Liberator drilling campaign. On October 29, i3 Energy announced the well had been successful in proving oil in what is considered to be an extension of the Tain discovery, with in-place resources in line with pre-drill estimates of 197 mmbbl.
Equinor is continuing operations with its Lifjellet exploration well 22/10b-9A, which spudded on September 25.
Total spudded the Isabella 30/12d-11 exploration well on October 13 in the Central Graben area with the Noble Sam Hartley. The well is targeting total pre-drill resources of 145 mmboe and operations are expected to continue into early 2020.
Southern North Sea
Following the completion of operations at ONE-Dyas's 42/4-1Z Darach exploration well on August 30, after being sidetracked on July 8, it was recently confirmed that the well had made a discovery.
Operations are close to being completed with Spirit Energy's 43/12a-3 Andromeda North exploration well which was spudded on July 29 with the Noble Hans Deul jack-up rig. Hague and London Oil (Halo) reported pre-drill resource estimates of 40 bcf in the Carboniferous, however Westwood understands that this is towards the lower end of the pre-drill estimate range. At the time of writing the rig remained on location.
Premier announced on October 17 that its 42/28d-14 Tolmount East appraisal well has successfully encountered gas. The well penetrated 241ft of gas bearing Leman sands with reservoir quality found to be at the upper end of expectations and no gas water contact penetrated. The discovery will be incorporated into the main Tolmount development.
Eni spudded its 53/14a-2 Aspen exploration well towards the southernmost extent of the UK Gas Basin with the Valaris 101 on October 14. The well is targeting a Carboniferous Dinantian carbonate play which has not been proven offshore UK previously and is therefore considered a frontier exploration well.
Recommended for you
X

Simulation is a virtual revolution