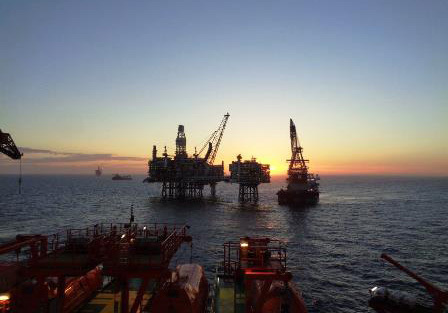 Ithaca Energy's boss said yesterday that the enlarged company was "raring to go" after completing the £1.6 billion acquisition of US firm Chevron's UK North Sea business.
Chief executive Les Thomas said any "tears for Chevron" had already been "shed" by employees transferring to Aberdeen-headquartered Ithaca, wholly-owned by Israel's Delek Group.
Mr Thomas also said he was confident Ithaca would get the support and investment required to make its planned return to the London Stock Exchange (LSE) a success.
With the energy transition gathering momentum, fund managers are increasingly reluctant to invest in oil and gas exploration and production companies.
Mr Thomas conceded there was a "campaign of disinvestment from fossil fuels", but insisted such calls were "not part of a responsible energy transition that needs to take place".
North Sea production is among the "cleanest" in terms of emission per barrel, he argued, adding: "These are the barrels that should be produced during the energy transition."
Mr Thomas insisted Ithaca would be "on the front foot" when it comes to stressing the UK North Sea's investment case and attracting funds.
The acquisition, first announced in May, hands Ithaca stakes in 10 producing fields and boosts its reserves by 150% to around 225 million barrels of oil equivalent (boe).
It also lifts Ithaca's production by 300% to about 80,000 boe per day from an enlarged portfolio comprising stakes in 18 producing fields.
Ithaca has now taken over as operator of four of the 10 fields it has bought into – Alba, Alder, Captain and Erskine.
About 450 former Chevron employees, including 200 offshore, have made the switch to Ithaca, giving the Ithaca a headcount of 500.
Onshore staff members are based under one roof at the building previously leased by Chevron at Hill of Rubislaw in Aberdeen.
Chevron has retained some employees at the Aberdeen branch of its global technology centre.
The California-headquartered firm retained its non-operated, 19.4% stake in BP's giant Clair field, west of Shetland, and has retained some employees to help manage its working interest.
Mr Thomas said "disentangling" the acquired assets from what was a "big spider's web of procedures and processes" at Chevron was "quite a job", but that he was pleased with the speed of progress.
He also paid tribute to offshore crew for doing a "terrific job" of running the assets safely and efficiently since May.
Crew on the assets bought from Chevron and on Ithaca's existing Stella field, served by the FPF-1 vessel, use the same rotas − two weeks on, three weeks off.
No timescale had been put in place for Ithaca's flotation on the LSE, according to Mr Thomas, who said the firm would concentrate on efficiency and growth, both organic and inorganic.
He is confident Ithaca's initial public offering will get sufficient support if the company can be "efficient, operate at low cost, deliver good projects and tighten its emissions per barrel".
Recommended for you

UK North Sea sees chance for political reprieve in energy crisis