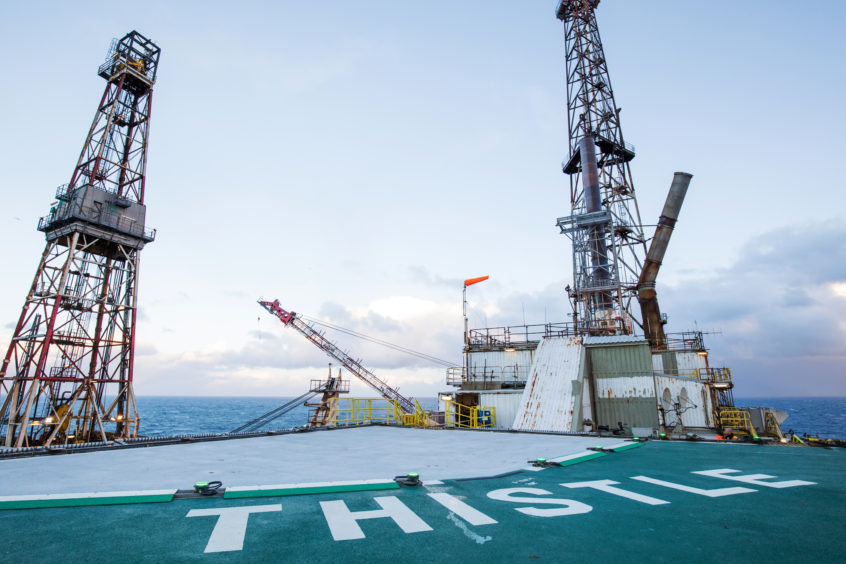 A North Sea platform that had to be evacuated following a subsea inspection will undergo repair work early next year.
More than 100 crew members were flown off EnQuest's Thistle platform and production was halted last month.
Checks showed the condition of a metal plate connecting a redundant storage tank to one of the installation's legs had deteriorated.
Operator EnQuest confirmed on Tuesday night that Thistle's two tanks would be removed.
The platform lies 125 miles north-east of Shetland.
The company intends to award contracts for subsea and heavy lift operations, allowing the removal operation to begin early next year.
A spokesman for EnQuest said: "The redundant tanks had been scheduled for removal in the summer of 2020.
"Following the latest surveys, we are now accelerating that plan and, weather dependent, expect activity to start early in the New Year.
"We have a dedicated project team working with our stakeholders and the supply chain and we continue to keep regulators engaged on progress with the view to bringing Thistle back to safe operations as quickly as possible.
"We would like to thank our team and contractors for their continued support during this process."
Steve Rae, executive director of offshore safety body Step Change in Safety, said: "I'm very pleased to have been informed by EnQuest's leadership team that the company has begun making plans to remediate the structural problem which led to the down-manning of the Thistle Alpha.
"The operator is also in the process of conducting thorough on-site reconnaissance and inspection visits of the entire platform and its systems to assist them in preparing for the eventual re-manning of the installation.
"I would like to re-emphasise my commendation for managing director Bob Davenport and his team for the safe and expedient down-manning of the Thistle platform last month.
"EnQuest has assured me that the safety of the entire Thistle workforce has always been, and will continue to be, foremost in the company's mind at all times."
Recommended for you

North Sea operator EnQuest launches new energy business 'Veri'