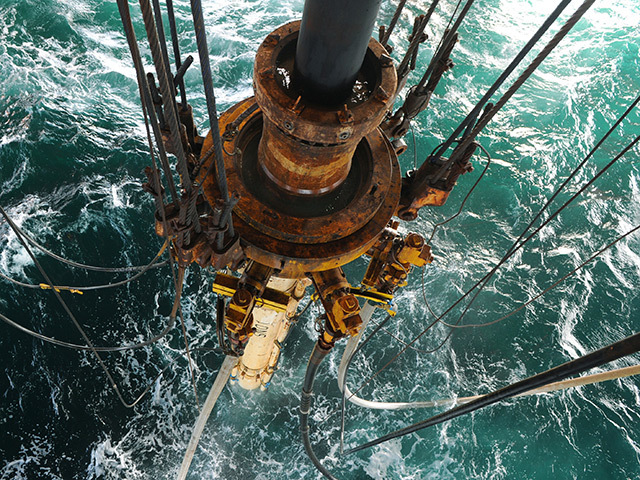 Exploration activity in the UK North Sea has picked up substantially since last year, but the success rate has "fallen off a cliff", an analyst has said.
Thirteen exploration wells have been completed so far this year, with another two to be added by the end of December.
Just six exploration wells were completed last year, the lowest number since exploration began in the mid-1960s.
The total number of exploration and appraisal wells should be 25 for the full-year 2019, compared to 16 last year.
David Moseley, senior analyst at research-led consultancy Westwood Global Energy Group, said the only way was up after last year.
Mr Moseley said he was not surprised that activity had increased, but that he was impressed by the scale of upsurge.
The bad news is that many of these wells have simply not paid off.
Of course, exploration is a risky business – the more you drill, the greater the likelihood of getting dusters.
But in percentage terms, the UK's commercial success rate has dropped from around 30% between 2014 and 2018, to less than 10% this year.
Mr Moseley said: "There's no way of hiding it – the results are pretty poor. Performance has fallen off a cliff."
There is an explanation for this fall-off: Explorers have acquired an "appetite for risk", according to Mr Moseley.
This year companies have drilled more "high impact" prospects – wells with a greater degree of risk, but a higher pay-off (100 million barrels or more).
Commercial success rates were higher in previous years because more of the wells were close to proven assets. But they also had lower volumes.
"In 2019, we've seen a step change in the nature of exploration," Mr Moseley said.
"There have been more high-impact exploration targets which have effectively failed. That's driven a drop in performance."
About a dozen high-impact wells have been drilled since 2014, none of which lived up to expectations.
The UKCS's two biggest finds in recent years, Glendronach (175m barrels of oil equivalent) and Glengorm (250m), were not initially classed as high-impact targets.
As for wells drilled following farm-outs, their success rates tend to be poor, possibly because firms prefer to farm out riskier prospects while hanging on to more robust targets.
Meanwhile, appraisal performance has been "mediocre", Mr Moseley said.
The results of Premier Oil's Tolmount East well and i3 Energy's Serenity well were in line with expectations, and Hurricane was buoyed by its Lincoln well, which will be tied back to the FPSO serving its Lancaster field.
But the Verbier well (Equinor), Harvey (Independent Oil and Gas) and Colter (Corallian) were all downgraded.
The outcomes of Chrysaor's Mabel well and Cnooc's Cragganmore well have yet to be published, but the latter is understood to have disappointed.
Westwood Global considers Hurricane's Warwick West target an appraisal well.
Hurricane said today that it made a light oil discovery at Warwick West, but that "further technical analysis" would be required to determine the potential for the Greater Warwick Area (GWA) to be a "single accumulation".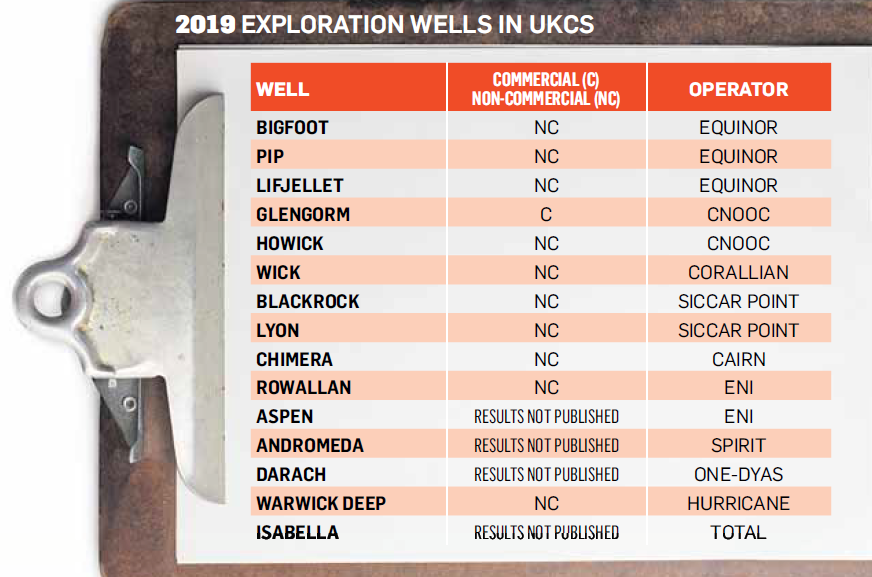 Meanwhile, firm well commitments have sunk in the last few years, from more than 70 across the 25th-27th licensing rounds, to eight in the 28th round, three in the 29th, and 10 in the 30th.
Mr Moseley believes this trend is not necessarily a bad thing.
He said: "The government encouraging people to drill things might increase activity, but if it's only going to end up in more dry holes, then it's not worth it."
Indeed, success rates are about the same for firm wells and discretionary wells, at 20-25%.
Looking ahead to next year, Westwood Global understands exploration well numbers will be broadly in line with this year.
Mr Moseley does not expect companies to lose their appetites for risk.
Around 15 explorations wells are slated for drilling in the UK, a number of which are high impact, including Shell's border-straddling Edinburgh prospect, Azinor Catalyst's Boaz and Hinson targets, and Jersey's Cortina play.
Westwood will also include Total's Isabella well in next year's analysis.
Drilling has commenced, but results are unlikely to be published before the end of this year.
Recommended for you

Global offshore rig utilisation to average 95% this year, says Westwood