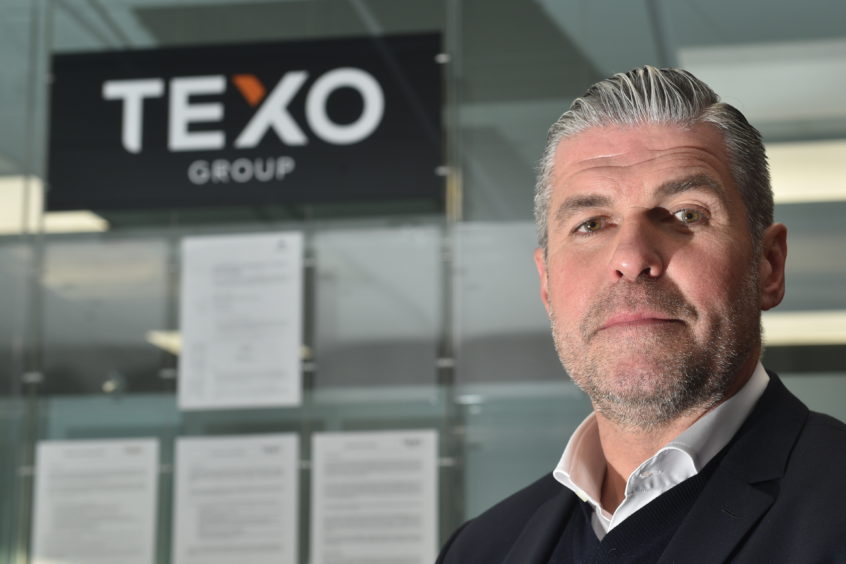 Energy service firm Texo Group has "parted company" with its managing director, replacing him with its owner's son.
Texo, which is headquartered in Westhill, Aberdeenshire, has also "refined" the business by trimming the number of group divisions.
Bosses believe the streamlined group can capture a bigger market share and turn a profit in its second full-year of trading.
The push will be spearheaded by new group managing director Chris Smith, whose father is executive chairman and backer Hayden Smith.
Mr Smith Jr said predecessor Robert Dalziel had "taken the business as far as he could".
Mr Dalziel declined to comment.
In September, Mr Dalziel said Texo had enjoyed "stratospheric" growth and lauded Mr Smith Sr, 80, for supporting the business.
New boss Mr Smith Jr, 45, worked in the scaffolding trade for almost 30 years with Trad Scaffolding.
The sale of that business to French giant Altrad six years ago made his father's fortune.
Mr Smith Jr remained with Trad for several years after that transaction.
He then joined Texo's drone survey and inspection business, which he manages from its headquarters in Essex.
He will continue to be based in England, but will visit north-east Scotland regularly.
Following the reshuffle, much of the day-to-day running of Texo Group will be handled by commercial director John Black.
Mr Black said Texo would focus on raising its profile and making sure the market is aware of the "full scale" of its design, construction and maintenance "competencies".
Mr Smith Jr said he felt Texo had fallen short in that regard.
Major projects awarded to Texo include the upgrade of a Valaris-owned jack-up rig at the Port of Dundee as part of a contract worth in excess of £1 million.
And Orkney-based Orbital Marine Power has picked Texo to manufacture its new O2 tidal turbine, again in Dundee.
On launching in July 2018, Texo said it would create up to 1,000 new jobs and generate annual revenue in excess of £100 million within five years, and that remains the ambition.
Since then, the group has expanded rapidly through acquisitions and the opening of new offices and manufacturing bases.
By the end of 2018, Texo had announced transactions for Aberdeen firm Orca Subsea, Peterhead-based Navitas Compliance and CFS Offshore Engineering in South Tyneside, while signing a long-term lease for space at the Port of Dundee.
The group also has bases in Invergordon and the Port of Blyth in north-east England and currently employs about 115 people, including contractors.
At one stage, the group was working on three major projects, creating work for 300 people.
The number of Texo divisions spiralled, but those have been whittled down to a core of engineering, drone survey and inspection, fabrication, integrity, accommodation and resources.
Mr Smith Jr said the purchase of CFS, which was renamed Texo CFS, had not "worked out" and the company had gone back to its previous owners, while the acquisition of Orca did not "come to fruition".
Texo Compliance has been "internalised" within the wider group, he added.
Group finance director Dave Penny said Texo turned over about £22m in its first full accounting period, to November 25, 2019.
Mr Penny added the group would not have made profits during that time, but stressed that Texo had not anticipated a surplus in year one.
He said bosses had prioritised an "aggressive growth strategy" and made a conscious decision to get infrastructure in place early.
"That was the only way we could make a big impact," Mr Penny said, adding that Texo would now focus on "the bottom line".
Recommended for you

Investing in people key to TEXO Recruitment's ongoing success