A former North Sea oil worker has interrupted First Minister's Questions as part of a demonstration on climate change.
Several members of the Extinction Rebellion group staged a protest at Holyrood earlier as Nicola Sturgeon was being questioned by MSPs.
Neil Rothnie, who the group said was a retired worker from the North Sea industry, was among them.
While acting Scottish Conservative leader Jackson Carlaw was issuing a question, Mr Rothnie shouted from the gallery in criticism of plans to "maximise economic recovery" from the North Sea.
He said: "If the Scottish Government's North Sea oil and gas plans go ahead as planned, and are replicated worldwide, when will our planet crash and burn?
"Will my grandchildren see that?"
Twenty minutes later a second protestor made an interruption, causing presiding officer Ken MacIntosh to suspend proceedings and shut off audio from the Scottish Parliament's broadcasting channel.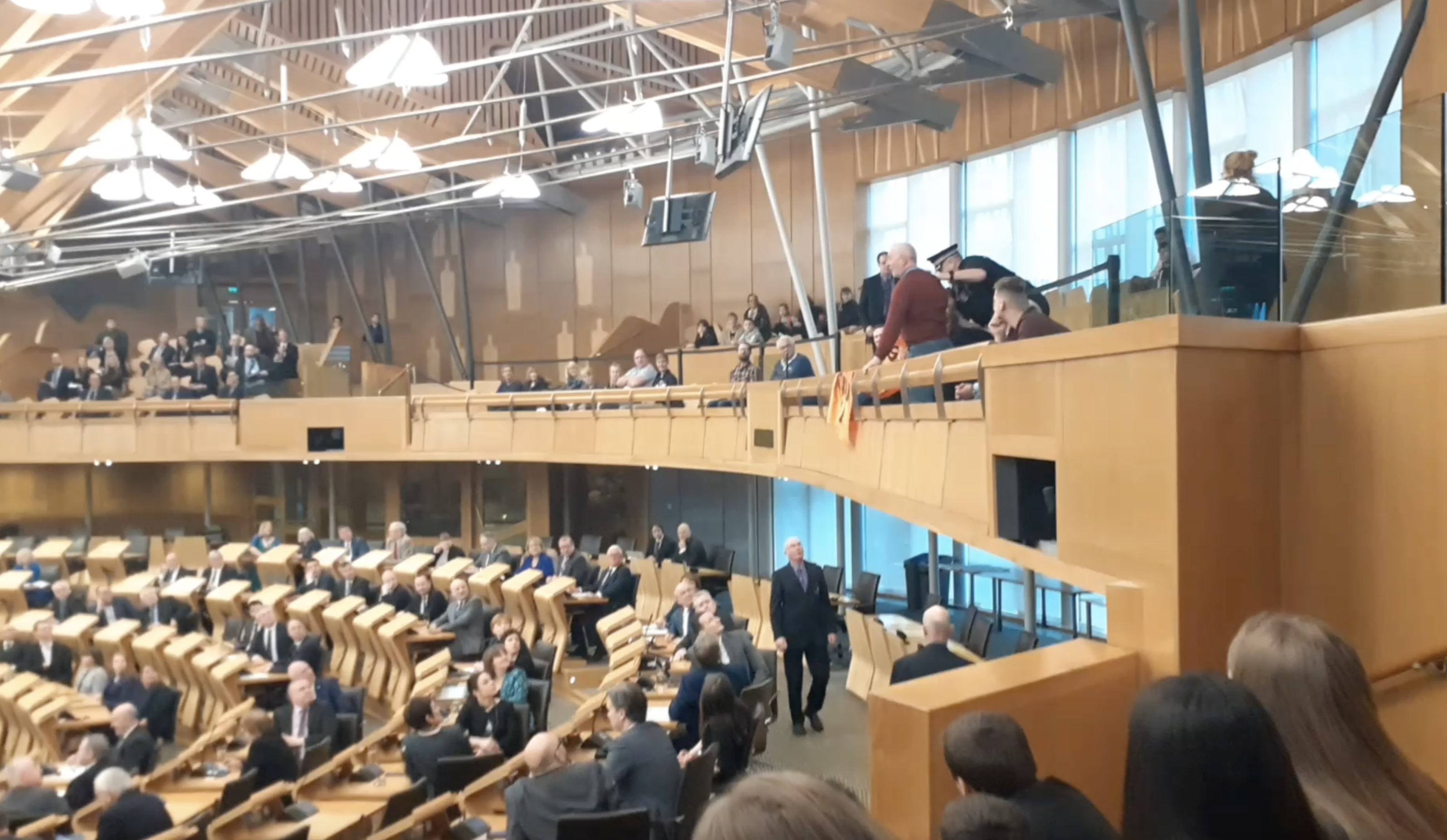 Mr Rothnie (top right in red), a former North Sea worker. shouted from the gallery at Holyrood. Pic: Extinction RebellionIn a statement, Mr Rothnie said criticised the UK and Scottish Governments for supporting the industry.
He said: "After a lifetime of good money, and now a pension from the oil and gas industry on the North Sea, I'm aware of the irony of my seeking the planned rundown of that industry – beginning now.
"What motivates me now is an overwhelming desire to protect my granddaughters and those with whom they'll share their lives on the planet. But I don't feel guilt about what I did.
"I was then, as oil and gas workers are today, just doing a job and keeping the lights on. I did what I did with the knowledge that I had at the time.
"But we need to have a discussion about our futures and other's presents, the future of our children, their children, the planet and the role of oil and gas in producing greenhouse gasses that threaten climate chaos.
"The plans of the industry and the UK and Scottish Governments don't square with the "climate emergency" they claim to understand.
Climate change protesters disrupting FMQs today – heckling Nicola Sturgeon about the climate emergency pic.twitter.com/9jwxYt1sOs

— Neil Findlay MSP (@NeilFindlay_MSP) January 9, 2020
"If every drop of oil and gas on the planet were to be produced and processed, life on earth would, as I understand the science, not survive.
"If the plan is "maximum economic recovery" of the North Sea's oil and gas, why should it be any different anywhere else on the planet? An independent fossil fuelled Scotland? There needs to be a discussion."
It comes days after the organisation staged an occupation of an oil rig berthed at the Port of Dundee, which is scheduled to carry out work for Shell later this month.
Seven people were arrested following the incident on Monday.
Following that incident, trade boy Oil and Gas UK condemned the protest as a "dangerous and short-sighted stunt".
Chief executive Deirdre Michie said if Extinction Rebellion is "serious about net zero" then "it needs to become serious about what will be required and recognise the critical contribution our industry could make if it realises its full potential to support the transition to a lower carbon and more diverse energy mix".
She added: "Our industry is part of the solution and Roadmap 2035: a blueprint for net zero outlines our plans to reduce emissions from the operational production of oil and gas while supporting other heavy emitting sectors to reduce emissions through low carbon technologies including Carbon Capture Usage and Storage and hydrogen.
"This is an industry in action, and we are committed to working with anyone to find solutions and deliver the low carbon future we all want to see."