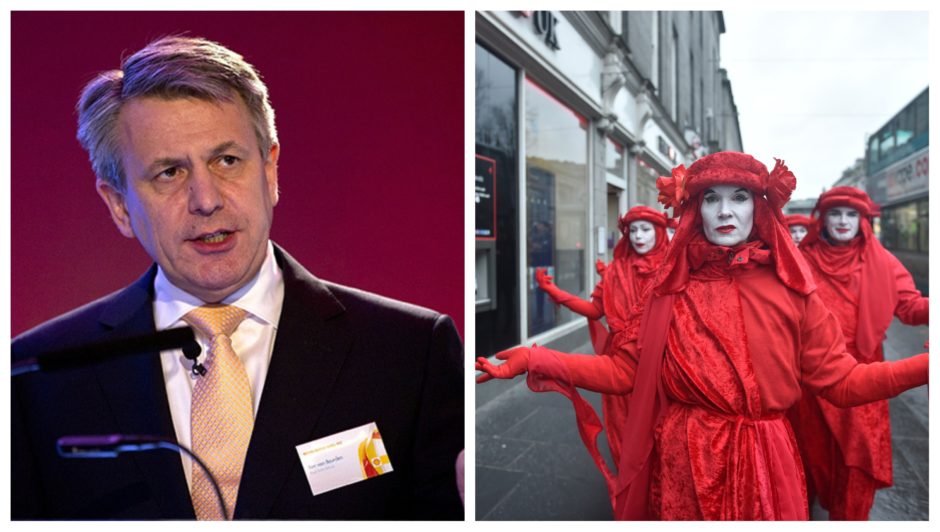 The boss of energy giant Shell has said he sees "no reason" to change its investment plans for the North Sea, despite a number of climate protests against the UK oil and gas business.
Speaking during an earnings call today, chief executive Ben van Beurden said the region still has "many great resources to give".
Earlier this month Shell's headquarters in Aberdeen were targeted by the Extinction Rebellion activist group, who also boarded a rig in Dundee a week earlier which was due to carry out work on a Shell-operated North Sea field.
In October, Greenpeace also protested Shell's decommissioning plans for the Brent field in the North Sea by scaling the remains of the platforms.
Mr van Beurden conceded that pressure on the sector and future investment is "keenly felt" but sees no reason to change tack with the region.
He said the firm is aiming to "thrive" in the energy transition and will consider the same standards for the North Sea as it does with investments globally.
Mr van Beurden added: "We do not see a reason to change our investment in the North Sea. It's a great resource province which still has many great resources to give.
"As we invest into the North Sea, as we do around the world, we need to take a very clear look at how we make sure that the investments we make have a very cost-competitive profile and a very strong carbon competitive profile."
The Shell boss added the firm wants to be a "force for good" on climate change, adding that change cannot be affected by just "curtailing" or "demonising" parts of the energy supply.
It comes as Shell reported it's full-year results today with a 36% drop in earnings due to "macroeconomic conditions".
Analysts have predicted BP will also take a hit when it announces its full-year results next week.
The firm is also taking on a change of leadership and Mr van Beurden praised the outgoing Bob Dudley for leading BP through the "turbulent time" while he expects Irishman Bernard Looney to be a "great successor".
As Brexit approaches the UK tomorrow, Mr van Beurden said they are watching closely but doesn't expect any material impact to Shell's business.
He added: "I think I can be relatively straightforward on both. For us its not a major impact event.
"We're watching it with great scrutiny but the impact on our business is very, very limited. It's a second if not a third view.
"It has the potential to be an inconvenience with freedom of movement, etc."
Recommended for you

'Tsunami' of unrest to hit North Sea as 1,400 workers ready to strike