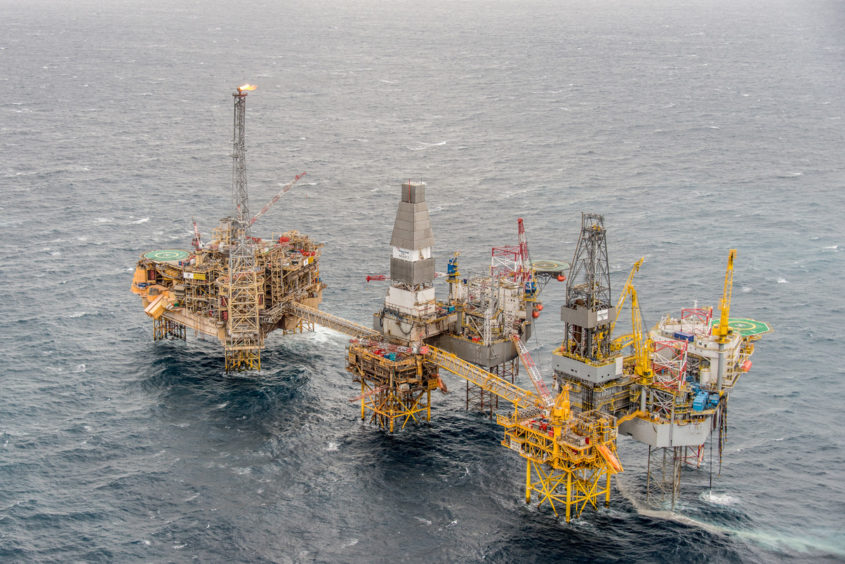 Energy giant Total has reached the one billion-barrel milestone at its Elgin-Franklin complex, surpassing original estimates from when it started up nearly 20 years ago.
A £1.6billion investment brought the development on stream in 2001, starting with Elgin and followed later by Franklin, with its chequered history since including a major gas leak, an uncontrolled helicopter "spin" and even an earthquake.
Developed in tandem, Total estimated back in the early noughties that Elgin-Franklin had reserves of nearly 800million barrels of oil equivalent but additional discoveries have increased its scope.
The gas and condensate fields, 150miles off Aberdeen, passed one billion barrels last week.
Pierre Cuisnier, Central North Sea asset director at Total E&P UK said: "Reaching 1 billion barrels is a fantastic achievement and I'd like to congratulate the entire offshore and onshore asset and support teams who have worked extremely hard to make this possible.
"As one of the world's largest high pressure, high temperature developments, these fields are very important to Total.
"They continue to outperform expectations after almost 20 years of production, most recently demonstrated by achieving three years without a lost time incident and close to 100% operating efficiency in 2020 to date."
On social media, one 10-year veteran of the company said: "Amazing to hear that Total's Elgin/Franklin HPHT (high pressure high temperature) field produced its 1 billionth barrel of oil equivalent this week.
"A great achievement for an incredible field that I'm really proud to have contributed to over the last 10 years."
Total is putting a film together to celebrate the milestone and is asking employees for their memories of the platform.
One worker said it was an "unprecedented milestone worth celebrating" while another said he had "done a lot of work on the Elgin and Franklin fields over the years" with "some great times, crews and a job well done".
However, some workers said the G4 well, which led to a major leak in 2012, "stuck in the mind".
In March that year, more than 200 people were evacuated from the installation after the methane leak.
No one was hurt but the episode was estimated to cost Total billions of dollars.
At its height, around seven million cubic feet of gas escaped daily.
It was almost two months later that an operation to "kill" the leaking well, plugging it, was completed, but production remained shut for several months.
Elgin-Franklin was again in the headlines four years later when a CHC-operated S-92 helicopter "spun on the deck" of the West Franklin installation after attempting to make an emergency landing. No one was hurt.
Last year workers even reported feeling a 4.2 magnitude earthquake at the field.
One former asset manager at the complex for services firm BG, said Elgin-Franklin "has seen the usual ups and downs over past two decades" and its "legacy" continues with more discoveries.
In March this year, Total announced an "encouraging" discovery at its Isabella prospect, around 25miles south of Elgin-Franklin, showing the strategy of exploration near its infrastructure was working.
Analyst firm Westwood Global said it showed the French operator still has the Midas touch in the North Sea.
Recommended for you

Sanalla makes pitch for investment as US backs oil cash flow freeze