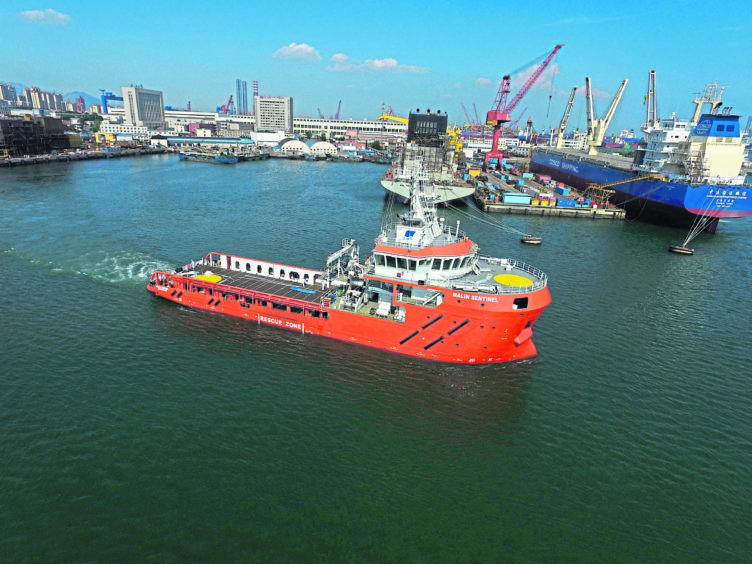 The final vessel in a £150 million investment in new offshore support ships by Aberdeen firm Sentinel Marine has set sail from the Far East.
Sentinel Marine is expected to arrive in the Granite City, via Singapore and the Suez Canal, around August 20.
Built at Cosco Shipyard Group's facilities in Dalian, China, the new vessel will soon become the latest of Sentinel Marine's fleet of emergency response and rescue vessels (ERRVs) in the North Sea.
It completes an order for nine new ships placed in 2015, with the company now looking ahead to taking delivery of another three in a further phase of its new-build programme.
Sentinel Marine, which earlier this year announced new contract wins and extensions worth £36m, has 300 seafarers operating on its fleet currently. This will rise to nearly 400 after the next three ERRVs are completed.
Chief executive Rory Deans said: "Malin Sentinel is a landmark vessel for us, completing our second phase of new build vessels which introduced new levels of cost, operational and environmental efficiency.
"Like the other vessels in our fleet, Malin Sentinel will provide far wider reaching service than response and rescue to keep offshore workers safe.
"Our vessels also operate as oil recovery, tanker assist and cargo handling vessels, offering significant cost savings for our clients who would otherwise have to charter additional vessels.
"The fact that our fleet is new, and purpose built, rather than having been converted from vessels which had a previously different use, offer an attractive proposition for operators."
Recommended for you
X

Majority of workforce at Rotech Fabrication face redundancy