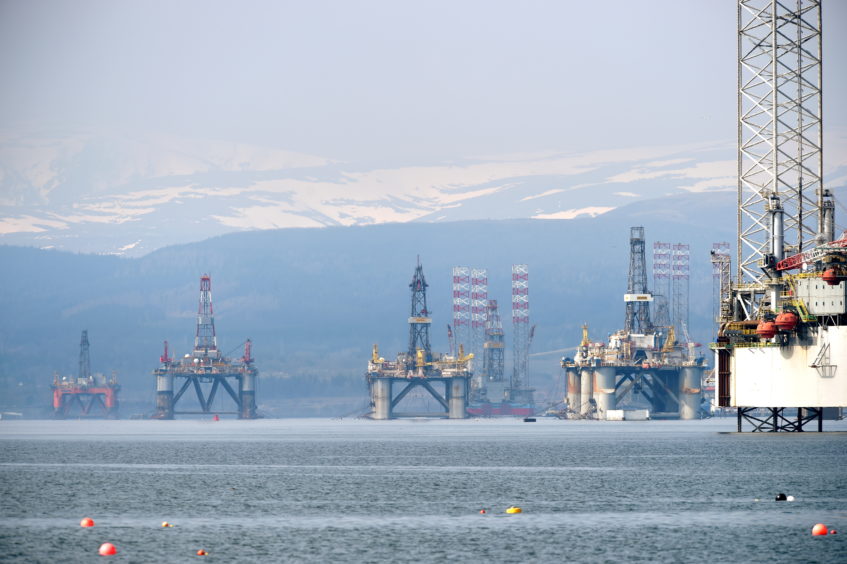 Complaints of the "blight" of oil rigs in the Cromarty Firth spiked over the last month as the industry downturn forced vessels out of work.
The Highland port has had a "significant increase" in unused rigs arriving since April due to the outbreak of Covid-19, which has wiped out fuel demand and related drilling work.
Between May 29 and July 1, there were 19 formal complaints lodged with Highland Council, compared to just five in the 10 months prior, according to freedom of information statistics.
Each related to noise, light and vibration coming from the platforms, some of which have been in place for several years.
The Port of Cromarty Firth said the issue is "expected to be short-lived" and the group is working with the council and rig owners to address the complaints.
However, Black Isle councillor Craig Fraser, who described it as an "oil rig graveyard", is sceptical of a recovery.
He said: "Perhaps I'm being cynical but I'll believe it when I see it.
"I'm fortunate that my property doesn't face any of the rigs, but you can still hear the tannoy at various times during the day and there's this noise from the generators.
"There seems to be poor communication from the port authority to the community council, and the residents of Cromarty are blighted by noise and they are blighted by light."
Mr Fraser said the port has a "duty of care" to nearby communities, particularly in communicating the arrival of new vessels.
In April, the number of rigs in the Cromarty Firth rose to 17 and residents said this week that the number now stands at 14.
One such vessel is the Wilhunter rig operated by Awilco Drilling, which has been in place since 2015.
A Port of Cromarty Firth spokeswoman highlighted that the platforms "will create much-needed jobs for people across the region", many of whom have lost work due to the virus, when activity picks up.
She added: "We have experienced a significant increase in rig arrivals in the past four months due to the collapse in oil demand caused by the Covid-19 pandemic.
"However, we expect this situation to be short-lived and that these rigs will return to work when drilling and exploration activity resumes in the North Sea.
"Whilst rigs are with us, we work closely with the rig managers to minimise any disturbance to local communities."
Highland Council said Covid-19 has meant noise monitoring has not been possible in residents' properties, however the envrionmental team will do so in coming weeks should further complaints be made.
A spokeswoman added that mitigation measures have been taken "on each occassion to date" to reduce noise levels.
Another issue raised by Mr Fraser was a lack of compensation for Cromarty communities for the rig disruption, which was echoed by local resident Sheila Currie.
She said: "Oil rigs have been here for a long time and they will be here for a long time yet, but they are noisier and brighter nowadays. Invergordon suffers too, but also benefits.
"There needs to be long-term, consistent and significant financial compensation to the communities which do not see any benefits in terms of local jobs, particularly in the parishes of Cromarty and Resolis, where we only have the downsides.
"If these were wind farms, there would be community benefit built into the arrangements.  We need similar arrangements for the Cromarty Firth."
The rig owners pay anchorage fees to the Port for laying their vessels up there.