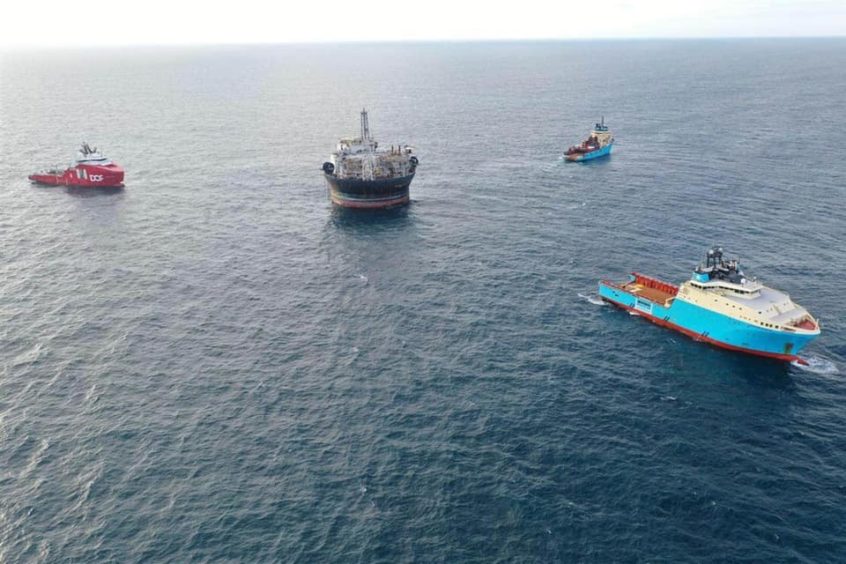 The Voyageur Spirit FPSO is on its way to the Kishorn Drydocks after leaving Premier Oil's Huntington field in the North Sea.
Work to remove the vessel from Huntington, 145miles north-east of Aberdeen, began earlier this week with it due to arrive at the port on Scotland's west coast in coming days.
There the Voyageur Spirit will undergo cleaning work ahead of eventual redeployment, according to industry sources.
It comes as vessel owner Altera, formerly known as Teekay Offshore, said earlier this year it hoped to prevent job losses by moving the vessel to Hibiscus Petroleum's Marigold field.
Altera and Premier Oil did not respond to requests for comment.
Kishorn Port Limited declined to comment.
Premier Oil, who called time on Huntington earlier in the year, has previously said it would redeploy its own core staff to other assets.
Kishorn, a redevelopment of a major construction yard from the North Sea's 1970s heyday, scored its first major contract last year refurbishing the Ocean GreatWhite, the world's largest semi-submersible rig,
Then earlier this month it completed a decommissioning job of the MV Kaami, a Norwegian cargo vessel which ran aground in the Minch on the north-west coast.
Aside from decommissioning and refurbishing rigs, Kishorn has ambitions to become a construction base for offshore wind turbines.
Last week the Voyageur Spirit was the subject of a legal battle between operator Premier Oil, who had leased the vessel from owner Altera.
The commercial court ruling saw Altera win £9.5million over the dispute about the hire agreement.
Discussing the field in March, Premier Oil chief executive Tony Durrant highlighted that the company had managed to squeeze more barrels and reserves than originally planned when it took on operatorship in 2016.
He said: "We've had more reserves, more production but we have got to the point where there is only 3,000 barrels per day and given the fixed-cost nature of our lease arrangement on the FPSO we're not making any money on Huntington going forward."