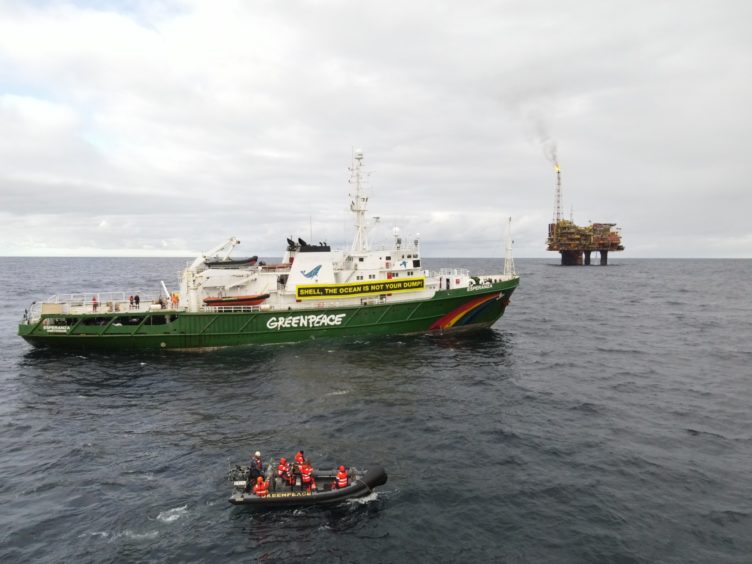 Greenpeace activists have returned to the Brent field in the UK North Sea to protest against Shell's decommissioning plans.
The environmental group's Esperanza ship approached the 500 metre exclusion zone around one of the Brent field platforms.
Photographs taken yesterday show the ship was carrying a banner displaying the message, "Shell, the ocean is not your dump".
In October 2019, activists scaled the legs of the Brent Bravo platform, but Shell later won a court order preventing environmentalists from boarding unmanned North Sea installations.
It means Greenpeace can no longer go within the safety zones around platforms.
In 2017, Shell submitted its plans to leave the huge concrete legs of three of the Brent field platforms – Bravo, Charlie and Delta – in the sea to the UK Government.
Some countries have raised concerns about the contents of the oil storage cells.
Greenpeace today accused the energy giant of trying to "abandon" 11,000 tonnes of oil and the seabed.
The UK Government has the final say on whether to grant Shell's application to leave the concrete gravity-base structures in situ, but a decision has yet to be made.
Member countries which have signed up to the Ospar convention met in London in October 2019 to discuss the plans, after which a spokesperson for the group said it had been Westminster's intention to give Shell permission.
Germany's environment ministry said it may be possible to reach a compromise, whereby the structures remain in place, but only if their contents are completely removed.
Ospar, a body set-up to protect the marine environment of the north-east Atlantic, stipulates that installations must be removed in their entirety once they reach the end of their production cycle.
But it makes exceptions if companies can prove the removal of a piece of infrastructure would be more damaging to the environment than leaving it in place.
Shell has said it had carried out more than 300 scientific and technical studies into the decommissioning plans, with leaving "in situ" the best option.
ALSO READ: Environmental arguments around Shell's Brent decom plans