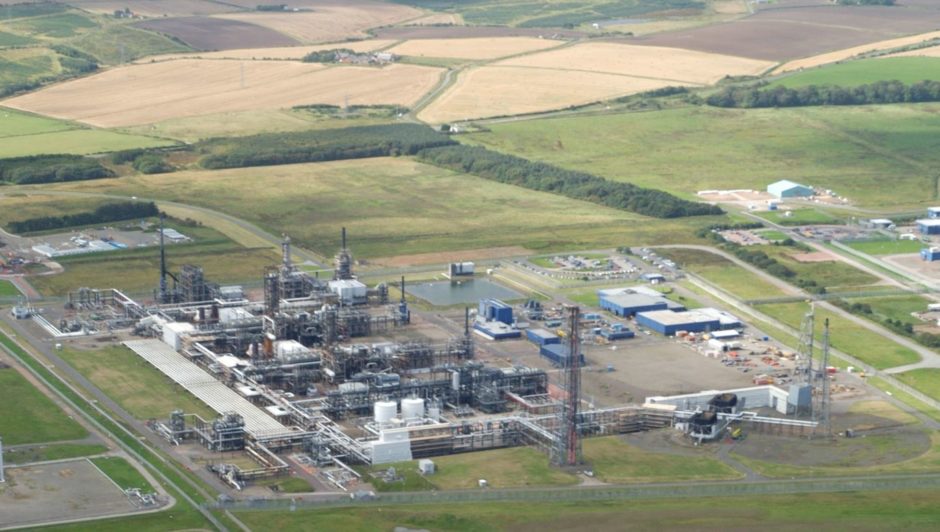 Shell and Unite have clashed over the number of job cuts, and purported safety concerns, at the St Fergus Gas Terminal and Mossmorran plant.
The energy giant has rejected claims by the union over the number of "vital" maintenance contractor roles being cut at the sites, and Unite's claims this brings "critical safety concerns" at the gas plant near Peterhead.
Unite said cuts by contractor Kaefer were being "enforced by the oil giant" and that it was "deeply concerned" these would impact safety.
The union said 46 out of 52 roles would go at St Fergus and 63 out of 77 at Mossmorran natural gas liquids plant in Fife.
Shell challenged Unite's safety claims. The "core" maintenance team at the sites is being cut by 12%, with a total of 15 Kaefer maintenance contractors to go, bringing the total across both sites down from 125 to 110.
"Other" contractor cuts were due to projects finishing as scheduled.
A Shell spokesperson said: "We do not recognise these figures, as the planned reduction in our core maintenance team is 12%. Other reductions are due to seasonal projects that have already been completed."
Shell said the safety of its plants, teams and communities "is paramount and will not be compromised", adding maintenance will be "done at the right time by the right specialists" who will be contracted for specific projects, rather than being based there full time.
The spokesperson added: "At this time of economic uncertainty, we know that this news will be very difficult for contractor colleagues whose jobs may be impacted as a result."
Shell said it has re-phased its maintenance schedules for the coming years, the majority of which will be handled by core Shell staff, supported by contractors like painters and scaffolders.
Unite said it has been fighting for weeks to stave off the compulsory cuts by Kaefer for "weeks", adding the move could "wipe out" some trades at St Fergus.
Unite industrial officer Vic Fraser said: "It is not that there is no work to be carried out here, there is, but rather Shell have decided that the Fabric and Maintenance work on site will be paused perhaps until 2022.
"Alongside a backlog of maintenance work from earlier this year and you start to see our major concerns.
"We are always told safety comes first but our members are not only concerned for their livelihoods but fear for colleagues left to work there, the local community and any environmental impact a potential incident on site could have."
St Fergus receives around 20% of the UK's gas supply.
A Kaefer spokesperson said: "Kaefer can confirm that we are undertaking consultations with our workforce at the Shell Mossmorran & St Fergus sites. This is in relation to a reduced contract service requirement.
"We are working closely with our client, all relevant stakeholders and in accordance with our contractual, legal and moral obligations, to assure the best possible outcomes for our employees in these times of economic uncertainty.
"Consideration for the health, safety and wellbeing of our people, in all circumstances, will always be our first and highest priority."
Recommended for you

Kaefer contractors launch strikes at Shell Mossmorran and St Fergus gas plants