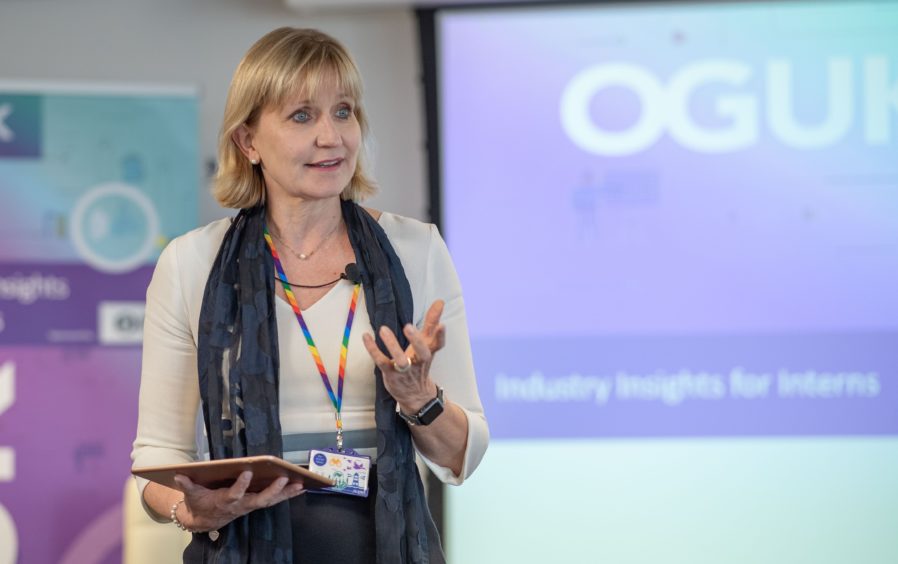 The chief executive of Oil and Gas UK (OGUK) has said a rebrand is "absolutely" something the trade body should be considering.
Several oil companies and organisations have scrubbed out fossil fuels references from their names at a time when they are coming under pressure from environmental activist groups.
The Oil and Gas Technology Centre, of Aberdeen, gave itself a soft rebrand last month and is now known simply as OGTC.
Asked whether a rebrand was possible for OGUK in order to reflect its energy transition goals, CEO Deirdre Michie told Energy Voice, The Press and Journal's sister publication: "Everything evolves, everything moves on and I think that is something that we absolutely should be considering."
Ms Michie also tackled a question about branding during an OGUK webinar on its latest annual economic report yesterday.
She said: "There is a question I do need to respond to about branding, given the shift in transition.
"Making sure we focus on oil and gas but move into the energy transition, what are the thoughts about OGUK's branding going forward?
"I guess my answer to that would be – it is on the agenda and, obviously, we'll be responsive to what our members want us to do in that space, so, to be continued, as they say."
OGTC dropped "oil and gas" from its title to highlight its net zero ambitions in a move that was welcomed by the Friends of the Earth Scotland climate group.
But oil and gas veteran Algy Cluff, a pioneer of the UK North Sea, said the recent tendency for oil and gas companies and organisations to remove references to hydrocarbons from their names was "feeble and disingenuous".
Mr Cluff said the rush away from oil exploration by the majors "cannot give their shareholders any confidence that management is thinking rather than panicking".
He added: "If the large companies cease exploration, the oil price is more likely than not to increase.
"When it's $100 a barrel again they will all come rushing back".
Mr Cluff was one of the first to find fame in the North Sea with the discovery of the Buchan field in the mid-1970s, before going on to run several gold mining ventures in Africa.
An oil and gas firm he founded in 2012, Cluff Natural Resources, has gone through something of a rebrand itself since he left the company last year, and is now known as Deltic Energy.
Besides the immediate priority of tackling Covid-19, OGUK, which Ms Michie has led since 2015, has focused largely on net zero in recent times.
The organisation repeatedly points to its Roadmap 2035 publication and the need for firms to reduce carbon emissions so they can protect their licence to operate.
Many of its members are in the process of changing their profile from oil and gas to "broader" energy firms, while contractors are diversifying to take advantage of lower-carbon opportunities.
If OGUK decides to change its name, it would not be the first time – the group was originally called the UK Offshore Operators' Association (UKOOA).
It took its current name in 2007 when it broadened its membership to take in oil and gas service and supply firms, as well as operators.
At the time, OGUK was expected to have a much stronger voice than UKOOA in representing the industry's interests to government and others.
The trade body now represents around 400 companies. Its global counterpart, the International Association of Oil and Gas Producers, said yesterday it had no plans to rebrand.
Mel Evans, senior climate campaigner for Greenpeace UK, said: "OGUK should think less about what it is called and more about what it needs to do urgently.
"Right now OGUK represents narrow business interests in trying to lengthen the shelf life of North Sea oil and gas.
"OGUK would better represent workers and the climate by redirecting its focus on a massive upscaling of renewables jobs this decade."