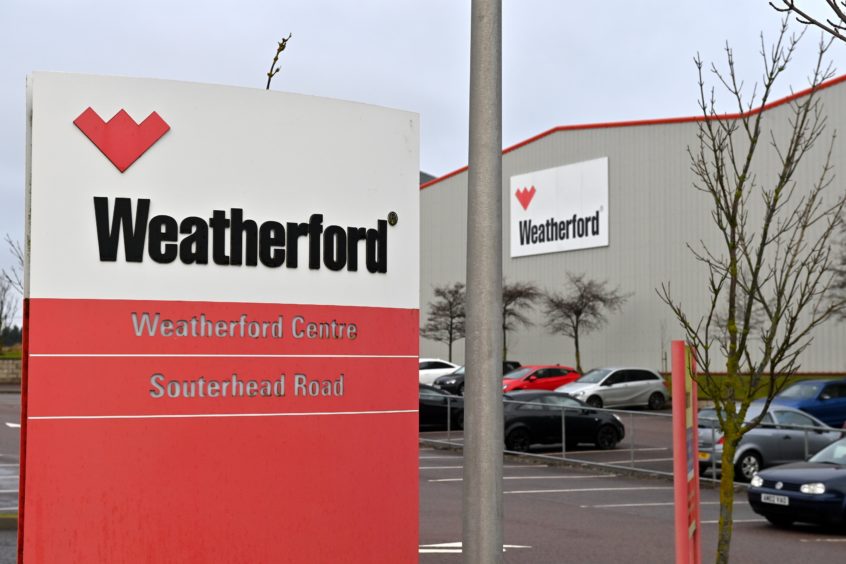 US oilfield equipment and service firm Weatherford dealt another painful blow to the Aberdeen oil industry yesterday by confirming plans to shut down its manufacturing facilities in the city.
A spokeswoman for Weatherford said the company had entered into a consultation with employees affected by the decision, which followed a "strategic review".
The spokeswoman did not say how many people would be impacted, but it is feared dozens of workers could lose their jobs.
Smaller suppliers of equipment and services to Weatherford will also be concerned by the prospect of missing out on orders.
Worse to come?
Trade union boss Jake Molloy said he was concerned that Weatherford's move could "quite easily and quite quickly" be repeated by other companies without rapid action being taken.
Politicians urged their rivals in the Scottish and UK governments to do more to support the sector, which has been ravaged by last year's slump in oil and gas prices, partly caused by the Covid-19 pandemic.
Last week Shell said it would cut 330 people from its UK upstream division over the next two years, with the most of the redundancies falling in the Granite City.
Unions estimate that around 12,000 UK oil industry jobs have been lost since the start of the pandemic.
Industry body Oil and Gas UK (OGUK) predicted in April 2020 that 30,000 roles could be axed by the end of this year and said recently that the warning still stood.
Weatherford is understood to employ several hundred people in the north-east in a range of roles.
Weatherford has a number of bases in the north-east, including an administrative HQ in Altens Industrial Estate.
It also has a completions and production centre in Dyce, a tubular running services (TRS) facility in Kirkhill Industrial Estate and a rig training centre in Bridge of Don.
The spokeswoman said Aberdeen would continue to act as a centre for all UK operations, without elaborating further.
Weatherford said: "The oil and gas sector has recently faced unprecedented challenges driven by the Covid-19 pandemic and global market conditions.
"Weatherford has conducted a strategic review of its global manufacturing group to ensure the cost structure and capacity is aligned to the current and projected market environment.
"The outcome of this strategic review is the proposed closure of the UK manufacturing facilities located in Aberdeen.
"We have subsequently engaged in a consultation exercise with the associated employees.
"Separate to the proposed closure, Aberdeen will continue to act as the centre for all UK operations."
'Consequence of industry and government failings'
Jake Molloy, chairman of the Offshore Coordinating Group, a coalition of trade unions, described the announcement as "grim" and "a consequence of industry and government failings".
Mr Molloy said companies have to keep investing and drilling during downturns so that the sector is well positioned to take advantage of the market picking up.
He also lamented that the government and its regulators had "all too quickly" approved requests for deferrals on development and decommissioning work.
Mr Molloy is among those who called for deferred oil-well plugging and abandonment campaigns to be brought forward to save jobs.
The Oil and Gas Authority (OGA) asked the UK Government for a £100m loan to support some of those projects, but no announcements on the outcome of that request have been made.
Energy Voice reported last month that the number of suspended North Sea exploration and appraisal wells had dropped from 240 down to 186 since 2018.
However, some operators have put off decommissioning wells for more than 50 years, in extreme cases.
The OGA said it wanted to see a "marked improvement" in the timing and cost of decommissioning wells.
The regulator and OGUK have been working on initiatives to give suppliers a clearer picture of which projects will start in the near term.
Hopes for a transition deal
Industry chiefs have also submitted proposals to the UK Government for a "North Sea Transition Deal".
It would help the sector retain skills and make the leap to net zero by paving the way for oil companies to develop hydrogen and carbon capture and storage projects.
Westminster has promised to agree a deal in the first half of this year.
Stephen Flynn, SNP MP for Aberdeen South, said he had real concerns that the UK Government won't deliver on its promises given that it hadn't provided "a single penny of sector specific support" since the start of the pandemic.
Scottish Conservative energy spokesman and north-east MSP Alexander Burnett said the Scottish Government needs to work with the UK Government on the transition deal and match any funding commitments made.
In June, the Scottish Government unveiled a £62m support package for the north-east oil and gas sector.
In November the UK Government pledged £1.3m towards a global underwater engineering hub in Aberdeen.
Alix Thom, OGUK's workforce, engagement and skills manager, said: "A North Sea Transition Deal, supported by the UK and Scottish governments, will underpin the sustainability of the sector in these difficult times.
"We will continue to work at pace with both Governments to secure this deal, and in doing so, support jobs and our energy communities in a fair transition."
Recommended for you

Nescol sees multi-million-pound investment for Energy Transition Skills Hub