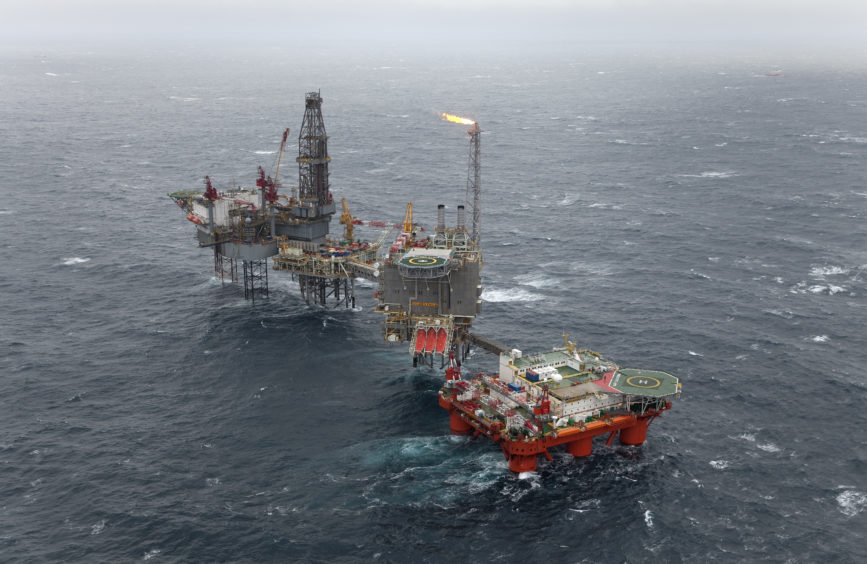 EnQuest has struck a deal to buy Canadian firm Suncor's 26.69% stake in the Golden Eagle area of the UK North Sea for £240 million.
EnQuest is trying to beef up its portfolio, which has shrunk considerably in the last year.
During the 12 months, the company called time on its Thistle, Heather and Alma-Galia fields, while production from Dons will stop in the current quarter.
Last month, EnQuest completed the acquisition of a 40.81% operated stake in the Bressay oilfield, which is pre-development, from Equinor for £13m.
The Golden Eagle area, located about 70 miles north-east of Aberdeen, produced first oil in October 2014.
The area is operated by Chinese firm Cnooc and comprises the Golden Eagle, Peregrine and Solitaire fields.
London-listed EnQuest said the purchase would give it additional production of 10,000 barrels of oil equivalent per day and reserves of 18 million barrels.
It also said the area was operated at low cost, with unit expenditure of $5 per barrel forecast for this year.
Golden Eagle also boasts "significant remaining development potential", with anticipated field life extending into the early 2030s.
A four-well infill drilling programme is currently on-going, with two of the four wells onstream.
The campaign is scheduled to finish prior to completion of the deal, which should go through before the end of the third quarter.
EnQuest will finance the deal through a new secured debt facility, cash flows and a £37m equity raise through a placing and open offer.
Shareholders related to chief executive Amjad Bseisu are expected to participate.
The prospect of existing investors' holdings being diluted sent EnQuest's share price down 7.82% to 12.74p as of 10:45am.
Mr Bseisu said: "We are delighted we have agreed the acquisition of a material interest in Golden Eagle, a high-quality, low-cost UK North Sea development.
"Upon completion, this acquisition will add immediate material production and cash flow to EnQuest and will allow us to accelerate use of our substantial tax losses.
"It also demonstrates our continued commitment to the UK North Sea and diversifies our existing production base.
"The assets have a strong safety record and a lower than average CO2e emissions intensity ratio.
"We look forward to a productive partnership with the operator, Cnooc and our future joint venture partners, Neo Energy and One Dyas."
Cnooc has a 36.54% operated stake in the area, Neo has 31.56% and One-Dyas has 5.2%.
EnQuest also announced that its production dropped 14% to 59,116 boe per day in 2020, reflecting field shutdowns and natural decline.
The figure is expected to slide further in 2021, to be between 46-52,000 boe per day.
Free cash flow totalled £153m in 2020, down 43% on the previous year, but the company did manage to cut its net debts by £97m to £935m.
Mr Bseisu added: "We transformed our business in 2020, significantly lowering our operating costs and re-focusing the portfolio on the highest value assets.
"As such, I am confident we are well placed to succeed in a changing world."